That's L'elisir d'amore, Donizetti's bel canto gem, dolled up somewhere on the Italian riviera by the same team that set San Francisco Opera's 2012 Lohengrin in a Soviet era, bookless Romanian library near a bus station.
So it was the piazza in front of the Hotel Adina, the proprietress of which, Donizetti's heroine Adina, was so busy reading the Tristan myth and brushing off her suitors that she exhibited no proprietary interest whatsoever in her namesake inn where Nemorino is the only waiter.
Additional conceits included Donizetti's swaggering soldier sergeant Belcore transformed into a policeman, though he seemed more a sailor in casual whites, who made his entrance on a Vespa motor scooter (electrified to-be-sure — no real, ugly diesel fumes or scary screeching (vespa means wasp). Plus the everything elixir salesperson, Dulcamara, arrived in a hot air balloon, a French Revolutionary touch (there was a pause in the performance so this entrance could be set up).
Opening night was a Sunday matinee, and the audience ate it up.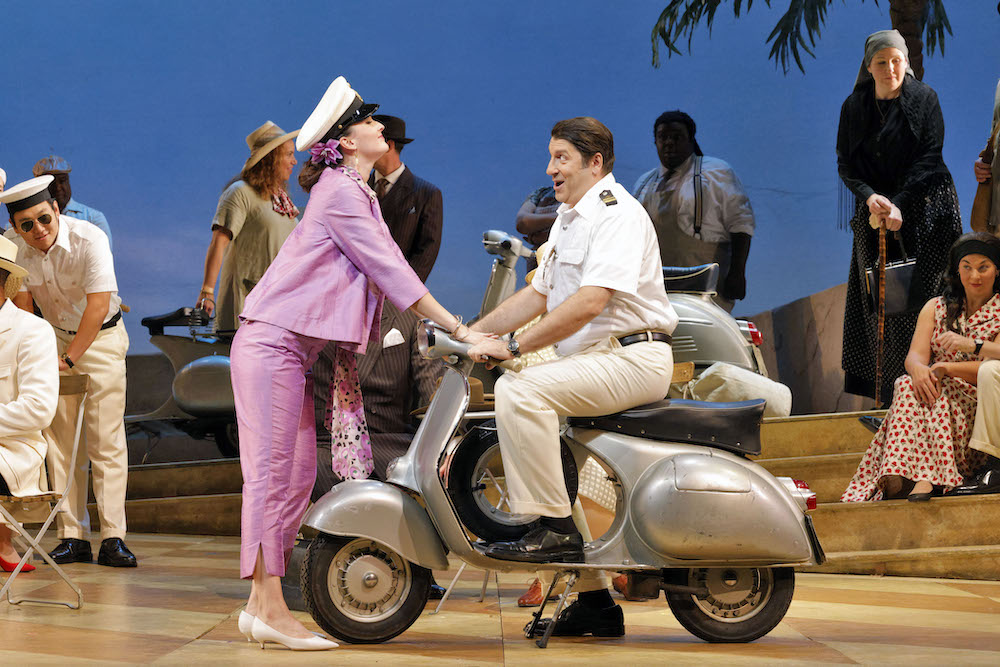 This was the 2016 production from Britain's Opera North (based in Leeds), though it was originally conceived back in 2001. It comes to San Francisco via Lyric Opera of Chicago where it played in 2021. It seemed a bit small for the War Memorial stage. The original British team was on hand — stage director Daniel Slater and production designer Robert Innes Hopkins (designer of SFO's new, milquetoast Tosca), and lighting designer Simon Mills.
The production's many pantomime moments (group choreography and slapstick humor) made it seem so very Brighton Beach.
Not to be outdone by Caruso's Nemorino La Scala role debut ("Una furtiva lagrima" was repeated three times) San Francisco Opera fielded New Zealand tenor Pene Pati, a former Adler with a big career, whose "Una furtiva lagrima" had to wait through an eternity of silence, save for the electron screeching of someone's hearing aid low battery warning, a pause imposed by the conductor until the screech was quelled. Mr. Pati is a very effective Nemorino, a fine comic actor, his vocal presentation is clean and pure, his persona is a pure Pavarotti imitation, lacking only the white hanky for his extravagant bows.
Adina was sung by Austrian soprano Slávka Zámečníková, a lithesome presence with the requisite charm for this Donizetti role. Mlle. Zamecnikova has a silvery thread of voice, though of obvious amplitude to be heard in the important theaters she inhabits. Well able to vocally negotiate the fioratura of Donizetti's bel canto, she does not bring a heft of voice or personality to make such virtuosity sound important. I was left unimpressed and unfulfilled.
French baritone David Bizic created a fresh and charming, young Belcore. With a finely wrought, healthy young voice he made this role far more sympathetic than simply a stock buffo presentation. In the end, out maneuvered by Nemorino, he eloped with Gianetta on his electric Vespa. Gianetta was sung by current Adler Fellow Arianna Rodriguez who faded into the scenery, though some good high notes came through from time to time.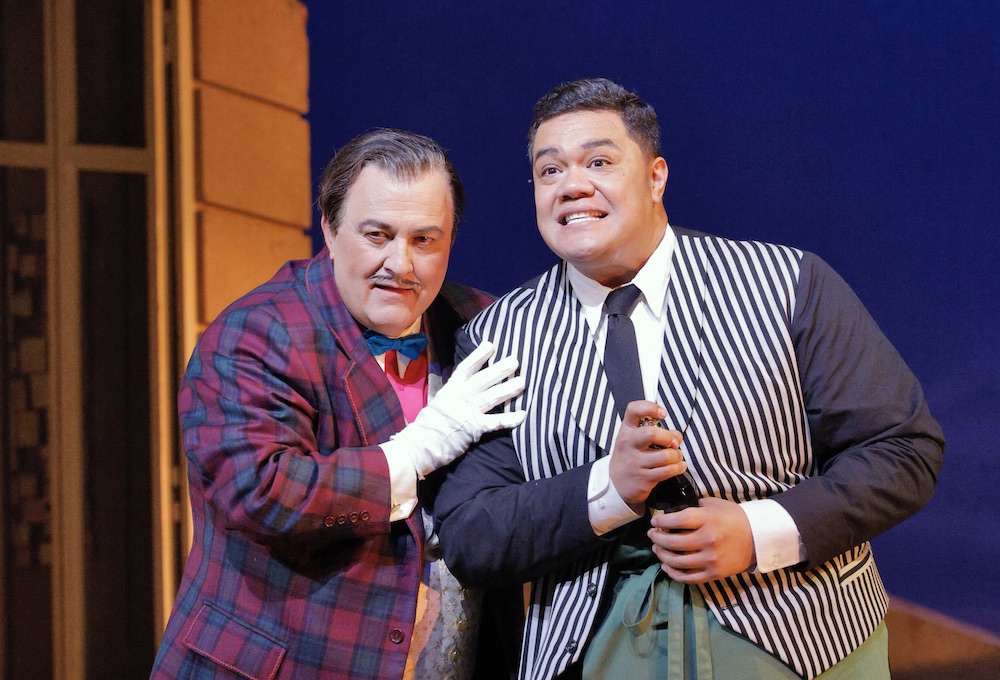 Italian buffo Renato Girolami as Dulcamara was the star of the production — well, along with Pene Pati's oversized Nemorino. Mr. Girolami brought sophisticated, big house know-how to this archetypal buffo role. He found a warmth of tone and persona for this Dulcamara that made him a benevolent deus ex machina (the hot air balloon) rather than the usual shyster. 
The San Francisco Opera Chorus surely had great fun in preparing and performing this tour de force for opera chorus. There was great detailing in the chorus roles (see lead photo), many individual characters emerged with contagious energy. Ramón Tebar conducted the San Francisco Opera Orchestra with magisterial assurance, bringing welcome care to making Donizetti's magnificent score work into this production.
The Elixir of Love concludes the San Francisco fall season of five operas. None of the productions originated in San Francisco.
Michael Milenski