No one remembers, for today ó if lines at airport
counters are an indication ó the two are neck and neck with both doing
well. Their competition comes to mind, however, here in Berlin, where the
Philharmonic, looking back on golden ages under Wilhelm Furtw‰ngler and
Herbert von Karajan, has long been the No. 1 orchestra not only here, but ó
in the eyes of many ó in the whole world. In the long-divided city the
Staatskapelle, on the other hand, attracted little attention in its primary
role as the competent but colorless pit band in the historic Staatsoper on
Unter den Linden in the East. Then ó in 1989 ó the Wall came down, and
ó in 1992 ó Daniel Barenboim was made maestro of the opera and its
orchestra.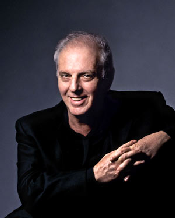 Daniel Barenboim
A week in the city over Easter underscored his success in bringing to both
a brilliance that declares them no longer No. 2 to anyone. Easter is, of
course, the time for Barenboim and his forces to shine, for the Philharmonic
and its charismatic conductor Simon Rattle are off in Salzburg for the spring
festival that Karajan founded there. Barenboim performances are the heart of
the local ìFesttage,î a mini-festival instituted even before the Wall was
built to attract audiences to the East.
On March 16 Barenboim kicked off the series at the Staatsoper with the
first Berlin staging of Prokofievís ìThe Gambler,î a torrid tale of
love and the loss of fortunes based on Dostoyevskyís 1866 novella that
reflected the authorís own addiction to gambling. In an eye-catching
updating by Dmitri Tcherniakov, responsible also for sets and costumes,
gamblers were on stage in fictional Roulettenburg even before the music
began. Prokofiev went to work on ìGamblerî in 1915 when he was 24. A
first version was slated for production in St. Petersburg, but cancelled when
street fighting heralded the revolution. Plans for a Russian staging were
later scrapped because the composer was living abroad. The opera ó revised
in 1927-ë28, was premiered in Brussels in 1929 and has had only a handful
of stagings since then. (It played at the Chicago Lyric Opera in 1991.) This
made the production at the Staatsoper, where Barenboim is cherished above all
for his work with Mozart and Wagner, an event of special interest, and ó
with best seats selling at 260 Euros (around $400) ó the historic house was
packed.
Scene from The Gambler
Conductor and orchestra had fully mastered Prokofievís chrome-plated
score, which with its sharp edges and abrupt corners recalls that
ìGamblerî is the contemporary of Bergís ìWozzeck.î The workís
study of a society sick to the depths of its soul is of obvious contemporary
relevance. Largely through-composed, ìGamblerî gives primacy to the text
ó sung here in Russian with titles in German, and for it Barenboim
assembled a cast of two dozen that was without a weak link. Christine Opolais
was stellar and sympathetic as Polina, a young newly rich woman unable to
believe that a man could love her without selfish goals, and as that young
man Misha Didyk was a dramatically overwhelming Alexej. Outstanding were two
character roles: Stefania Toczyska as the matriarchal Babulenka who gambles
away jewels and furs to stand figuratively naked before false gods, and bass
Vladimir Ognovenko as the equally depraved General. ìGamblerî tells a
dark and threatening story. Barenboim and his ensemble told it with
conviction.
Scene from Die Meistersinger: James Morris (Hans Sachs) and Dorothea Rˆschmann (Eva)
Barenboim was back on the podium on Palm Sunday to conduct Harry
Kupferís stunningly colorful production of that most German of all operas,
ìDie Meistersinger,î and it was on this familiar Wagnerian turf that the
he and the Staatsoper were of truly unsurpassable excellence. In his
sensitive approach to the Overture Barenboim made voices audible that one had
never heard before, and the pathos-ridden Prelude to Act Three, often tossed
aside unthinkingly en route to the pageantry of the final scene, was gripping
in its bitter sweetness.
In his house debut James Morris, the reigning Wotan of his generation, was
touchingly convincing as Hans Sachs, Wagnerís shoemaker torn between his
own love for Eva and his support for young Walter in his efforts to break the
ossified rules of the master minstrels. Morris played an understated Sachs
and was in even smoother and richer voice here than he was for his debut in
the role at the San Francisco Opera in 2001 and in the DVD that originated at
the Met the following season. Dorothea Rˆschmann, a Mozartian now moving
into lighter Wagner roles, sang Eva with ease and clarity, while Burkhard
Fritz was a Walter of often bashful youth. Among the masters Reneí Pape
stood out as an aristocratic Pogner, and Roman Trekel was a handsome ó if
pedantic ó Beckmesser, who avoided clichÈs of self-parody. And while David
and Magdalene are roles often assigned to singers on the eve of retirement,
it was refreshing to hear them sung ó and sung well ó by youthful Florian
Hoffmann and Katharina Kammerloher. Yet it was Barenboim who made these two
evenings a triumph of perfection. Everything spoke of immense care and
concern for the task at hand. And it was a nice touch that Barenboim brought
the entire orchestra on stage for a curtain call at the end of
ìMeistersinger.î
To fully appreciate the excellence of the Staatskapelle, however, one must
hear them out of the pit in concert. On March 20 Barenboim took the orchestra
to the Philharmonic Hall, Hans Scharounís 1963 masterpiece that is beyond
doubt the worldís most successful ó and beautiful ó concert venue.
There one witnessed the interaction of Staatskapelle musicians and
experienced how closely ìin syncî they are with Barenboim. Highlight of
the program was Brahmsí D Minor Concerto, played by Lang Lang, todayís
sensation among young pianists.
One doubted a few years ago whether the Chinese-born pianist would be able
to handle the success that he was, but today it is happily clear that at 25
he has found himself and is headed towards even greater things in the future.
Here, again, however, Barenboim deserved much credit for the experience that
this was. Long a master among pianists, he know this concerto inside and out,
and it was fascinating to watch ó and hear ó him guide his orchestra
through it. This was conducting as it should always be: instructive, shaping
and forming ó recreating, in short, the piece at hand. It was evident that
he and Lang Lang had worked together carefully to make this a memorable
performance.
Barenboim, in sum, is one of todayís great artists, and his influence
and impact are felt far beyond Berlin. He is the man who broke the Israel
taboo on Wagner by conducting the Prelude and ìLiebestodî from
ìTristanî as an encore there in 2001 ó to near-violent reaction from
many in the state. He worked with Palestinian scholar Edward Said to found
the West-Eastern Divan, an ensemble of young musicians from countries
throughout the Middle East that is now of legendary fame. A citizen of
Israel, he has now acquired Palestinian citizenship as well.
*******
A note on the Berlin Staatsoper. The building, built originally in 1740 by
Friedrich the Great and destroyed and rebuilt many times since then, is in a
horrid state of disrepair. Walls are dirty and cracked; carpets are
threadbare and floor creak. The building is scheduled to close in 2010 for
three years of reconstruction to cost some $260 million.
Wes Blomster

image=http://www.operatoday.com/Gambler_01.png
image_description=Christine Opolais (Polina) and Misha Didyk (Alexej)
product=yes
product_title=Sergei Prokofiev: The Gambler
product_by=Above: Christine Opolais (Polina) and Misha Didyk (Alexej)
All production photos by Monika Rittershaus courtesy of Staatsoper Unter den Linden