The news though is actually Chinese tenor Yijie Shi who assumed the beautiful young woman who had knelt next to him at the famous shrine Santiago de Campostela was pure. She was not.
Never mind that Donizetti's la favorite was not French. Named LÈonor di Guzman she was in historical fact the mistress of no less than Alfonso XI, the king of Castille who is famous for driving the Moors out of Andalusia in the mid fourteenth century. History is often reinvented in opera plots to make passions more real than facts, thus according to Donizetti's librettists it was the lovesick novice monk Fernand, (tenor Shi) who actually led the Spanish armies to these important victories under Alfonso's flag.
All Fernand wanted in return was the hand of the beautiful and pure woman he had prayed with. Alfonso however was a cunning thinker who did not want to give up his mistress, not to mention that his courtiers detested the upstart Fernand as well. Add to this mess a meddlesome priest of proto-inquisitor zeal and you can see that there was a lot to sing about.
Donizetti's French masterpiece was in the hands of Italian conductor Antonello Allemandi. This maestro, a bel canto specialist, captured the fire and intensity of the passions from the get-go, making the overture a superbly eloquent transition to a musical world based on beautiful lines and colors that elaborate distress and make it compellingly elegant. Mo. Allemandi demonstrated a full authority over the stage for the musically complex scenes, and in the arias and duets he demonstrated his confidence in the artistry of distraught singers by establishing ample tempos to support their soaring vocal lines while he concentrated on pulling every possible nuance from the pit players.
The great climaxes of the quintets and sextets with chorus achieved emotional releases that equaled those of the later Romantic masters while remaining specifically bel canto.
Shanghai born tenor Yijie Shi, a protogÈ of the Pesaro Rossini Festival, made a startling first impression, standing in shirtsleeves among a disciplined formation of hooded monks. He did not cut a figure that would lead soldiers into battle though he did finally become the smitten, naive and always confused young lover who basks in the pleasure of his feelings. After an extended apprenticeship in Pesaro he is now a finished performer, more at home in the bel canto repertory than in Rossini. His voice is purely Italianate, and his French was splendid. By the end of the performance it was certain that Mr. Shi now owns this role, singing it and acting it with true bel canto abandon.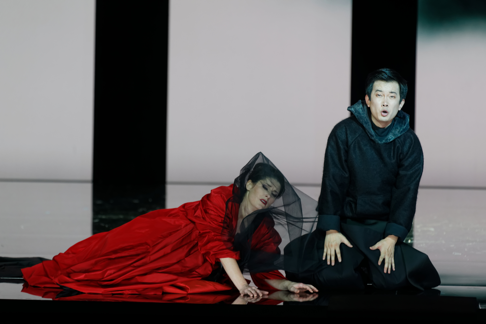 Kate Aldridge as LÈonor, Yijie Shi as Fernand. Photo by Patrice Nin
If the tenor has the most to sing in La Favorite, the heroine is burdened with the need to exemplify the magnetism that would pull a young monk from his vows of chastity while bemoaning her situation — as mistress to the king she cannot and never will be wife to any man. American mezzo-soprano Kate Aldridge, a seasoned bel canto artist, did not succeed, lacking at this point in her career the warmth of voice and charm of youth to bring Leonora emotionally alive. Her most effective if inappropriate vocal moments occurred when she used the chest voice that has made her a very fine Carmen.
The opera was conceived in French for the Paris Opera (not the ThÈ'tre-Italien where Donizetti's Italian operas were performed) as a vehicle for the mistress of the director of the opera. In the style of French grand opera the heroine is a dramatically complex role for mezzo soprano. LÈonora is subdued and discretely nuanced in her only aria and in her scenes with Fernand and Alfonso. The opera is in the four act grand opera form, though the traditional ballet was missing in Toulouse.
Alfonso was sung by French baritone Lodovic TÈzier. Of clear, sterling colored voice Mr. TÈrzier is an ideal Donizetti villain, well able to convincingly rage, manipulate and deceive without sacrificing beauty of tone and grace of execution. Italian bass Giovanni Furlanetto as the father superior Balthazar produced a rich and smooth basso cantante though he did not convey a force of personality that could make him a convincing spiritual father to Fernand or an imposing accuser to Alfonso. The role of InËs was charmingly performed by Marie-BÈnÈdicte Souquet.

Lodovic TÈzier as Alphonse XI. Photo by Patrice Nin
The new production, by Vincent Boussard and his designers Vincent Lemaire (scenery) and Christian Lacroix (costumes), was in minimal terms. The mists and spirituality of Santiago de Campostela were conveyed in mirrored stage walls, fogs and lights with a backdrop of abstracted soaring arches, the sumptuousness of Seville's Alcazar was effected in emerald greens, graced by parading, lifelike peacocks on the arms of courtiers. The mirrored side walls descended opening balconies on either side from where courtiers would learn all court happenings.
Costumes were abstracted into colors rather than shapes taking us into a musical space rather than a specific historical moment. The single prop, excepting the peacocks, was an illuminated suitcase Fernand took with him into his worldly adventures and returned with to take finally his vows. Metteur en scÈne Boussard is a master of staging musically rather than dramatically, moving his chorus as a structural musical force and his principals as moments of music, finding extended periods of poetry rendered in classical sculptural poses.
It was a splendid afternoon of beautifully staged bel canto transformed into great music. This production can be watched on CultureBox of France TÈlÈvision through August 15, 2014: La Favorite
Michael Milenski
---
Casts and production information:
LÈonor de Guzman: Kate Aldrich; Fernand: Yijie Shi; Alphonse XI: Ludovic TÈzier: Balthazar: Giovanni Furlanetto; Don Gaspar: Alain Gabriel; InËs: Marie-BÈnÈdicte Souquet; Chorus and Orchestra of the ThÈ'tre du Capitole. Conductor: Antonello Allemandi: Mise en scËne: Vincent Boussard; Scenery: Vincent Lemaire; Costumes: Christian Lacroix; Lighting:†Guido Levi. ThÈ'tre du Capitole, Toulouse, February 16, 2014.

image=http://www.operatoday.com/Favorite_ToulouseOT1.png
image_description=Giovanni Furlanetto as Balthazar, Yijie Shi as Fernand [Photo by Patrice Nin]
product=yes
product_title=La Favorite in Toulouse
product_by=A review by Michael Milenski
product_id=Above: Giovanni Furlanetto as Balthazar, Yijie Shi as Fernand [Photo by Patrice Nin]