Tosca, Boheme, and Butterfly may be the bread-and-butter operas, but La Rondine can prove to be a highly satisfying sorbet, a lighter weight dalliance that nonetheless has its share of memorable melodies. Witness that during the first act intermission, the audience was mingling humming Doretta's Song, almost against its will. After Act Two the line at the bar was having a go at the famous 'Ohrworm' from the quartet. Giacomo could sure write a tune! What he couldn't do in this case, was make up for the fact that in Giuseppe Adami's libretto, nothing much really happens.
No Japanese honor suicides, no offing of villainous police chiefs, no worrisome consumptive coughing, nada. All we have here is a bored demimondaine who decides to go slumming at a lower class Parisian bar, falls instantly in love with a young visitor, chucks all the wealth to be with him, but then pretty much gets bored again and leaves him flat. Now Puccini himself made a good deal out of a similar scenario in the youthful Manon Lescaut, which bristles with passion. But in La Rondine there is really nothing at stake.

John McVeigh as Prunier and Corinne Winters as Magda
That puts a heavy burden on the performers to flesh out the consequences of their decisions and make you "feel their pain." And to a large extent director Michael Gieleta and his accomplished cast and collaborators did just that.
Set Designer Alexander Dodge has created a marvel of a paneled box set drawing room, that at once evokes the confines of the Parisian salon where the story begins, and the freedom of the Nice seaside, where it ends. This is accomplished by an overall blue hue, with the bottom five feet or so subtly textured to resemble the sea. Gieleta and Dodge further choose to begin each act with a pre-set beach chair down center (soon struck) to presage the final act (when more chairs are added). The upstage "wall" is mostly a curtain, which pulls to reveal a platform that first contains Bullier's tavern in Act Two, and then becomes a boardwalk and row of cabanas in Act Three. Very effective and attractive playing spaces, all.
Mr. Gieleta moves his forces about these environments exceedingly well. With the salon being dominated by a massive dining table, he invents any number of clever stage pictures while always maintaining good focus. I liked rolling in the piano from stage right when it is required for Doretta's Song. In Two, the revelers vary between being contained on the tavern platform, or spilling onto the street which gets decorated with poles and strings of beer garden light bulbs as part of the action.
By Act Three, I began to fully appreciate the levels that Mr. Dodge created with not only the upstage platform, but by having the downstage drop off right and left of a central platform, to give three different heights. The director took full advantage of the possibilities, to include having Magda change clothes in her boudoir on the lower right level before dashing out on the town.

John McVeigh as Prunier, Corinne Winters as Magda, Ashley Milanese as Yvette, Elizabeth Sutphen as Bianca, and Hannah Hagerty as Suzy
Gregory Gale contributed truly sumptuous costumes for the rich guests in the first act, then took it down a notch with colorful middle class street wear (and soldiers' uniforms) in the Second Act. His casual beachwear in Three was simple and comfortable. This was beautifully detailed work. Only one thing bothered me and that was that Magda's "simple black dress" that she wears out on the town kept parting in the front revealing her bloomers. Intentional? Hmm.
Christopher Akerlind made some bold lighting choices, with sharp rectangular specials, moody washes, and heightened, almost abstract atmospheres. It did inject a rhythm and visual excitement missing from the story. Tom Watson's hair and make-up design was exceptional in delineating classes and temperaments.
Veteran Stephen Lord conducted a knowing, stylistically comfortable reading, and the musicians responded with generous playing that made them sound more lush and imposing than their numbers might imply. His communication with the singers was sensitive and the show breathed and surged as Puccini must. Maestro Lord also had a keen sense of pace and I was especially appreciative that he did not let the singers get too indulgent in the lovely, but repetitive quartet.
The chorus of Gerdine Young Artists performed superbly as trained by Chorus Master Robert Ainsley. Puccini has filled out much of the first two acts with choral effects, and they all made their impression. If you would take the time to look at the cast list, please realize that once you are past the first five names, all of the rest of the featured roles were taken with laudable and applaudable results, by members of the Gerdine Young Artists. These promising, talented singers covered themselves in glory the whole night., and they remain the heart of OTSL.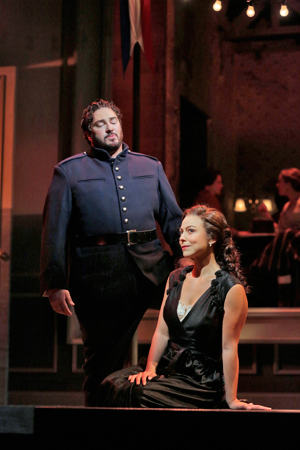 Anthony Kalil as Ruggero and Corinne Winters as Magda
Matthew Burns brought admirable suavity and a bit of gravitas to Rambaldo's scolding and blathering. As Lisette, the animated Sydney Mancasola was a delight, and her well-focused flights of fancy fell easily on the ear. Her enchanting portrayal was exceedingly well sung. John McVeigh, as Prunier, threatened to walk away with the show. Arguably the most complete characterization on the stage, McVeigh put his playboy good looks in service of creating a most lovable cad. John also sang with real refinement, his honeyed tenor encompassing all of the role's demands.
Tenor Anthony Kalil is a big tall bear, a physical trait that might naturally work better for a bumbling-but-lovable Nemorino than for an OMG-love-at-first-sight Ruggero. That said, Mr. Kalil has an impressive, incisive tenor instrument. His ringing sounds filled theatre with real Puccinian squillo. His future seems assuredly bright.
Corinne Winters has all the necessary attributes for Magda. She is lovely and elegant. Her soprano can soar with the best of them, and her intelligence and attention to detail are second to none. Her seamless vocal production seems to have darkened just a bit since last I heard her, making her lower middle more forward placed. This resulted in some loss of diction in that range, especially when sustained banks of strings were playing. Ms. Winters made Doretta's Song the showpiece it must be, and sang with luster throughout.
Whether it was her choice or the director's, I found it hard to warm to her until well into Act Two. For all its vocal virtues, her Magda seemed too arch, too above it all. It improved and Corinne and Anthony sang the final scene very well indeed. But, while every phrase was well calculated, and every effect wholeheartedly attempted, I was longing for some real chemistry, some emotional connection, rather than two marvelous performers singing beautifully to the back wall. Both of these artists could deliver that real heartbreak with just a modest change in blocking and focus.
Everything about La Rondine was first class, and I greatly admired it. But I wanted to be touched by it. Truth in reporting, the audience received it rapturously.
James Sohre
---
Cast and production information:
Magda: Corinne Winters; Lisette: Sydney Mancasola; Ruggero: Anthony Kalil; Prunier: John McVeigh; Rambaldo: Matthew Burns; Suzy: Hannah Hagerty; Yvette: Ashley Milanese; Bianca: Elizabeth Sutphen; Gobin: Joshua Wheeker; CrÈbillon: Erik Van Heyningen; PÈrichaud: Luis Alejandro Orozco; Butler/Major Domo: David Leigh; Adolfo: Charles Sy; Rabonnier: Josh Quinn; Two Singers: Liv Redpath, Joshua Blue; Two Young Women: Jessica Faselt, Stephanie Sanchez; Grisettes: Anna Dugan, Lilla Heinrich Sz·sz, Ann Toomey; Student: Todd Barnhill; Conductor: Stephen Lord; Director: Michael Gieleta; Set Design: Alexander Dodge; Costume Design: Gregory Gale; Lighting Design: Christopher Akerlind; Wig and Make-up Design: Tom Watson; Chorus Master: Robert Ainsley

image=http://www.operatoday.com/Rondine15.png
image_description=Corinne Winters as Magda and Anthony Kalil as Ruggero [Photo © Ken Howard]
product=yes
product_title=La Rondine Swoops Into St. Louis
product_by=A review by James Sohre
product_id=Above: Corinne Winters as Magda and Anthony Kalil as Ruggero
Photos © Ken Howard