That is largely attributable to a splendid cast of Mozarteans that can not only meet all the vocal challenges of this youthfully ambitious score, but make us laugh to boot. This is a perfect sized house for Mozart, and the orchestra provided strong support from the pit, playing with real distinction. Conductor Dean Williamson led with a knowing hand, and the entire stylish reading was a model of its kind. Maestro Williamson found willing partners in the talented instrumentalists who reveled in the colors and musical invention that characterize this score.
Enhancing the effect even further, the physical production is cheeky and inventive. Jacob A. Climer has devised a setting characterized by lush green walls and floor with diagonals of different green shades, and he has made ornate picture frames the leitmotif of his visuals.
There is a proscenium stage, up center, that is "framed" beautifully, two "windows" high up left and right, and even a practical pool of water down center that gets the frame treatment. The orchestra pit, in the center of this thrust staging, is protected by a surrounding bench that allows characters to sit or walk on it. In Act One, there is a makeshift "curtain" hanging from the proscenium frame, and upended chairs litter the stage waiting to be re-purposed in various groupings set by the cast.
Amanda Woodbury as Konstanze and David Adam Moore as Pasha Selim
Act Two finds the proscenium dressed in a lavish damask opera drape, with the two high windows filled in as alcoves lit by Turkish lanterns. Act Three opens up the "stage" platform once more, with the windows as open squares. The "stage within a stage" gets magically backed with a beautiful projection of a full moon and copious stars.
Mr. Climer is also credited with costume design although it is provided by Utah Opera and the coordination is attributable to Connie Peterson. While there are ornate and exotic costumes for the Turks, and beautiful period attire for Pedrillo and Blonde, the rather daffy "look" for Konstanze and Belmonte was confusing. She is awash in a pink flouncy gown topped off with pink wig, and he is in a foppish purple, with a tall (yes, purple) wig that over-emphasizes his height.
While director Chas Rader-Shieber has had a good time with the very effective comic moments of the piece, he has somewhat less success dealing with the leading romantic couple who seem to be cast as "the others." And therein lies a conundrum. Belmonte and Konstanze are indeed "apart" from almost everyone else, dramatically and musically. In Shaw's "Arms and the Man" a character posits: "Do you know what the higher love is? Very fatiguing to keep up for any length of time."
And as the evening progressed I kept feeling that this pair's "higher love" begged for specificity and variety. By making them look a bit silly, expectations are raised that there may be some fresh insight, yet that angle is not explored. When the couple first re-unites, there is no romantic chemistry, no palpable relief at finding each other. Rather there is a chaste impression that they are simply oh-so-very-very-happy to be able to sing some sublime Mozart duets together. Physical distance mars several key moments, and when they do get close to each other, they wind up in operetta poses. A serious injection of hormones might be just what the doctor (and Wolfgang) ordered, please!
Ashley Emerson as Blonde with guards
The performance featured singing in German and (abridged) dialogue in English. To my taste, I would have preferred the whole shebang auf Deutsch. It is telling that the two "asides" that were ad-libbed in German got the two best laughs of the night. Too, staying in German may have stopped Pedrillo and Belmonte from speaking in a Dudley Do-Right operatic delivery more appropriate in a cavernous theatre than the intimate stage of the Blank Performing Arts Center.
Amanda Woodbury contributes a very accomplished Konstanze. Her lyric voice has an appealing immediacy and the technique is commendably flexible. She is assuredly up to the rangy demands of this virtuoso part. If the big arias are always limpid and beautifully negotiated, a bit of dramatic nuance and color would not be amiss. This will no doubt come as Ms. Woodbury performs the part more often. On the occasions when she found some starch to her tone and delivery, a more sizable voice was suggested.
Ben Bliss as Belmonte
Ben Bliss has a bright future ahead of him with his honeyed, mellifluous tone and an assured technique. His legato singing was meltingly gorgeous, and he has the firepower for the melismatic writing. Mr. Bliss made short work of the technical demands of Ich baue ganz, but singing all the notes wonderfully is not all that is required by this imposing aria. For a moment, at the start of the final duet, Ben invested the phrases with true, deeply felt anguish, and I saw all the promise and depth in this fine artist. Both Mr. Bliss and Ms. Woodbury have all the skill to sing this music with consummate ease. Now I would urge them to start living it.
Dramatically, the credibility of the story was not helped by taking the lean and handsome Ben Bliss and making him look goofy, especially contrasted with the swarthy, sensitive Pasha of David Adam Moore. Mr. Moore not only has a magnetic stage presence, but he is also costumed superbly: long dark hair, barefoot in harem pants and a ravishing, cream, jewel-encrusted coat, which he shucks in Act II to reveal a pleasing torso that sports a couple of tats and pierced nipples. Now really, would Konstanze prefer a virginal nerd in lavender knickers over this experienced, attractive ladies man? Really?
The talented Ashley Emerson brings an unerring comic timing, plenty of spunk, and brilliant vocalizing to the role of Blonde. Ms. Emerson has grown steadily as an artist, and along the way she has found ever more body and presence in her attractive, well-schooled soprano. Being short of stature worked to her advantage as she created one of the show's most memorable moments, standing up on a chair to confront Osmin, bringing them eye-to-eye at last.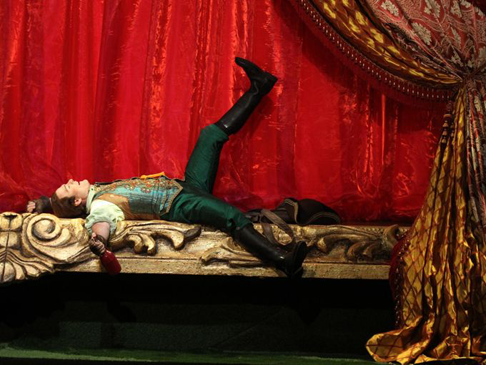 Jonathan Blalock as Pedrillo
Matt Boehler was towering in every way as the ridiculously villainous Osmin. This is one of opera's great comic roles and the inventive (and seriously tall) Mr. Boehler did not miss a trick. His middle voice is so pointed and darkly pleasing that I had wished he could have carried a hint more ping into the very upper stretches. His lower extension is secure and impressive, making up in beautifully controlled focus what he may lack in rafter rattling volume.
As Pedrillo, Jonathan Blalock had boyish appeal and showed off a sound lyric tenor. Yet, I have seen less-gifted Pedrillo's do more with the part, playing it as a more deliberate foil to the high-minded hero Belmonte. There was nothing wrong in what Mr. Blalock did, but I craved a bit more sass and mischief making.
No matter, the audience was delighted, and this appealing performance was characterized by all the conscientious polish, care, and artistry that permeate this fine festival.
James Sohre
---
Cast and production information:
Belmonte: Ben Bliss; Konstanze: Amanda Woodbury; Blonde: Ashley Emerson; Pedrillo: Jonathan Blalock; Osmin: Matt Boehler; Pasha Selim: David Adam Moore; Conductor: Dean Williamson; Director: Chas Rader-Shieber; Set and Costume Design: Jacob A. Climer; Lighting Design: Barry Steele; Costumes Provided by Utah Opera and Coordinated by Connie Petersen; Chorus Master: Lisa Hasson; Make-up and Hair Design: Joanne Weaver for Elsen and Associates

image=http://www.operatoday.com/Abduction.png
image_description=Matt Boehler as Osmin [Photo courtesy of Des Moines Metro Opera]
product=yes
product_title=Seductive Abduction in Iowa
product_by=A review by James Sohre
product_id=Above: Matt Boehler as Osmin
Photos courtesy of Des Moines Metro Opera