Once you arrive at the main train station, you sense you're in a rare place utterly at peace in a world in chaos. This magic bubble equals the serenity of Lucerne in Switzerland. In the middle of Germany's Black Forest, since Roman times Baden-Baden is also renowned for its hot water springs that make it famous spa retreat. During the festivals, the musicians of the visiting orchestras give Meisterkonzerte of chamber music at the legendary Kurhaus, the modern art museum Frieder-Burda, and at the casino glamorous enough for a James Bond film.
Before the end of the 2017 season, there is a lot more opera to hear. This Easter for ten days, Simon Rattle and the Berliner Philharmoniker perform exciting programmes with impressive soloists. In recent years, they have alternated Puccini with Wagner. With Manon Lescaut two years ago, last year the world premiere of the NYC Met's Tristan und Isolde, and this year Tosca and an evening with Anne Sofie von Otter.
Next Easter, an all star line-up with Stephen Gould, Evelyn Herlitzius, and Evgeny Nikitin in Parsifal will join for Rattle's last season with the Philharmonic. In additional programming, Krystian Zimerman, Gerald Finley and Elina Garanca will also perform solo with the Berliners.
Also during Easter, in the tiny Theater Baden-Baden, the young musicians of Berliner Philharmoniker Academy present chamber opera adaptations. Last year, a witty, highly engaging version of Haydn's Il mondo della luna delighted audiences. This year Peter Brooks abridged La Tragedie de Carmen gets a new staging, while next year Mozart's La finta giardiniera gets tackled. Just a visit to the theater for its baroque ceiling is worth your time.
Last year for its annual star-studded Summer Gala, Jonas Kaufmann, Ekaterina Gubanova, Bryn Terfel, and Anja Harteros wowed the audience. This year, Yannick NÈzet-SÈguin and the Chamber Orchestra of Europe perform a concert version of La Clemenza di Tito with Joyce Didonato and Rolando VillazÛn. In 2018, the Might Mouse (Didonato's nickname for the Maestro) will return with The Magic Flute.

Eugene Onegin © V.Baranovsky
Russian powerhouse Gergiev returns twice a year with his Mariinsky troupe. Late July, two stagings of Eugene Onegin bookend two rich programs. One evening he present Rachmaninoff's Third Piano Concerto with Trifonov behind the piano and the composer's choral symphony The Bells. The next evening, both Chopin Piano Concertos with Bruckner's Seventh in between will exhaust the audience. In the Winter Gergiev returns with lavish ballet programs.
Next season's line-up during the Fall, includes Rene Jacobs, who brings a concert version of Beethoven's original version Leonore. In November, La bohËme is staged. Bartoli and VillazÛn drop by on two occasions. During the Winter months of January and February, Damrau & Kaufmann, Harteros, and an Operetta Gala with Thomas Hampson, Marlis Petersen, and Piotr Beczala will warm up the audiences.
In Spring, Diana Damrau returns with her hubby Nicolas TestÈ for a night of Verdi. Olga Peretyatko and Sonya Yoncheva come over for two separate recitals. Bryn Terfel stars in a concert version of Wagner's Der fliegende Holl‰nder led by Gergiev. Iv·n Fischer and his Budapest Festival Orchestra will provide another highlight with Mahler's Second Symphony.

Anna Netrebko and Yusif Eyvazov copyright by Vladimir Shirkov
And in the Summer, the season will have a climactic ending as Gergiev returns to conduct Anna Netrebko and Yusif Eyvazov in Francesco Cilea's Adriana Lecouvreur in a staging by Isabelle Patriot-Pieri from the Mariinsky Theater.
Feel free to bring the (grand)children: kids' programming will certainly stimulate them, so you can put them to bed early and enjoy your evening.
Here the private sponsoring certainly does not go to waste on poor programming!

image=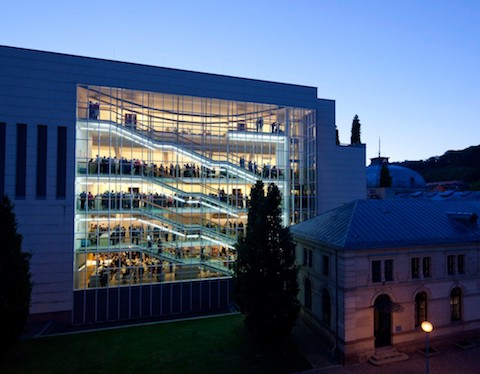 product=yes
product_title= Baden-Bade season highlights
product_id=Above: Festspielhaus Baden-Baden by Myrzik and Jarisch