The role of Eliza Doolittle is performed by Lisa O'Hare and that of Henry Higgins by Richard E. Grant. Additional leading parts are taken by Nicholas Le Prevost as Colonel Pickering, the colleague of Higgins, Donald Maxwell as Eliza's father Alfred Doolittle, Brice Pinkham as the smitten Freddy Eynsford-Hill, Cindy Gold as Mrs. Pearce the housekeeper of Higgins, and Helen Carey as his mother, Mrs. Higgins. The production was created for the ThÈ'tre du Ch'telet, Paris and the Mariinsky Theatre, St. Petersburg. The original director was Robert Carsen and the revival director is Olivier Fredj. Set designs are by Tim Hatley and costume designs by Anthony Powell. The Lyric Opera Orchestra is conducted by David Chase and the Lyric Opera Chorus Master is Michael Black.
After a sprightly performance of the orchestral introduction, before and during which the words "Mea pulchra femina" appear projected on the curtain, the first scene captures immediately the social bustle of a winter's evening outside London's Covent Garden. While snow falls on the throngs of theater-goers searching for transportation, Freddy Eynsford-Hill collides with Eliza and upsets her flower-basket. Ms. O'Hare's reaction as Eliza emphasizes a spunky character in keeping with her social background and present vocation. The occasional positioning of performers at stage front in this first scene initiates a technique used to good effect in later parts of this production. For now, Henry Higgins emerges from behind a pillar at stage rear once Eliza is informed anonymously that "a bloke" is writing up her "ev'ry blessed word." Higgins's preoccupation with his task as phonetician and his purely objective and cold devotion to a project based on human speech is well embodied by Mr. Grant. His performance of "Why can't the English teach their children to speak?" is delivered with gusto and acerbic hauteur. One of the bystanders to whom Higgins addresses his rant on linguistic purity has, coincidentally, written on Sanskrit and traveled from India to consult with the London phonetician.


As the befuddled Colonel Pickering Mr. Le Prevost delivers his lines in character and with an appealing, dry wit. Once the two linguists become rapt in each other's field and leave the public premise, Eliza and her cockney associates dream of the attributes of a better life in "Wouldn't it be loverly?" The societal and linguistic differences occasioned by this series of accidents and accidental meetings persist throughout the drama, yet emotional tensions and familial relations are gradually woven into the personal involvements. As the first of these, Alfred Doolittle begs money for beer from his daughter Eliza on the following morning. Although she resents the intentions expressed with believable fervor by Mr. Maxwell's Doolittle, Eliza's loyalty to her father wins out and she yields him a half-crown. At the same time, this encounter prompts renewed thoughts of an improved life, and O'Hare's character displays neatly the transition prompting her to visit the Higgins household to gain the needed talents. Since the London linguist had boasted to Pickering that he could teach her to speak properly, Eliza's determination brings her squarely into conflict with the domestic staff of the Higgins household. As Mrs. Pearce the housekeeper Cindy Gold steals the show for now with her droll statements, at first opposing and ultimately in sympathy with the young flower-seller. Once Pickering offers to pay for Eliza's lessons and Higgins succumbs to the temptation of transforming the girl, she is promptly established in the household. Higgins declares "I'm an ordinary man," and this number is performed by Grant with declarative vigor in his home and, as a featured solo, immediately in front of the curtain during a change of scene. This technique, when repeated in the production, allows for smooth transitions between locales and draws the audience's attention to the performer on the proscenium.
Once the mercenary intrusions of Eliza's father are satisfied, the drudgery of lessons and drills becomes the focus of performers and chorus. In the following extended scene with numerous celebrated melodies from "Just You Wait" through "The Rain in Spain" the tension between protagonists intensifies against the greys and soft pastels of an upper-class interior. A droning chorus of "Poor Professor Higgins" is effectively lengthened by the stage lighting until Eliza experiences a late-night apotheosis. The choreography supporting O'Hare's performance of "I Could Have Danced All Night" shows an ingenious use of bodily movement dependent on lyrics as Mrs. Pearce assists Eliza in changing clothes. She has now been declared ready for public display.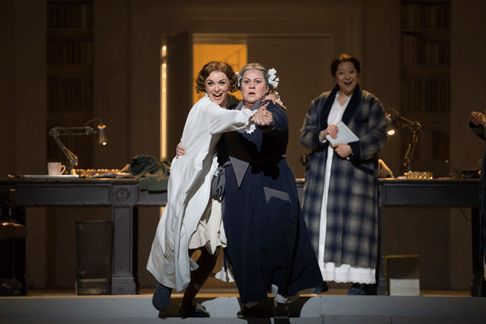 During the social event of the race at Ascot it becomes clear that Eliza's training has been mechanically successful yet limited in achieving independent discretion. Mrs. Higgins, to whose box at the race Henry has invited Eliza, is portrayed by Ms. Carey with delightful indignation when she learns of her son's plan. Although Mrs. Higgins advises after Eliza's numerous social gaffs that Henry abandon his plans, Carey already reveals the humanity that will turn her into Eliza's ally in the briefer second act. Equally impressive in this scene and its aftermath is Mr. Pinkham's Freddy in his infatuation with Eliza's honest display of character. Perhaps the most satisfying vocal performance of this production is Mr. Pinkham's rendition of "On the Street Where You Live" with top pitches securely in place and effective use of rubato in lines such as
All at once, am I / several stories high." In the following scene, the delight experienced by this Henry Higgins as they prepare to leave for the Embassy Ball in Eliza's next outing sets him up for the shift in emotional relations in the second act.
The irony of Eliza's success at the Embassy Ball is captured when the trio of Higgins, Pickering, and the transformed Miss Doolittle returns home from the event. After a series of self-congratulatory comments delivered by a patronizing Higgins, O'Hare's Eliza explodes into the independence that will color her part until the conclusion of the act. Once she leaves the Higgins house and encounters Freddy still waiting outside, O'Hare's performance of "Show Me" is essentially a fusion of the earlier flower-girl with the spirit of an enlightened woman. Her eventual return to Henry Higgins is credibly staged in this production as Grant's final soliloquy, "I've Grown Accustomed to Her Face," is recited with a sustained sense of loss. When they are again together, the request that Eliza find his slippers is now only rough on the surface.
Salvatore Calomino

image=http://www.operatoday.com/MY-FAIR-LADY_WS-35_c.Andrew-Cioffi.png
image_description=A scene from My Fair Lady [Photo by Andrew Cioffi]
product=yes
product_title=My Fair Lady at Lyric Opera of Chicago
product_by=A review by Salvatore Calomino
product_id=Above: A scene from My Fair Lady
Photos by Andrew Cioffi and Todd Rosenberg