The opera, Thumbprint, originated with a play called Seven, a documentary work first performed in 2008 at New York City's Ninety-Second Street "Y." Seven tells the stories of seven women around the world who fought for the rights and wellbeing of women and girls. Susan Yankovich told of Mukhtar Mai, a Pakistani survivor of gang rape, who became a campaigner for women's education and won a 2006 Global Leadership Award.
Beth Morrison of Beth Morrison Projects suggested that Yankovich make her section of the play into an opera libretto for Indian-American composer Kamala Sankaram. Beth Morrison Projects commissioned Thumbprint as a song cycle that was first heard in 2009. As an opera, it received its world premiere in New York in 2014 and its West Coast premiere on Thursday, June 15, 2017. This reporter saw the first Los Angeles performance of Thumbprint as part of Los Angeles Opera's "Off Grand" series performed at the REDCAT Theater.

Phyllis Pancella (Mother), Kamala Sankaram (Mukhtar Mai) and Leela Subramaniam (Annu)
Indian-American composer Kamala Sankaram wrote a strong score for this opera. Her music is powered by short rhythmic phrases that drive it forward and undergird it with dramatic force. A singer herself, Sankaram wrote fine ensembles as well as arias and her music utilized the most colorful parts of each artist's range. With soprano Leela Subramaniam as Annu singing above her and mezzo-soprano Phyllis Pancella as the Mother singing below her, Sankaram's Mukhtar begins her story as a charming young girl in a loving family. When Mukhtar's twelve-year-old brother was accused of a sexual offense, she volunteered to apologize for him. Her apology was not accepted and she was physically assaulted. Sankaram's music, which had been delightfully decorated by the flute, then lost its light hearted charm to become stark and dramatic.
Sankaram's exquisitely colorful score gave Music Director Samuel McCoy six players to accompany the singers: percussionist Brian Shankar Adler, bass player Greg Chudzik, pianist and harmonium player Mila Henry, flutist Margaret Lancaster, violinist Andie Springer, and violist Philippa Thompson. Although they were few in number, they presented Sankaram's fascinating and repetitive fusion of Western and Indian music with ever increasing intensity.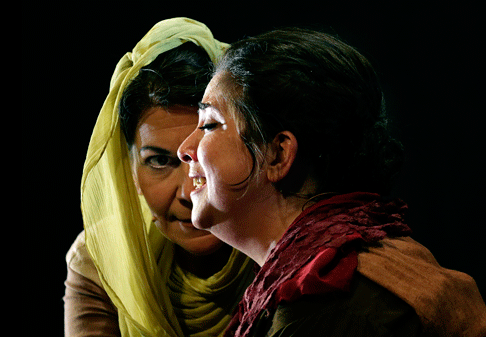 Kamala Sankaram (front) as Mukhtar Mai, with Phyllis Pancella (Mother)
Director Rachael Dickstein, Scenic Designer Susan Zeeman Rogers, and the video designers of Automatic Release showed Mukhtar's road to social redemption both on a screen and as a route around the stage. She walked across rectangular platforms that were also used to represent home furniture, a desk in a police station and the dock of a Pakistani Court. Kate Fry's colorful Pakistani costumes featured long pants under full skirts and headscarves with intriguing designs for the women. The men wore light weight long shirts over slim pants.
Thumbprint is a dramatic piece in which the voices convey a story rather than concentrate on aural beauty. Sankaram, Subramaniam, and Pancella colored their tones so that they told of the events in Mukhtar's life with sound as well as words. Tenor Steve Gokool's bright, powerful voice was the perfect foil for actor Manu Naroyan's evil characters, while Kannan Vasudevan's aptly created smaller characterizations filled out the roster of villagers. Although there were no supertitles and some words were hard to understand, Dickstein made sure that no member of the audience missed Mukhtar's message.
At the end of the performance there was a Talk-Back at which the opera's heroine, Mukhtar Mai, was present. Through a translator, she told us that her attackers were free on appeal and would probably never serve time in prison. She has put together a foundation, however, that provides education and support for women in Pakistan. She noted that little by little the tide is turning as village women begin to realize they have the power within themselves to ameliorate their situation.
Maria Nockin
---
Cast and production information:
Composer, Kamala Sankaram; Librettist, Susan Yankowitz; Creative Producer, Beth Morrison; Director, Rachel Dickstein; Music Director, Samuel McCoy; Lighting Design, Jeanette Oi-Suk Yew; Scenic and Object Design, Susan Zeeman Rogers; Costume Design, Kate Fry; Mukhtar, Kamala Sankaram; Mother, Minister of Justice, and other roles, Phyllis Pancella; Father, Judge, and other roles, Steve Gokool; Faiz, Police Chief, and other roles, Manu Narayan; Abdul, Shakur, Imam, other roles, Kannan Vasudevan; Annu and other roles; Leela Subramaniam.

image=http://www.operatoday.com/thumbprint-0613-01.png
image_description=Kamala Sankaram as Mukhtar Mai [Photo by Larry Ho]
product=yes
product_title=Thumbprint, An Amazing Woman Leaves an Indelible Mark
product_by=A review by Maria Nockin
product_id=Above: Kamala Sankaram as Mukhtar Mai [Photos by Larry Ho]