Of rich theatrical interest are the two new productions — Hungarian stage director David Marton's Dido and Aeneas filtered though Berlin's late, lamented Volksb¸hne, and Moscow-formed Ukrainian stage director and theatre theorist Andriy Zholdak's The Enchantress filtered through the filmic lens of the 1950's and 60's (Fellini, Bergman). Of less interest but still of enormous pleasure was Monteverdi's Il ritorno d'Ulisse, revived in the 1999 William Kentridge South African life-size puppet theater production, sung by members of the OpÈra de Lyon young artist program.
Andriy Zholdak's staging of Tchaikowsky's The Enchantress is nothing less than monumental. The Enchantress is the ninth of Tchaikovsky's eleven operas (Eugene Onegin is the fifth, Mazeppa the seventh, Pique-Dame and Iolanta the tenth and eleventh respectively). It is Tchaikovsky's lengthiest work (just under four hours with one intermission) that only recently is finding its way into the repertory after a tepid reception back in 1887.
Mr. Zholdak makes a strong case that The Enchantress is one of opera's great theatrical moments, or maybe it was conductor Daniele Rustioni who made the case. Working together the two artists kept their audience spellbound for the duration, the orchestra unflaggingly sustaining the unrelenting tension on the stage.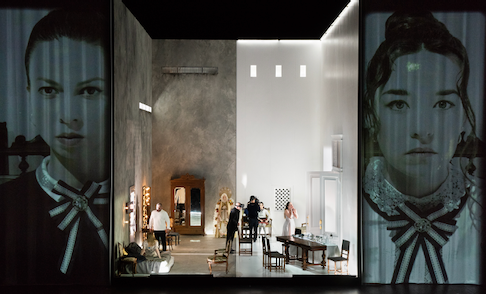 A bedroom juxtaposed to Prince's dining room, with faces of two adolescent girls seated center back watching action, video projected.
A priest, probably a surrogate Mr. Zholdak, extinguished candles in Lyon's St. John the Baptist cathedral, climbed into a limousine to arrive at Lyon's OpÈra Nouvel (we watched this on video). Arriving onto the stage he contemplated a game of chess, a game that soon moved to the beautiful Nastasia's humble inn where he engaged her in a game. Four hours later, a few chess boards and a card game later dressed in a green suit he batted tennis balls against the inn's walls during the wrenching lament of the opera's antagonist (who had just murdered his own son).
Early on the priest planted a camera in the eye of crucified Jesus then donned virtual reality goggles to watch and encourage things to go from bad to worse. The Prince's son stopped by the inn briefly. At the mere sight of him Nastasia fell in love. The Prince stopped by a few minutes later and fell madly in love with Nastasia. Neither the Prince's wife nor the Prince's son could abide the Prince's infatuation with Nastasia.
Like in a dream seemingly random images flowed hour after hour alongside, though of course they were related somehow. Location somehow shifted between Nastasia's mean little wooden inn, the Prince's towering, blinding white dining room, Nastasia's boudoir, and a stone chapel with a huge, crucified Jesus. A catalogue of sexual desires were fulfilled, fantasy murders were enacted. A story was somehow told (the Prince's wife poisons Nastasia, the son renounces his mother, the prince murders his son in a fit of jealous rage).
Tchaikovsky's score turged on, magnificent arias, magnificent rages, ecstatic duets, huge choral climaxes (though we never actually saw the chorus). Alternative Images flowed unbound, uncontrolled by linear narrative. Zholdak's world unfolded in an unparalleled display of theatrical craftsmanship, both artistic and technical. Tchaikovsky's orchestral world spewed forth in unbridled emotion like no Tchaikovsky score you have heard before.

Three (of four) constantly moving scenic elements, crucified Jesus in white light.
The OpÈra de Lyon assembled an exemplary cast. Beautiful Russian soprano Elena Guseva inhabited the temptress role to perfection in beautiful, warmly Russian tone that never faltered through the punishing several hours of singing. Former Los Angeles Opera young artist, Russian tenor Migran Agadzhanyan gamely played with his teddy bear, soundly berated his mother and ardently declared his love for Nastasia in a total performance. Russian mezzo soprano Ksenia Vyaznikova was unrelentingly terrifying as the mother in music that explored the full mezzo vocal and histrionic range. Azerbaijan baritone Evez Abdulla reveled in splendidly baritonal self indulgent swagger as first the love sick prince then the tortured father.
Polish bass Piotr Micinski played the priest Mamyrov in an amazing display of body language and dramatic concentration in his constant, silent presence as the star of Zholdak's and now Tchaikovsky's dream. It was a performance of absolute virtuosity. Of note also was the physicality of the sorcerer Koudma sung by Siberian baritone Sergey Kaydlov. The myriad of secondary roles were sung in fearsome Russian both by Russian singers and by the French artists who appear regularly at the OpÈra de Lyon.
Henry Purcell's masterpiece Dido and Aeneas is of sufficient dramatic magnitude to command an evening in and of itself. However its brief, fifty minute duration does not fill an evening at the opera. It is an unsolvable problem.

Dido and Aeneas with chorus members.
The OpÈra de Lyon offered just now a novel solution — the immersion of Dido's tragedy and Aeneas' destiny into a larger piece of conceptual theater. Such theatrical exercise has had impressive precedent at Berlin's Volksb¸hne with works like famed director Frank Castorf's dismembering of Dostoyevsky's Insulted and Humiliated in a seven hour sitting, and Schumann's setting of Goethe's Faust Book II ignored in a seven hour sitting because the director decided he didn't know what to do with it so they would simply stage something or the other on the set built for the opera, never mind that the actors had learned to sing its lines.
Volksb¸hne formed Hungarian stage director David Marton and his dramaturg Johanna Kobusch knew exactly what to do with Dido and Aeneas to make it into a two hour evening — they sank it into an archeological dig, building on the current scientific myth that time moves in circles. Thus you are where you have already been revealing the multiple civilizations present in Purcell's Dido and Aeneas.

Juno and Jupiter (lower left) video projected (note presence of videographer).
Cleverly Mr. Marton turned to Virgil to find lines for toga-attired Jupiter and Juno to speak while they dug in a covered dig finding artifacts of our tech age. Finnish composer Kalle Kalima created convincing noises and some fine new music from time to time to make much of the spoken episodes into a melodramma of sorts (speech with music). These spoken episodes related the adventures of Aeneas, amplifying the evening beyond the personal tragedy of the queen of Carthage to encompass a larger vision of humanity. Aeneas himself, sung by Guillaume Andrieux revealed himself not only a fine singer but also a high-style actor.
Purcell's little tragedy did find its way into the melÈe from time to time, Belinda, sung by a matronly Claron McFaddon, offering sage advice over drinks to Dido, sung by soprano Alix le Saux, dressed for cocktails. A huge black period dress was provided to Mlle. le Saux for Dido's, "When I am laid, am laid in earth," though this did not manage to support the lament which had little of the wrenching gravity that makes this aria one of opera's towering masterpieces.
There was a striking Volksb¸hne moment. The face of Icelandic actor, Thorbjˆrn Bjˆrnsson (a former Volksb¸hne actor), was painstakingly revealed as the dirt covering it (he was fully buried in the dirt of the excavation) was slowly brushed away by Juno (we watched this procedure on video close-up).

Face of buried Jupiter becoming apparent, brushed by Juno, video projected from excavation pit.
Swiss performance artist Erika Stucky (born in San Francisco) made all sorts of vocal noises pinch-hitting as Purcell's witch plus scrunching cellophane, dragging a shovel, etc. These added bits of performance art were annoying to some of us. Many in the audience had had enough and exited the theater during her bits.
Of particular pleasure were Purcell's madrigals, gracefully performed by members of the OpÈra de Lyon chorus. These highly skilled singers articulated Purcell's voice lines in ways that added a textural lightness through which new layers of meaning emerged. A sizable string orchestra comprised of members of the OpÈra de Lyon orchestra gave a bright sound to what little Purcell we actually heard, as well as to the added intermezzos and their musical destruction by composer Kalle Kalima (dressed in a white suit, he sat with his electric guitar on a high platform in the orchestra pit). Conductor Pierre Bleuse obliged with all the necessary moods.
The production had the feel of a clique of artists who got together to do something they thought was cool. The audience at the performance I attended had little patience for it.
Michael Milenski
---
Cast and production information:
The Enchantresse Princesse Eupraxie Romanovna: Ksenia Vyaznikova; Mamyrov: Piotr Micinski; Prince Youri: Migran Agadzhanyan; Nenila, sa súur: Mairam Sokolova; Ivan Jouran: Oleg Budaratskiy; Nastassia (surnommÈe Kouma): Elena Guseva; Loukach: Christophe Poncet de Solages; Kitchiga: Evgeny Solodovnikov; PaÔssi: Vasily Efimov; Koudma: Sergey Kaydalov; Foka: Simon Mechlinski; Polia: ClÈmence Poussin; Balakine: Daniel Kluge; Potap: Roman Hoza; InvitÈ: Tigran Guiragosyan. Orchestre et Chúurs de l'OpÈra de Lyon. Conductor: Daniele Rustioni; Mise en scËne et dÈcors: Andriy Zholdak; LumiËres: Andriy Zholdak et les Èquipe lumiËres de l'OpÈra de Lyon; DÈcors: Daniel Zholdak; Costumes: Simon Machabeli; VidÈo: …tienne Guiol. OpÈra Nouvel, Lyon, France, March 24, 2019.
Dido and Aeneas Didon: Alix Le Saux; EnÈe: Guillaume Andrieux; Belinda: Claron McFadden; Esprit / chant / interludes: Erika Stucky; Juno / comÈdienne: Marie Goyette; Jupiter / comÈdien: Thorbjˆrn Bjˆrnsson. Orchestre et Chúurs de l'OpÈra de Lyon. Conductor: Pierre Bleuse: Concept et mise en scËne: David Marton; Composer: Kalle Kalima; DÈcors: Christian Friedl‰nder; Costumes: Pola Kardum; LumiËres: Henning Streck; VidÈo: Adrien Lamande; Dramaturgie: Johanna Kobusch. OpÈra Nouvel, Lyon, France, March 23, 2019.

image=http://www.operatoday.com/Enchantress_Lyon1.png
product=yes
product_title=The Enchantresse and Dido and Aeneas in Lyon
product_by=A review by Michael Milenski
product_id=Above: Migran Agadzhanyan as the Prince's son, Elena Guseva as the Enchantresse [photo copyright Stolteth, all photos courtesy of the OpÈra de Lyon]