David McVicar and his designer John MacFarlane created a timeless Tosca — the Napoleonic wars alive in Michelangelo's Farnese Palace, in the 17th century basilica Sant'Andrea della Valle, and even in Hadrian's 2000 year-old tomb (now Castel Sant'Angelo). Tosca is Rome.†
?It is a not-too-subtle Rome. The massive stage opening of the Met was filled with architecture that exaggerated the Baroque massiveness of St. Andrea della Valle. This masculine world of the church became as well an expanse for the boundless desire of Rome's chief-of-police, Scarpia. We did not see the details that illustrate the story (the painting, the picnic basket, etc.). But we did feel the threat of this space that rendered the diva Floria Tosca very vulnerable.

The Te Deum
?The Farnese Palace was present in its spirit, not its architecture. Its famed fresco "The Loves of the Gods" extended in exaggerated perspective along one wall. A huge fireplace, votive candles and candle chandeliers spread through the huge dark space created a massive chiaroscuro where Tosca's anima exploded.†
?The massiveness of Sant Angelo on the other hand was greatly diminished. A small terrace was its only architectural feature and only a small, morning sky floated in the now massive blackness of the Met stage house. The smallness of the space provided context for Tosca and Cavaradossi's discussion of intimacies of the bloody murder. Tosca's leap was but a small step into this void, an intimate, spectacular slide into nothingness.†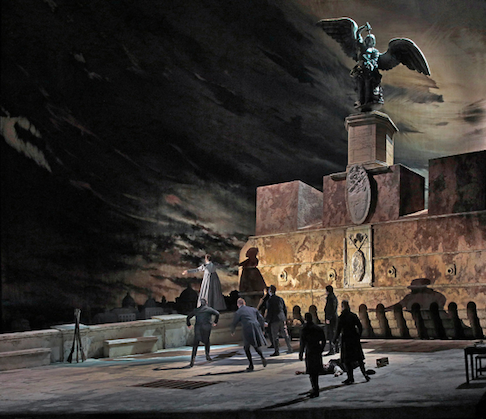 The leap
David McVicar's Rome was not mere background for Puccini's intense reading of Sardou's play. Rome was the dominant player in this drama of release that has become the most famous of all operatic rituals, that has created a cult of Tosca followers. And that's all of us†—†the entire corpus of the opera audience who need Puccini's Rome to embody the world from which we must (and will ultimately) escape.
?The powerful Rome that this Tosca set creates demands powerful singers to inhabit its vastness. This was fulfilled in the four spring performances conducted by Carlo Rizzo who aided and abetted the three principals to create personages of impressive magnitude. American soprano Jennifer Rowley embodied a Tosca flooded by a huge spectrum of emotions, from the playfulness of diva attitudes in the first act to her murderess fury in the second act and finally the complexities of the third act. Mme. Rowley's voice has a fast flutter that served to create an exaggerated singerly presence for Tosca. She has a surcharge of vocal heft to ride above the climaxes, and artistry that made her "Vissi d'arte" a show stopper.
?
German bass-baritone Wolfgang Koch created a unique Scarpia, one who seemed to almost speak his words in Puccini's threatening vocal lines, his massively powerful physical size added to the menace of his character. Mr. Koch's Scarpia is not a subtle creature, he is the ultimate predator, and Puccini provides him ample of opportunity to brag about it.
Tenor Joseph Calleja more naturally plays the role of a tenor rather than he played the painter Cavaradossi. Fortunately he is a good tenor so his instinct to turn to face the audience when he has a high note, and to hold it long enough to be doubly sure that we know he has powerful, secure high notes, was not as annoying as it might have been.†
?
Mr. Calleja is the Cavaradossi this coming July at the Aix-en-Provence festival in a mise en scËne of Tosca by French director Christophe HonorÈ. This director set his Aix Cosi fan tutte in Ethiopia, his Lyon Don Carlo amidst theater drapes on an otherwise empty stage. Thus we nervously await the Rome (if Rome) he will conjure for this Aix Tosca, into which he must slip tenor Calleja. It may be worth the trip just to find out.
Michael Milenski
---
Cast and production information:
Floria Tosca: Jennifer Rowley; Cavaradossi: Joseph Calleja; Baron Scarpia: Wolfgang Koch; Sacristan: Philip Cokorinos; Spoletta: Tony Stevenson; Sciarroe: Bradley Garvin. Chorus and orchestra of the Metropolitan Opera. Conductor: Carlo Rizzi; Production: David McVicar; Set and Costume Design: John MacFarlane; Lighting Designer: David Finn; Revival Stage Director: Jonathon Loy. Metropolitan Opera, New York, March 29, 2019.

image=http://www.operatoday.com/Tosca_Met1.png
product=yes
product_title=Tosca at the Metropolitan Opera
product_by=A review by Michael Milenski
product_id=Above: Jennifer Rowley as Tosca, Wolfgang Koch as Scarpia [All photos copyright Ken Howard / Met Opera]