I am happy to report that although I have only ever seen good productions worldwide of this challenging Alban Berg opus, I had to come to Indianola, Iowa to see the very best. This mesmerizing performance would be at home on any world stage, and the reasons are many.
In the title role, triumphantly singing torturously difficult music, Michael Mayes is nigh unto perfection. He is possessed of a ringing, freely produced baritone of uncommon power and beauty and he knows exactly how to deploy it in service of this demanding score. The rangy leaps, the emotional shifts, the sudden outbursts of Sprechstimme, the complex harmonies, none of this holds any terror for a singing actor at the top of his game.
Mr. Mayes is as fine an actor as you will find on any stage, and his deeply personalized account of the character's inexorable descent as he unraveled into violence was riveting. He winced, he gasped, he wept, he shuddered, he mourned, he snapped, he writhed, he trembled, and he prowled the premises, all the while creating a nuanced, unsettling portrait of an unstable human being decidedly ill-treated by his fellow man. Mayes infused the character with so much pitiable humanity, that in the end he was not so much killer, as killed by those in his sphere. His was a stunning achievement.
Every bit his equal, Sara Gartland was a revelatory Marie. Her gleaming soprano brought much lyric beauty to the role, and her limpid vocalizing evoked significant sympathy for her joyless existence. Ms. Gartland also found sufficient full-bodied brass in her tone for the scripted shrewish angry outbursts, as well as suitably lustful overtones for her hedonistic inclinations.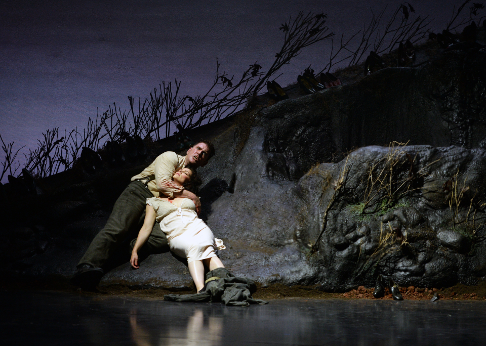 Her dramatic depiction of the conflicted character skillfully vacillated between her understandably dwindling attraction to Wozzeck, her bastard child's father, and her uncontained lust for money and emotional support. Since her only asset in life is her alluring sensuality (and Sara is a beautiful woman indeed) she must use it judiciously to get what she needs to survive. Hers was an impeccably sung, richly complex portrayal.
Cory Bix put his stentorian tenor to good use as an abusive, bloated Captain. When his assured eruptions weren't laced with venom, Mr. Bix skillfully found a way to make them drip with irony. His sturdy instrument had tightly focused presence in all registers, but the passaggio encountered some wooliness in early measures that lessened as the show went on.
Zachary James was molten malevolence as the malpracticing Doctor. Mr. James colored his sizable bass-baritone with menacing intent and his looming physical presence was enhanced by a hunched back and disfiguring facial prosthetics. (Brittany Crinson's make-up and hair designs were terrific throughout.)
Robert Watson could hardly have been better as the preening, savage Drum Major. Mr. Watson is possessed of a laser-focused tenor of astonishing amplitude and color that was a fortuitous fit for the testosterone-driven, assault prone ne'er-do-well. Gregory Warren was such a gleaming, sure voiced Andres, that I wished Berg had given him more to sing. His physicality and fluid vocalizing ably conveyed the essential kindness of one the opera's only sympathetic characters.
Margret is given few chances to shine, but Zoie Reams nonetheless made a fine impression, her pliant mezzo impressive for its richness and warmth. Timothy Bruno's rolling bass and burly presence made a fine impression as the First Apprentice, and Brian Vu complemented him nicely as the Second Apprentice, sporting a meaty baritone and a lanky, lean appearance.
As the Fool, "baritenor" Corey Trahan's diminutive stature and focused performance was eerily haunting, and nonchalantly unnerving. Lisa Hasson's chorus of apprentice artists performed their difficult assignments flawlessly. As Marie's Child, youngster Benjamin Bjorklund was heart-tuggingly engaging.
All of this superlative singing and powerful emoting was exquisitely buoyed by the miraculous sounds emanating from the pit. David Neely, always admirable, has simply never conducted better as he elicited musically vibrant, dramatically potent, and vividly colorful performances from his amassed forces, a rendition of a caliber you seldom hear at even the most celebrated world festivals.
From the lush banks of strings to the staccato punctuations by the brass to the commentary by the winds to the explosive effects by the percussion, this was a luxuriant reading that restlessly unfolded with an arc of spontaneity and inevitability. Bravo, Maestro!
In equal partnership, director Kristine McIntyre has once again brought soul-stirring inspiration and clarity of purpose to a very difficult piece. I think I ran out of superlatives to describe her artistic accomplishments two reviews ago, but suffice it to say this nonpareil version of Wozzeck has not only met her own very high standards, but has raised her own bar one notch higher.
The design team has abetted Ms. McIntyre with a jittery, spectacularly skewed milieu that visually matched the instability of the protagonist's mind. Vita Tzykun's spot on expressionistic costumes were exceeded in accomplishment only by her tremendously complicated set design.
The proscenium is covered by numerous flying pieces, most at cockeyed angles that fly in and out in countless combinations to reveal different locations, various characters, and finally the entire lakeside setting where Wozzeck kills Marie and inadvertently himself. Under the expert direction of production stage manager Brian August, the run crew outdid themselves operating all of this complicated movement with the utmost precision.
The action inevitably spills on the forestage of the thrust, making full utilization of that area, to include the sizable trapdoor space that became a trench for some physical action that was well devised by fight coordinator Gina Cerimele-Mechley. Lisa Thurrell contributed some effective choreography that included unhinged twitching and posing by the chorus at the climax of the tavern scene. That moment culminated with the men stripping to their long underwear, and the ladies carrying away the costume pieces as the men seamlessly became the soldiers who sunk to the floor to "sleep" in their barracks.
That transition was one magic moment of many thanks to Kate Ashton's marvel of a lighting design. Ms. Ashton created one moody, isolated look after another, often punctuated by random bursts of light on the proscenium flats that reflected the unraveling hallucinations that misfired in Wozzeck's troubled mind.
But it was Ms. McIntyre that successfully pulled this unified vision together and invested it with her customary passion and intelligence. Never have I been so engrossed by the journey all of these personages are making. Part of that is owing to the beauty of the proximity to the stage in the Blank Performing Arts Center. But it was the masterful director who ensured to a person, the characters on the stage were committed, honest, and compellingly believable.
Lustrous musical effects, meaningful character interaction, world class singing and playing, heart-stopping intimacy, a masterpiece vividly brought most impactfully to life – where else but Des Moines Metro Opera?
James Sohre
---
Cast and production information:
Wozzeck: Michael Mayes; Captain: Cory Bix; Andres: Gregory Warren; Marie: Sara Gartland; Drum Major: Robert Watson; Doctor: Zachary James; Margret: Zoie Reams; The Fool: Corey Trahan; First Apprentice: Timothy Bruno; Second Apprentice: Brian Vu; Marie's Child: Benjamin Bjorklund; Conductor: David Neely; Director: Kristine McIntyre; Set and Costume Design: Vita Tzykun; Lighting Design: Kate Ashton; Make-Up/Hair Design: Brittany Crinson; Choreography: Lisa Thurrell; Fight Director: Gina Cerimele-Mechley; Chorus Master: Lisa Hasson

image=http://www.operatoday.com/DSC_0291%20update.png
image_description=Scene from Wozzeck [Photo by Duane Tinkey courtesy of Des Moines Metro Opera]
product=yes
product_title=Profoundly Bone-chilling Wozzeck in Iowa
product_by=A review by James Sohre
product_id=Above: Scene from Wozzeck
Photos by Duane Tinkey courtesy of Des Moines Metro Opera