Jump on a train from London St. Pancras and in an hour you will find
yourself in the beautiful Northamptonshire countryside, crowned by the
glorious Boughton House – seat of the Dukes of Montagu, Queensberry
and Buccleuch, and one of the treasure houses of Britain. Once a Tudor
residence, most of the current building is the work of Ralph Montagu, 1st
Duke of Montagu and English ambassador to France, who in the late 17th century brought French architectural influences to the
English countryside with the help of Huguenot craftsmen – hence the
Versailles nickname.
Step inside and in addition to the sumptuous rooms and fine art collection
featuring paintings by Gainsborough, Van Dyke and El Greco, you will find
three rooms dedicated to Elizabeth Montagu's love of all things
operatic, testament to the fact that the 3rd Duchess of
Buccleuch and Queensberry was the family's great music enthusiast.
Through a collection of archival gems from the Montagu and Buccleuch family
archives, the exhibition provides a rare opportunity to get a real sense of
the role played by music – opera, in particular – within
aristocratic circles between the late 18th and early 19th centuries both in London and Edinburgh, where she lived after
her marriage to Henry Scott, 3rd Duke of Buccleuch.
Thomas Gainsborough (1727–1788), Portrait of Lady Elizabeth Montagu, Duchess of Buccleuch, 1767 and Richard Scott, 10th Duke of Buccleuch
Upon entering the exhibition, visitors are greeted by an entertaining
reproduction of an 18th century sedan chair (you're welcome to sit
inside it, should you fancy feeling a bit Georgian) in which ladies where
taken to the opera at the time – while gentlemen would arrive
separately either on horseback or by carriage.
A number of fascinating documents and artefacts are on display: her
collection of scores of popular operas of the time, acquired as she
attended their premieres and thus also serving as a historical record of
the musical enthusiasms of her day as well as keyboard instruments of the
period. Alongside these are beautifully handwritten family records of a
range of musical activities, from the purchase of musical instruments and
their transportation between family estates, to payments for her opera box
subscriptions at the King's Theatre, Haymarket (the main venue for
Italian opera at the time, though the Duchess was also known to frequent
the Theatre Royal, Drury Lane for English opera) and records of singing
lessons with Italian masters arranged for her daughters.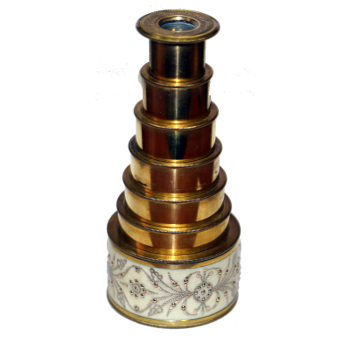 Early Nineteenth-Century Monocular [Image © The College of Optometrists, London]
Some attention is also paid to the figure of Angelica Catalani, renowned
soprano and diva at a time when the figure of the castrato is beginning to
wane. One diary entry describes how she came for dinner with the family one
night in February 1810 and entertained guests with her singing and 'a
performance of attitudes with a shawl', posing as figures of
classical history and mythology.
Other noteworthy pieces include a portrait by John Ainslie of the Italian
soprano castrato Giuseppe Giustinelli, who became a friend and lived with
the family in Dalkeith Palace for a number of years, hanging next to the
painting by Thomas Gainsborough of the Duchess herself – while her
portrait by Joshua Reynolds can be seen within Boughton House. Domenico
Corri, another Italian émigré in Scotland, dedicated his famous
singing manual, The Singer's Preceptor, to the Duchess – and a
copy of its first edition can be seen on display.
Further exhibits encompass early 19th century opera monoculars,
a 1787 'opera fan' decorated with a seating plan of subscribers
to the opera season at the King's Theatre where the Duchess's
box can be spotted alongside those of other titled gliteratti, as
well as her remarkable collection of caricature prints by James Gillray,
many of them with an operatic twist.
From collection of operatic scores including operas by Pietro Alessandro Guglielmi (1728–1804) and Antonio Sacchini (1730–1786)
The exhibition is a great example of what can be achieved through this kind
of collaboration – in this case, between the Department of Music at
the University of Southampton, the Royal College of Music, and the
Buccleuch Living Heritage Trust, funded by the Arts and Humanities Research
Council (AHRC). A unique opportunity to visit one of the finest country
houses in England and to get a glimpse into Georgian operatic culture
through a very personal lens: that of a notable 18th century
opera buff.
Mahima Macchione
Boughton's special exhibition will open to the public throughout
August, during the House's summer opening season. Visit: boughtonhouse.co.uk

image=http://www.operatoday.com/Boughton-House.png
image_description=Boughton House © Buccleuch Collection
product=yes
product_title=The Italian Opera Connection at 'The English Versailles': The Duchess of Buccleuch and the Georgian Stage at Boughton House
product_by=By Mahima Macchione
product_id=Above: Boughton House
Unless otherwise indicated, all images © Buccleuch Collection