Elisabeth had killed herself in the back of a sort of wrecked love bus after seducing Wolfram who, a bit stunned, then sang his hymn to the evening star. Tannhäuser found his way back from Rome, and to Wolfram's horror tore up the script for the tale's implicit outcome.
Through all of this (and much, much more) conductor Thielemann insisted on the purity of Wagnerian love, and it prevailed perhaps as never before, a triumph of dramaturgical manipulation that needed the sanctity of the Festspielhaus and its magical acoustic to succeed.
In fact director Kratzer pit the artistically fearsome resources of Wagner's Festspielhaus against the raw art of a vintage love bus crowned by a performance artist Marina Abramovi? rabbbit inhabited by the famed (infamous) black drag queen Le Gateau Chocolat, a dwarf named Oscar, and a mezzo soprano named Venus dressed in a sort of circus ringmaster leotard. Not to overlook a clown named Tannhäuser.
Director Kratzer moved seamlessly between a huge filmic world and a particular, theatrical, actors' world, at first the massive proscenium opening of the Festspielhaus filled with the fleeting hills and trees of Bavaria's Franconia, hurdling over Wartburg castle, Wagner's resplendent overture majestically completing the awesome travelogue.
There was then the full stage as theater, only to be filled above with video magnification of the stage below – the massive, magical sounds from the Festspielhaus' hidden pit uniting the images as one.
Director Kratzer's conceptual world is fluid. We then find ourselves in front of the Festspielhaus where, among other things there is inherently always a sort of singing contest, not to mention the pilgrims that pass by headed to this temple of art.
There is a crisis. Not only is Tannhäuser homesick for Venusberg but Venus, Chocolate Cake and Oscar invade the Festspielhaus and find their way to the contest to rescue him. Stage management (video projection above stage set) calls the Bayreuth cops who arrive at the Festspielhaus (video above stage set), find the ladder up to the famous faÁade balcony, crash onto the stage and would have squashed the melÈe if Elizabeth had not got things under control.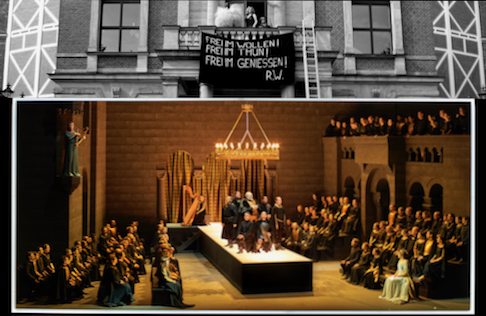 The Act II singers' contest (lower) while Venus enters Festspielhaus (simultaneous video but incomplete image)
You may think this is comedy. It was not. Conductor Thielemann pit the forces of woodwind purity against strident, screaming violins in unimaginable fortissimos. We knew someone had to call the cops. We needed the ensuing hour long break to catch our breath.
Back then to the now wrecked Venusberg, and director Kratzer's coup de thÈ'tre – the conceptual wreckage of Elizabeth and Wolfram. But finally there was salvation. Not only for the hero and heroine (both for once), but also of stage director Kratzer who squeaked by with the implicit compliance of Wagner (and a very smart dramaturg) and the total commitment of Maestro Thielemann to the extremes of the score and to the production. Left unknown to me, sadly, is how maestro Gergiev can have dealt with all this in the other performances.
With Richard Wagner we confronted the chaos of creation and the struggle to reconcile raw art with refined art, and we attempted to reconcile the boundless urges of the human spirit with the civilizing force of community and the restraints imposed by love. For a moment at the end we may have succeeded, the pope's staff finding, maybe, a green leaf or two.
The production was brilliantly cast. Larger than life American heldentenor Stephen Gould made a convincing clown and sang in high Wagnerian style, easily winning the singing contest. Larger than life Norwegian dramatic soprano Lise Davidson countered the tenor in vocal prowess, finding convincing and moving delicacy in her scene of deliverance with Oscar the dwarf, and her seduction of Wolfram.
Russian mezzo Elena Zhidkova was the scene stealing Venus, finding beautiful tone and style when called upon to sing and not to simply drive the love bus and disrupt the stage. German baritone Marcus Escher was deprived of portraying the usual sympathetic Wolfram, sacrificing himself to a far more complex character who needed far more than a pretty voice.
Director Kratzer's splendid production is site specific to Franconia, Bayreuth and the resources of the Festspielhaus. Make your way there!
Michael Milenski
---
Cast and production information:
Landgraf Hermann: Stephen Milling; Tannh‰user: Stephen Gould; Wolfram von Eschenbach: Markus Eiche; Walther von der Vogelweide: Daniel Behle; Biterolf: Kay Stiefermann; Heinrich der Schreiber: Jorge RodrÌguez-Norton; Reinmar von Zweter: Wilhelm Schwinghammer; Elisabeth, Nichte des Landgrafen: Lise Davidsen; Venus: Elena Zhidkova; Ein junger Hirt: Katharina Konradi; Le Gateau Chocolat: Le Gateau Chocolat; Oskar: Manni Laudenbach. Chorus and Orchestra of the Bayreuth Festival. Conductor: Christian Thielemann; Stage Director:Tobias Kratzer; Stage design:Rainer Sellmaier; Costumes: Rainer Sellmaier; Lighting: Reinhard Traub; Video: Manuel Braun; Dramaturgy: Konrad Kuhn. Bayreuther Festspiele, August 13, 2019.

image=http://www.operatoday.com/Tannhauser_Bayreuth1.png
image_description=Tannhäuser and Venus in love bus [Photo © Bayreuther Festspiele / Enrico Nawrath]
product=yes
product_title=Tannhäuser at the Bayreuther Festspiele
product_by=A review by Michael Milenski
product_id=Above: Tannhäuser and Venus in love bus
All photos © Bayreuther Festspiele / Enrico Nawrath