There are, it's probably true to say, very few conductors who, as Karl Bˆhm
once said, dare to conduct the prelude to Tristan und Isolde as
Wagner wrote it. Bˆhm was specifically referring to Leonard Bernstein,
though he never bothered in any of his performances to take the Bernstein
approach himself. Vladimir Jurowski doesn't either – though, in parts, his
performance sometimes felt even more oddly phrased. Why observe the first
bar rest, but substantially shorten the second, for example? But it was
possible in Jurowski's performance to ignore the shortcomings in some of
his more creative moments (the full-beam dash into the climax, for one) and
focus on the searing playing of the London Philharmonic Orchestra. You
heard it first on the ascent of the cellos, and that astonishing sigh –
which here just opened out with breathtaking sadness and pain. The phrasing
of the woodwind, and an oboe which burned like incense and then wilted into
silence. This is music that rides a wave and it can sometimes give the
impression of being uncontrolled. Jurowski – like so many conductors – sees
rapture but little else. What I missed here was the struggle, the
exhaustion, the profound psychological darkness that is in this music as
the climax capitulates into unsettled calmness (I have never forgotten Sir
Colin Davis conducting it just this way). Jurowski's way with the prelude
might have worked better had we got the Liebestod – as it was, the concert
ending seemed unsatisfactory.
The pairing in the first half of Wagner with seven Richard Strauss songs
was an entirely natural fit. Sarah Wegener, a late replacement for Diana
Damrau, who had clearly struggled with Strauss in New York a few days
earlier, didn't always feel entirely comfortable in some of the songs – in
a program which remained unchanged (except in order). Wegener's voice is a
touch darker than Damrau's, but it is also less quicksilver, less inclined
to favour an agile approach and sometimes struggles with the precision of
her breath control. On the other hand, there is a purity of expressiveness,
a willingness to read deeply into the textual meaning of these songs which
is memorable.
Jurowski applied some dangerously slow tempos to a few of the songs on this
program. Whether Damrau would have tolerated the extremely broad playing in
'Wiegenlied' or 'Morgen' is debatable; in fact, these were two songs where
Wegener excelled simply because she was able to penetrate the text with
some startling originality and beautiful phrasing. 'Morgen', particularly,
in which the voice seems to just appear from a void, was striking for its
exceptional richness of tone, but yet it was as fragile and delicate as the
most eggshell-like of porcelain. Here the widening of the tempo seemed
ideal simply because the song was fragrant with the endlessness it tries to
achieve. Wegener didn't lack pathos either; it felt like a perfect
miniature of Straussian opulence.
'Wiegenlied', too, lived a little dangerously but Wegener was able to
remind us that this is a song about fatherhood and the spirituality of a
mother and child. If the voice strained a little above the stave this was a
sign less of her ability to hit the note and more to simply hold its
length. 'Das Rosenband', the first in this cycle on the program, was a
little uneasy in approach – almost sensuous as a reading of the text, with
impeccable phrasing, until that glorious ascent into heavenly 'Paradise'
which never quite soared as it should.
'St‰ndchen' is rather like a painting, almost Debussyian in its imagery.
Wegener clearly knows how to bring the text to life, how to make that brook
babble, the trees bend, the mystery of moonlight cast a shadow and the
flowers smell of their fragrance. If there was a problem, it was less her
fault and more to do with Jurowski's unwillingness to give much exigency to
the rhythm – these were orchestral brushstrokes that sometimes felt thickly
rendered.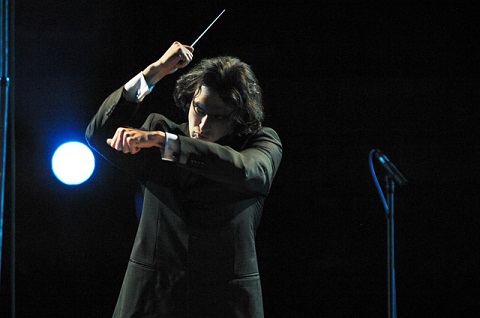 Vladimir Jurowski. Photo credit: Roman Gontcharov.
The original program had 'Zueignung' placed in the middle – an odd choice.
In the end, this was the closing song and probably proved the most
controversial. Jurowski's tempo was extraordinarily slow. This was a
performance less about Wegener and more about the orchestra, the intimacy
suffocated at the expense of some quite outrageous sonorities concentrated
elsewhere. Impassioned and ardent this song might be, but Wegener was
constrained by the amplitude of the orchestra – her final 'Dank' so clipped
it simply proved too taxing for her to sustain.
If there is one word to describe Jurowski's performance of Mahler's Fifth
Symphony it is innovative. This was one of those Fifths which proved
something of a revelation, controversial though it might have been. It felt
particularly Russian in almost every way – grim, intentionally menacing,
turbulent, brooding, desolate and teetering towards the manic. Often it was
uncomfortable to hear – where one expected it sound Viennese it often found
itself in the grip of wider East European revolution, where there should
have been light there was darkness. There had been an opening Funeral March
which looked back towards Wagner, and where one usually blithely gets
trumpet solos which sound crystalline and polished here they fell like an
executioners axe. The stormy second movement progressed less with the
radiance of ecstasy where it should and more like a requiem for the dead.
When collapse arrived it was like the shattering of stone until what you
were left with was the shell of a totally destroyed edifice in a landscape
that seemed torn apart. Even the Adagietto seemed restless, less a sigh or
love song, and more an uneasy truce between emotions which seemed incapable
of complete expression. There was little joy in the first section of the
Finale – it felt stripped bare, but what a climax! At times, this was a
performance which embraced the darkness of Wagner but looked forward to the
bleakness of Shostakovich.
None of this would have been possible without the exceptional playing of
the London Philharmonic. The strings were like thick black tar, the brass
didn't shimmer but blasted through the orchestra like a battalion in
combat, flutes and clarinets screamed through their pages as if ripping the
notes off them. Jurowski quite simply gave one of the most manic and
shattering performances of a work which rarely gets heard this way.
Marc Bridle
Sarah Wegener (soprano), Vladimir Jurowski (conductor), London Philharmonic
Orchestra.
Royal Festival Hall, London; Wednesday 13th November 2019.

image=http://www.operatoday.com/Sarah%20Wegener.jpg
image_description=
product=yes
product_title=Mahler, Strauss and Wagner: LPO conducted by Vladimir Jurowski
product_by=A review by Marc Bridle
product_id=Above: Sarah Wegener
Photo credit: Marvin Stellman