We've all been there: the heart-lurching response to the sound of the telephone, the bitter disappointment when a text message isn't returned and the rapid descent into floor-pacing emotional disarray. If love is a form of lunacy then Francis Poulenc's one act opera, based on a 1930 monologue by Jean Cocteau and described by the composer as a 'musical confession', is a cri de coeur for humanity, an expression of universal grief for lost love. La voix humaine is a farewell of a heartbroken woman known only as Elle who is abandoned by her lover. Charted through a string of broken telephone conversations, her pain, pleas and final parting is one of Poulenc's most personal creations and finds no more nuanced interpreter in recent years than Claire Booth, earning acclaim last year for her performance in David Pountney's Welsh National Opera film production.
First performed at the Opéra-Comique in Paris in 1959, this forty-minute tragédie-lyrique was originally written for the French soprano Denise Duval whose own stormy love life (along with Poulenc's crise émotionnelle) is embodied in a work she claimed was 'a chronicle of our torment'.  Barefoot and dressed in black, Booth brilliantly captured this torment at the Wigmore Hall on Wednesday evening on a near empty stage, save for a side table supporting a silent telephone.  Its bell was vividly conjured by Christopher Glynn as the ever-responsive accompanist.  Mostly sung in English except for frantic requests in French to an absent operator for reconnection, Booth marshalled an uninterrupted arsenal of gestures: hair pulling, finger tugging and a nervous, strained smile periodically lighting her features.  With such a dynamic performance it hardly mattered that the Wigmore platform remained unaltered, inviting us to imagine a bedroom strewn with love-letters, photographs and the detritus that accompanies the desolation of its lovelorn occupant.  
Booth vividly brought to life the self-delusion of a woman emotionally drowning in her abandonment, and who variously flirts, cajoles and humiliates herself in an increasingly desperate attempt to reverse the favours of a man now exhibiting little patience or sympathy. Her failure to reignite the flame of a five-year relationship is gut-wrenchingly portrayed in the abrupt mood swings, hesitations and, perhaps most poignantly, the exquisite, yearning of Poulenc's music. Much of the work comprises short, halting phrases interspersed with flowing legatos allied to words (sung here in Richard Stokes's translation) of an ordinary, everyday nature. On the toss of a coin, Poulenc darts from the fevered to the listless, jagged contours to a strikingly exotic chord, perfectly underlining a text that oscillates between impatience, shyness, tantrums and tenderness, and indicative of pent-up torment and frustration. These qualities are all finely calibrated by Booth who maintains remarkable control without ever slipping into caricature, giving a performance that is heartfelt and never resorting to histrionics. We can feel every momentary shift in mood: the false gaiety and hysteria, the apologies and fond remembrances are all harrowing.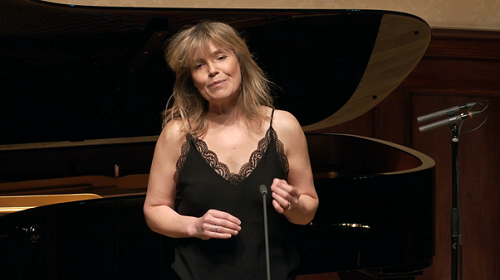 Booth is a seasoned performer of this demanding work, and her voice sits comfortably in the middle register. She is mercifully free of any intrusive vibrato often associated with the operatic stage and does not suffer from an over-produced tone. Indeed, its unaffectedness admirably suits the ordinariness of a telephone conversation. That she gives such an emotionally powerful performance is due to her thorough assimilation of both text and music and the intelligence of her delivery. Her voice may not ravish the ear, but her intonation is flawless, and her diction perfectly clear. It's not without subtleties of light and shade, yet it is the very unvarnished quality, an honesty of expression, that is perhaps her greatest asset. Such is her portrayal that one watched mesmerised by something excruciatingly real, the final farewell heart-breaking. Had there been an audience at the Wigmore one can only imagine the numbed silence that would have followed those agonising closing bars. From the privacy of a lap-top one became a voyeur, yet complicit in the betrayal and ultimate downfall of Poulenc's exceptionally well observed heroine. Elle provides a mirror to our own life experience and reminds us, in Booth's own words, that "we are not alone in our feelings, and so we are not alone".
This unmissable event is free to view (donations welcome) via the Wigmore Hall website until Friday 9th April.
David Truslove
Claire Booth (soprano), Christopher Glynn (piano)
Wigmore Hall, London (live stream); Wednesday 7th March 2021.