Natalya Romaniw's compelling but frustratingly foreshortened debut as Cio-Cio San at English National Opera in February 2020 was one of the last live performances I heard before the theatres of the world fell silent that spring and summer. But, some solace was to be found at few months later when the Welsh soprano released her debut recital recording Arion: Voyage of a Slavic Soul, which takes the listener on a tour through two generations of Slavic song by three Russians – Rimsky-Korsakov, Tchaikovsky and Rachmaninov – and a trio from Czechoslovakia: Dvořák, Janáček and the less well-known Vítězslav Novák. At Leeds Town Hall, in this Leeds Lieder 2021 Festival lunchtime recital, Romaniw and the pianist Iain Burnside took a more pan-European approach, complementing some of Arion's Russian repertoire with songs by Edvard Grieg and Richard Strauss.
It was with Strauss that Romaniw began, choosing a selection of some of the composer's best-known and most loved songs. Romaniw once told me an anecdote about her early days as a student at Guildhall School of Music and Drama. The new recruits were invited to choose something to sing, by way of a sort of musical salutation. Romaniw, excited at the opportunity, volunteered to start: she recalled the look of horror on her fellow students' faces when she announced that she would sing 'Vissi d'arte' – she chose it because she loved it, she explained, with a grin and a shrug of the shoulders. (She went on to with the Guildhall's Gold Medal in 2011.) So, I could imagine her preparing for this recital and pouring over Strauss's songs, and smiling with pleasure as she chose all her, and our, 'favourites' – just because she could, and because she loved them!
And, this love, of singing and of music, shone through this performance from the first bar of Strauss's 'Allerseelen' to the lustrous close of Rachmaninov's 'Spring Waters'. All of her vocal and musical strengths, so mesmerisingly deployed on Arion, were present here: the flexibility that can transform a silvery thread into a vibrant gleam in a whisker; the effortless negotiation of registral shifts; the wholesome purity of her soprano; the respect for, and care with, the text; the instinctive musical and expressive judgement. And so, as early as the very opening phrases of 'Allerseelen' there was a lovely transformation from restraint to freedom, with the invitation to the beloved to "talk of love again,/ As we did long ago in May", lifting the expressive tenor with a flood of warmth, colour and light; then, with the appeal for "one of your sweet looks", a delicate tenderness embodied both the joy of reminiscence and the wistfulness of yearning: "Gib mir nur einen deiner süßen Blicke". And, finally, there was a beam of burning brightness as urgent inner feeling spilled over, "Komm an mein Herz, daß ich dich wieder habe" (Come to my heart and be mine again).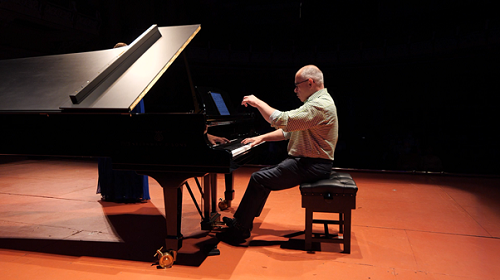 Burnside, casual in rolled-up checked shirt-sleeves alongside Romaniw's cobalt-blue glamour, was similarly unassuming at the keyboard, but like all the best accompanists it was because he did not draw undue attention to himself that Burnside was able to so surely support, aid, complement and enhance Romaniw's interpretations. In 'Ruhe, meine Seele!' the piano's probing chords paralleled the poet-speaker's search for inner peace in the recitative-like address which they address to their own soul. As the vocal brightness blossomed, warmed by the sun's rays – "stiehlt sich lichter Sonnenschein" – so the piano's and tip-toeing climb etched the beams as they peeped through the clouds; when the soul raged and shivered, "Wie die Brandung, wenn sie schwillt" (Like the surf when it breaks), so Burnside's running swells within the resonating chords conveyed the unrest.
'Ständchen' shimmered and rustled in excited anticipation of the secret lover's tryst in the darkness of midnight, the piano's rippling pianissimo conjuring the brook's whispers and the trees' quivers. Somehow, Romaniw managed to sound simultaneously innocent and sensual; there was something of the character, dramatic not vocal, of Cherubino's 'Voi che sapete' – that tremulous ardour, those bursts of passion that are felt rather than understood, almost daring then wholly indulging the flood of fire.
Romaniw returned to Strauss's Op.27 songs with 'Morgen!'. For me, this was the perfect tempo: steady, like a slow heartbeat, the piano rises even but with a hint of ever-so-slightly rubato that make space for the wistfulness. This was a deeply personal song for Strauss, and rightly Romaniw let it speak for itself. 'Cäcilie' was the last of the Op.27 songs that Strauss completed, on 9th September 1894, the day before his marriage to the soprano Pauline de Ahna, to whom he gave the set as a wedding present, and Romaniw and Burnside wholly conveyed its exuberance and joy.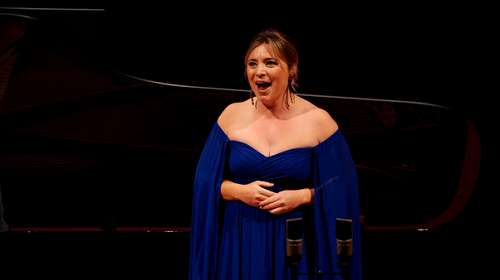 The duo achieved a persuasive synthesis of folksong and exoticism in Rimsky-Korsakov's 'A soul flew quietly to the heavens', while there can be few seamen who could resist the lyrical lure of Romaniw's 'Nymph', whose melancholy singing entrances a passing sailor and, though his journey resumes, tugs at his heart ever after. The final phrase sculpts an image of the sailor's memory of the nymph among the reeds: Romaniw soared with exquisite sweetness, but in the closing image of the nymph's loose hair tumbling, her voice failed to 'speak' and the final cadence faded. Few among the live audience will have noticed, but Romaniw's face evinced, for the slightest moment, her disappointment, though the forgivable, and so rare, frailty, made the nymph's lonely song of unrequited love only more heart-touching.
She gathered herself immediately for a sequence of songs drawn from Grieg's Sechs Lieder Op.48. Grieg composed over 180 songs, but I have only recently begun to explore them more closely. The Norwegian composer wrote, in July 1900, to his American biographer Henry Finck, 'Why have songs played such a prominent role in my music? Simply because I was once in my life endowed with genius, and that flash of genius was: love. I loved a young woman with a marvellous voice who also had a great gift as an interpreter. This woman became my wife and has remained my companion to this day … my songs come to life spontaneously, and all of them were written for her.' This spontaneous melodism and expression suits Romaniw to tee, so naturally does she sing and characterise. In 'Gruß', she implored the little spring song ("Klinge, kleines Frühlingslied") to ring out, her voice a frisson of joy as it leapt an octave, bristling with colour and vibrancy. "Wenn du eine Rose schaust, Sag, ich laß sie grüßen" (And if you see a rose, tell her I send my greeting), she sang, the delightfully insouciant diminuendo on the final word a sort of faux blush, one which was reflected in the cheeky piano twinkles in the postlude.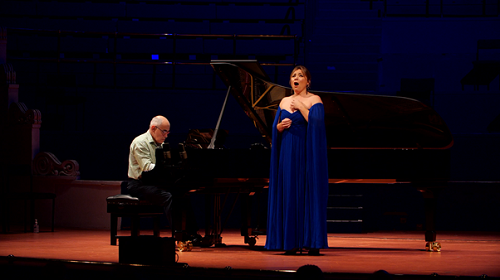 'Dereinst, Gedanke mein' seems almost Straussian in its melodic gestures and here the vocal line was wonderfully even and controlled line. We were back in the world of 'Ruhe, meine Seele!', though Grieg's melody lies lower, where Romaniw's soprano has a lovely warm fullness. Burnside's accompaniment was wonderfully accomplished and this song was a particularly lovely moment in the recital. What a gift 'Zur Rosenzeit' is for singers, Grieg at his most effortlessly melodic and beguiling. Romaniw and Burnside chose a quite slow tempo to begin, conveying the serioso element, and if this created a greater than usual contrast with the central poco più mosso then it conjured the dramatic urgency of the poet-speaker's memories of past love and longing. I was expecting 'Die verschwiegene Nachtigall' to follow, but instead we heard 'Ein Traum': this was a joy truly making dreams a reality, as the poet celebrates.
I found myself dreaming too, that Romaniw's next recording project might be a recital album of Grieg and Strauss … but it was back to Arion for the closing sequence of Rachmaninov songs, which were no less rewarding. Rachmaninov's Op.34 Romances stirred into life when the 23-year-old poet, Marietta Shaginyan, wrote to the composer in February 1912 confessing he love for his music. In the exchange of letters that followed Rachmaninov asked 'Re', as she styled herself, for some original texts for songs – requesting only sad poems. Shaginyan obliged. 'Arion' tells of the mythic Greek bard, Arion, who finds himself threatened by pirates and saves himself by convincing his captors to allow him to sing one last time. His melody beguiles both the buccaneers and the creatures of the sea, and a dolphin bears him through the Aegean waters safely to the shore. Burnside's mastery of the churning waters – Rachmaninov at his most demanding – meant that they never overwhelmed the vocal line and the duo shaped the ebbs and flows of the drama finely.
'O do not sing to me again' was ardent, the 'cruel' melodies which remind the poet-speaker of his Georgian homeland, beautifully coloured and nuanced. In the introduction, Burnside balanced melodic freedom with the regularity of the quiet intoning repetition in the bass, and when the melody transferred to the voice, Romaniw enhanced its bittersweet seductiveness. The closing repetition of the opening verse touchingly embodied the weary torment and need, a paradox mirrored in the telling major-minor oscillations of the piano postlude. In 'The Answer' there was lovely contrast between the first two sombre replies – requiring fortitude of those who wonder how their boat may reach the safety of the island, and patience from those who question how man may find relief from sorrow and grief – and the final soft sweet reassurance to those anxious to win a woman's heart, that "Love conquers!"
In the last song, 'Spring waters', Romaniw's eyes were brimming with tears of joy. Mine were over-flowing. Her encore, the Welsh song 'Gwynfyd' was, as its title states, paradise.
This recital is available on demand (£) until 18th July 2021. For more information on the Leeds Lieder 2021 Festival see: https://leedslieder.org.uk/.
Claire Seymour
Natalya Romaniw (soprano), Iain Burnside (piano)
Richard Strauss – 'Allerseelen', 'Ruhe, meine Seele!', 'Ständchen', 'Morgen!', 'Cäcilie'; Rimsky-Korsakov – 'Softly the spirit flew through the realms', 'The Nymph'; Grieg – (from Sechs Lieder Op.48) 'Gruß', 'Dereinst, Gedanke mein', 'Zur Rosenzeit', 'Die verschwiegene Nachtigall' (from Sechs Lieder Op.48); Rachmaninov – 'Arion', 'O do not sing to me again', 'The Answer', 'Spring waters'. Leeds Town Hall, Leeds; Friday 18th June 2021.