So, after a Così that was wonderfully serene but somewhat serioso, now a Don Giovanni that impresses vocally but seems to have lost some of its giocoso. Kasper Holten's production of Mozart's operatic tale of the eponymous dissoluto punito, first seen in 2014, has had several revivals but I haven't seen it since that opening run and I was glad to be back at the Royal Opera House for director Jack Furness's re-staging.
Es Devlin's set is both effective and thought-provoking, the isolated box of interlocking rooms and Escher-like staircases being perfect for intrigue and secrecy, and the black vacuum in which it stands – when the initial high façade has withdrawn – intimating the unavoidable loneliness of the nihilist. In 2014 I described the stage action as 'full of life' and I wasn't only referring to the engaging animation provided by Bruno Poet's suggestive lighting design and Luke Halls' digital graphics and trompe l'oeil illusions.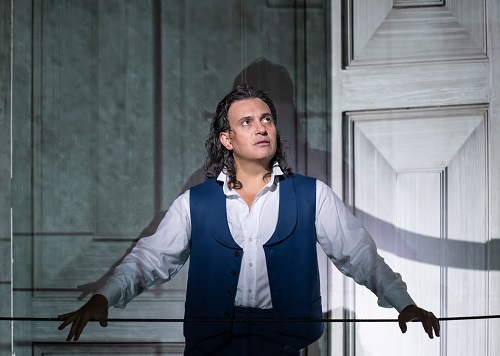 On this occasion, however, the revolving walls, doors and spiralling stairs seemed less an invitation to illicit assignations as obstacles to keep the characters apart. And, if the personnel felt somewhat detached from each other, then social distancing requirements undoubtedly played a part. Looking back at photographs of the 2014 production, it's almost shocking to see the 'house of stairs' populated by crowds of dancing revellers, and the characters engaged in close embraces and tussles. But, physical contact was not entirely banished from this revival, so current rules and regulations are not the only reason for the lack of convincing intimacy and intimidation between the wooers and the warring respectively.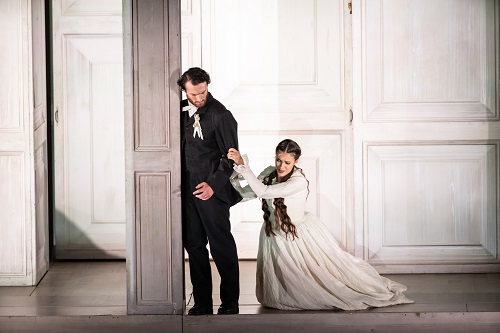 Some of the characters suffered more than others. Frédéric Antoun's sang both of Don Ottavio's arias with a noble elegance which spoke of honour and honesty – rare qualities in this opera – but was stranded stock-still and off-centre throughout both, while those positioned solo in rooms behind looked on in similar immobility. Perhaps they were spellbound by the sincerity that such beautifully phrased outpourings of devotion convey? Certainly, Don Giovanni, listening from a balcony above, seemed to be affected by the realisation that there is a love that is true and can find fulfilment, recognising his own estrangement from such emotional satisfaction. But, while one doesn't want the musical expression to be overwhelmed by unnecessary 'business', the same lack of gesture afflicted other numbers too, most frequently those that bring genuine humanity to the drama in the form of the everyday passions and strife of the lower classes. Zerlina and Masetto made less of a mark – their love less persuasive – than is customary, despite fine singing from both Zuzana Marková and Michael Mofidian.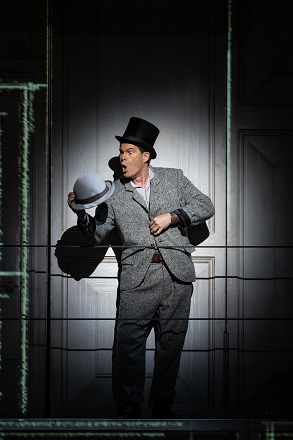 However, if there was at times a prevailing feeling of separation and sobriety, the vocal performances offered much to admire and enjoy, most particularly from the two bass-baritones at the heart of the drama. Erwin Schrott and Gerald Finley were luxury occupants of the central master-servant roles, both totally assured and offering interesting and individualised characterisations. Schrott's Don Giovanni was like a man stuck on a Penrose staircase who recognises the sad futility of his compulsive quest for ascent, in the knowledge that he is climbing to nowhere and the only way, at the end of the struggle, is down. Although, in the opening scene, the desperation which Donna Anna declared would fuel her pursuit of her unknown assailant seemed more a desire for sexual satisfaction than for revenge, the Don himself already evinced a weary demeanour. Even the digital calligraphy, which during the overture etches the names of his sexual conquests on the architectural façade, seemed to trace its record ever more slowly, as if weakened by disillusionment. Later, when Leporello begs that they might forget about women, Giovanni's scoffing rejoinder that he needs them more than the bread he eats and the air he breathes conveyed, beneath the dismissive anarchism, a hint of awareness of his own absurdity.
Schrott's bass-baritone was silky smooth throughout, as elegant as his striking blue suit, its power infinite but finely judged. The 'champagne' aria confirmed his tireless strength. Singing from an open door which forms the black vacuum at the centre of a giddily spiralling geometric light-show, Schrott seemed to fling his boasts and bravado into the vortex with self-destructive fire and fury. It was both transfixing and terrifying.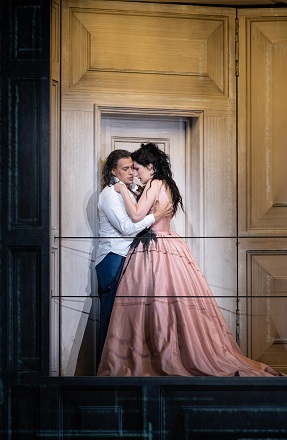 Gerald Finley, making a role debut as the Don's subordinate partner-in-crime, presented a Leporello who was fittingly world-weary but lacking his customary cynicism. Less reprobate rogue and more abused victim of his master's exploitation and bullying, this Leporello was tough to figure out. The lack of comic chemistry between the pair – the 'wrong hat' gag didn't quite come off – and a general absence of rascally interaction with the other characters, made the servant less not more sympathetic, yet Finley's vocal eloquence suggested a sincerity and essential good heart that enhanced his vulnerability. By the close, Leporello seemed even nearer to psychological breakdown than his master. It will be interesting to see how this characterisation develops during this run and beyond.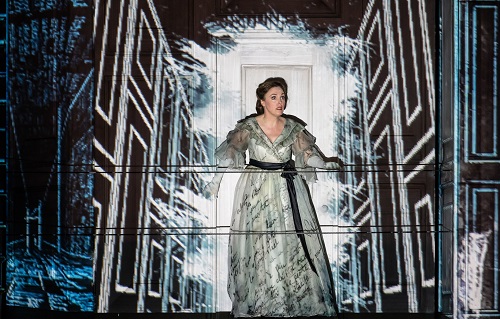 Adela Zaharia was superb as Donna Anna. The Romanian soprano sang with fervour and clarity, her voice a bright, vibrant gleam in the literal and figurative darkness; 'Non mi dir' was beautifully phrased and the racing runs were as shapely as the poignant sighs. As Elvira, Nicole Chevalier made 'Mi tradi' one of the highlights of the evening, and her characterisation was full of presence and credibility throughout. The youthful quality of Adam Palka's bass made me doubt whether he would have the cavernous depths necessary for the Commendatore's final condemnations and curse; I'm pleased to say he proved me wrong, and was a compellingly unyielding persecutor.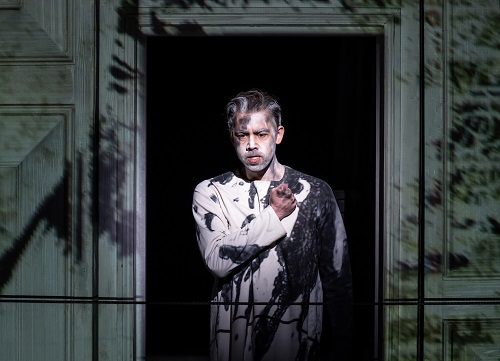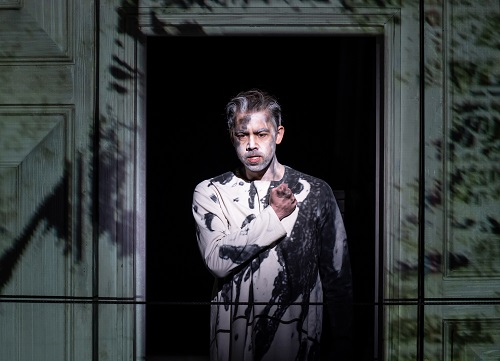 The ROH pit may have been but sparsely populated but, making his debut in the UK, Constantin Trinks drew energy, nuance and colour from the musicians, coaxing the strings sensitively, especially when singers poised at the top of a staircase or nestled within the box of illusions might have felt a little distant from the instrumentalists supporting them.
The punishment that Holten dishes out to the dissolute Don didn't wholly convince me the first time round and I remain sceptical, particularly since in Act 2 this Don Giovanni seemed to be close to the mental precipice. Yet, perhaps being trapped in a colourless world excluded from the party by those insensible to his needs really would be a narcissist's hell. In any case, alone in an existential grey hinterland with only his ego for company, Schrott's damned Don held the audience in the palm of his hand until the very end.
Claire Seymour
Don Giovanni – Erwin Schrott, Leporello – Gerald Finley, Donna Anna – Adela Zaharia, Donna Elvira –Nicole Chevalier, Zerlina – Zuzana Marková, The Commendatore – Adam Palka, Don Ottavio – Frédéric Antoun, Masetto – Michael Mofidian; Director – Kasper Holten, Revival Director – Jack Furness, Conductor – Constantin Trinks, Set Designer – Es Devlin, Lighting Designer – Bruno Poet, Costume Designer – Anja Vang Kragh, Video Artist – Luke Halls, Chorus and Orchestra of the Royal Opera House.
Royal Opera House, Covent Garden, London; Monday 5th July 2021.
ABOVE: Don Giovanni, Royal Opera House (c) Bill Cooper