VOCES8's new Live from London summer festival opened in 'sparkling' fashion with a characteristically mixed repertoire programme, entitled Stardust. Much was reassuringly familiar, and very welcome: the perfect blending and balance of the eight voices, the flawless tuning, the instinctive musicianship and responsiveness, the slick and professional presentation. But, it wasn't all business as usual. The few months since VOCES8's 2021 spring festival have clearly been put to productive use and much of the repertoire in this concert was being performed by the group for the first time. Moreover, they were welcoming into the fold soprano Molly Noon, who has replaced Eleonore Cockerham. By the evidence of this performance, the role of partnering soprano Andrea Haines is one that fits Molly like the proverbial glove.
During the customary pre-concert 'interview slot', VOCES8's artistic director and countertenor Barnaby Smith, tenor Blake Morgan and baritone Chris Moore chatted with Molly about her early experiences with the ensemble and the challenge of fitting into the VOCES8 'blend'. Molly spoke of trying to balance her voice with Andrea's soprano and accommodate her sound within that of the ensemble; of learning a lot of new music, much of which is core VOCES8 repertoire; and, of the need to concentrate and not go on autopilot when singing familiar and oft-performed works. Interestingly, she also mentioned the issue of 'tuning', prompting Smith to comment that VOCES8 deliberately strives for a slightly 'darker' sound, in contrast to the 'bright' sonorities of some cathedral choirs, pitching at a little under A=440Hz.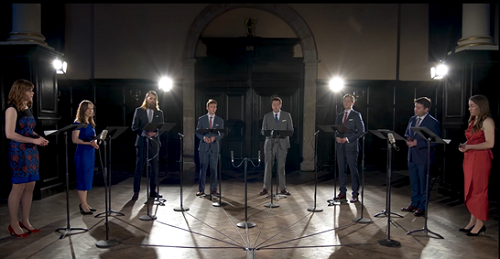 After this relaxed preamble, William Byrd's 'Laudibus in sanctis' – which sets a Latin paraphrase of Psalm 150 and opens the 1591 Cantiones Sacrae – with its lightly tripping rhythms, syncopated litheness and ever-changing vocal combinations which create driving momentum, was the perfect way to demonstrate VOCES8's customary composure and unity. The interconnectedness and fusion of the constantly evolving rhythmic motifs, the attentive but never mannered word-painting, the flexible negotiation of changes of phrase structure and metre – such as the delightful shift to triple metre for the second half of the phrase, "Hunc agili laudet laeta chorea pede" (Him let joyful dance praise with nimble foot): all such features were impressive. The sound was buoyant and well-blended, within individual lines rising easily through the texture and then subsiding within. As always, VOCES8 made it sound 'easy', when it is anything but.
The opening sequence presented sacred works from the Renaissance and early-Baroque alongside later compositions which draw on the musical forms and styles of this earlier liturgical tradition. Heinrich Schütz's 'Selig sind die Toten' (Blessed are the dead), which sets text from Revelations which forms part of the Burial Service, was published in 1648 but is as imitative as Byrd's Renaissance motet. Replacing the madrigalian intimacy, however, is a sense of a vaster, even cosmic, scale, the six-part chordal texture of the opening phrase expanding through small movements in the inner voices into dynamic counterpoint with the image of all those who die in the Lord ("die in dem Herren sterben"). A new thrust forward was initiated by the lower voices, "Ja, der Geist spricht" (Yes, says the spirit), the pealing imitations confident and affirmative. Then, quiet restfulness – "Sie ruhen von ihrer Arbeit" (they rest from their labours) – interrupted by pointed dissonances dramatizing the challenge of such 'labours'. The semitonal sighs and accumulating suspensions created an exciting tension as the interlocking phrases drove towards the closing cadence, whereupon the linear descent in the soprano lines conveyed a reassuring peace and finality.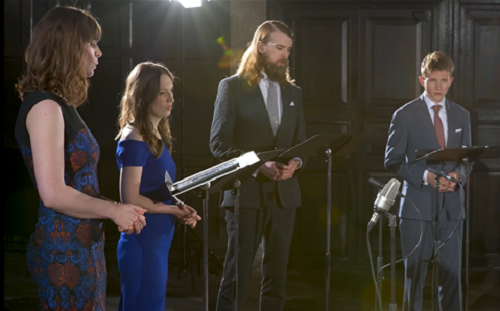 The Kyrie from Josef Rheinberger's Mass in E flat Major was, for me, one of the highlights of the concert, its double-choir form showcasing the complexity and splendour that the eight voices of the ensemble can generate. Dedicated to Pope Leo XIII and awarded the Gregorian Medal in 1879, the Mass looks back to the antiphonal glories of Venice's cori spezzati tradition, though there are more modern echoes – Mendelssohn and the motets of Bruckner came to mind. The Kyrie is broad and expansive, and Haines' relished the rising glories of the upper soprano line, the melodic peaks shining like the sun coming out from behind soft clouds. "Christe eleison" aspired heavenwards, too, the ascents led from within by Barnaby Smith, before a gentle chromatic descent – briefly diverted by a nuanced interrupted cadence – led to closure. This was lovely singing which brought forth the individuality and warmth of Rheinberger's voice, and the sincerity of the devotion which it expresses.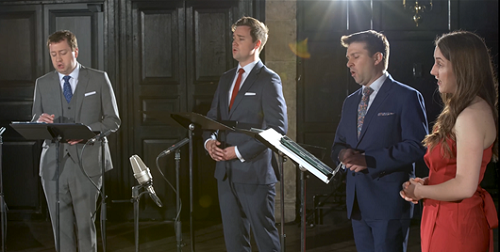 American composer Kevin Allen's reverence for the traditional sacred liturgy was evident in his setting of 'O sacrum convivium', the three-part texture developing through largely stepwise melodic movement and ear-pleasing harmonic progression, with light-touch dissonances à la Eric Whitacre adding a somewhat sentimental sweetness if lacking individuality. A lovely evenness and calm were conjured by VOCES8, with interest generated by the high bass rise and melismatic development in all parts for the phrase "mens impletur gratia; et futurae gloriae nobis pignus datur" (the soul is filled with grace; and a pledge of future glory is given to us), which was followed by a gentle, consoling tierce de Picardie close.
Continuing what one might term this 'popular' vein, the programme also included several compositions by composers with whom VOCES8 have had long association and friendship. The Norwegian composer Ola Gjeilo, now US-domiciled, was one of the ensemble's first composers-in-residence. Written in 2007, Northern Lights sets the Latin text 'Pulchra Es' from the Song of Solomon and celebrates the sublime and man's intimate relationship with the natural world. Gjeilo has described the work's origins: 'Looking out from the attic window that Christmas in Oslo, over a wintry lake under the stars, I was thinking about how this 'terrible' beauty is so profoundly reflected in the northern lights or aurora borealis … It is one of the most beautiful natural phenomena I've ever witnessed, and has such a powerful, electric quality, which must have been both mesmerizing and terrifying to people in the past, when no one knew what it was and when much superstition was attached to these experiences.' I'm not convinced that the sweetness and 'circularity' of the harmonic discourse evokes the revolutionary turbulence of destruction and rebirth characteristic of the Romantic sublime, such as is conjured by Shelley's 'wild West Wind', but VOCES8 sang the many-layered textures with characteristic clarity and rich resonance.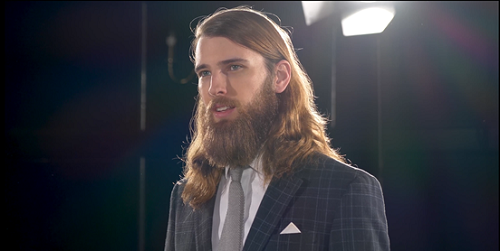 There was more shimmering glow in Stardust, composed by Taylor Scott Davies – Director of Music and Worship at St. Andrew United Methodist Church in Plano, Texas, and a 'good friend' of VOCES8 – and here receiving its world premiere. The many VOCES8 aficionados who relish this sort of expressive, impressionistic 'sound painting' will have been delighted, too, by Aftonen by the Swedish composer Hugo Alfvén (1872-1960), which conveys the gentle fall of dusk over the icy mountains as the cattle are brought home for the evening. A beautiful stillness was evoked in the opening bars, by the placement of a repeated major third in the upper voices, against chordal richness and changing harmonies below – again I sensed a sort of Brucknerian spirituality – before hummed lines freed the melody which unfolded gently and easily, the distinctly northern colour of the folk song acquiring the relaxed naturalness of a negro spiritual. This mood, of human peace and divine reassurance, continued in Þorkell Sigurbjörnsso's Heyr, himna smiður ('Hear, Smith of Heavens', 1973) which recently topped the 'favourite composition' list in a poll of Icelanders.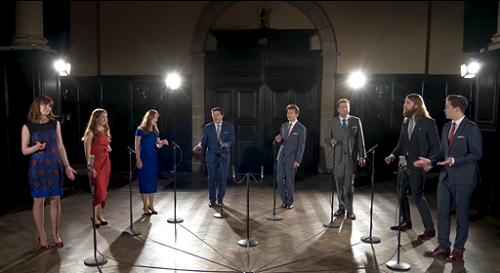 Mumford & Sons' 'Timshel' followed, the first of several arrangements by Jim Clements. Don McLean's 'Vincent', performed by five of the ensemble, swelled and subsided with perfect synchronicity, Blake Morgan's melody slipping along loosely and with honeyed warmth; Morgan had a lovely way of starting a phrase just a fraction early, anticipating the ensemble support, creating an easy and beguiling give-and-take. Tenor Euan Williamson's sweet crooning and Jonathan Pacey's smooth, dependable bass failed to persuade Haines to put on her dancing shoes in a characterful rendition of Jerome Kern's 'I Won't Dance', and the ensemble found their inner Rat Pack personae in Al Johnson's 'Me and My Shadow'. Harold Arlen's 'I've Got the World on a String' was the slick encore.
The eclecticism of VOCES8's programming is undoubtedly engaging, and their skill in adapting their mode and manner notable. It's good to hear the much-loved alongside the unfamiliar, the traditional together with the new. For me, though, it was the ensemble's powerful, pensive performance of Benjamin Britten's part-song, 'The evening primrose', which most impressed in this concert. The song is one of the Five Flower Songs Op.47 which were composed in 1950 for Britten's friends, and botanical enthusiasts, Dorothy and Leonard Elmhirst of Dartington Hall on the occasion of their 25th wedding anniversary. 'The evening primrose' recalls the ambience of Britten's Hymn to St Cecilia which similarly seems to look back to a pastoral world of certainty and to present a modern vision encompassing tension and doubt. Here, passages of homophony and arpeggio-driven polyphony were skilfully contrasted and balanced, the spaciousness and consonance evoking a gentle nostalgia that never slipped into tweeness. VOCES8 discerningly captured that counterpoise of naivety and intensity which John Clare's poetry so powerfully exemplifies and communicates.
Live from London Summer continues on 11th July with All Shall Be Well performed by the Ora Singers & Zeb Soanes.
Claire Seymour
VOCES8: Andrea Haines (soprano), Molly Noon (soprano), Katie Jeffries-Harris (alto), Barnaby Smith (artistic director & countertenor), Blake Morgan (tenor), Euan Williamson (tenor), Christopher Moore (baritone), Jonathan Pacey (bass)
Byrd – 'Laudibus in Sanctis', Kevin Allen – 'O Sacrum Convivium', Schütz – 'Selig sind die Toten', Rheinberger – Kyrie (from Mass in E flat Major), Ola Gjeilo – Northern Lights, Taylor Scott Davis Stardust (world premiere), Britten – 'The Evening Primrose', Hugo Alfvén – Aftonen, Þorkell Sigurbjörnsson – Heyr, himna smiður, Mumford & Sons arr. Jim Clements – 'Timshel', Don McLean arr. Clements – 'Vincent', Jerome Kern arr. Clements – 'I Won't Dance', Al Jolson arr. Clements – 'Me and My Shadow'.
VOCES8 Centre, St Anne and St Agnes, City of London (live stream); Sunday 4th July 2021.