It was Rimsky Korsakov's last opera, his 1907 masterpiece Le Coq d'Or in one fell swoop (no intermission). In Aix Pushkin's poetic Tzar Dodon met his fate, his head smashed, like a lot of other heads in this formidable evening.
Rarely does music flow so gracefully into staging. Conductor Daniele Rustioni urged his Opéra National de Lyon orchestra to articulate, with great potency, every nuance of Rimsky Korsakov's satire laden score. Its richness and lush colors were captured in aggressive wit — sometimes absolutely gross wit, always very witty wit by stage director Barrie Kosky.
Here's the story: Avoiding the trials of ruling Czar Dodon sleeps when he isn't eating. Warned by his astrologer's golden cockerel that his city is threatened he goes off to battle. He falls to the cruel thrusts of devastating oriental beauty. Returning with a queen he beheads his astrologer. The golden cockerel takes revenge. N.B. this has everything to do with Czar Alexander II and the 1905 St. Petersburg riots.
The beheaded astrologer has the last word anyway, telling us it was all just a fairy tale, that only he and the queen are real.
Though composer Rimsky Korsakov may not be a musical dramatist, he is a consummate musical colorist. In Le Coq d'Or he smites us with exotic scales and harmonies that often exult in extended periods of pure music. This was director Kosky's cue to bring on four ballerinos, like back-up dancers who add gratuitous razzle dazzle, to lighten the heavy political sarcasm that has little relevance these days. Austrian choreographer Otto Pichler brilliantly captured Rimsky Korsakov's tongue-in-cheek musical enthusiasms in movement, i.e. orientalism for the sake of orientalism just because it is exotic and musically adventurous.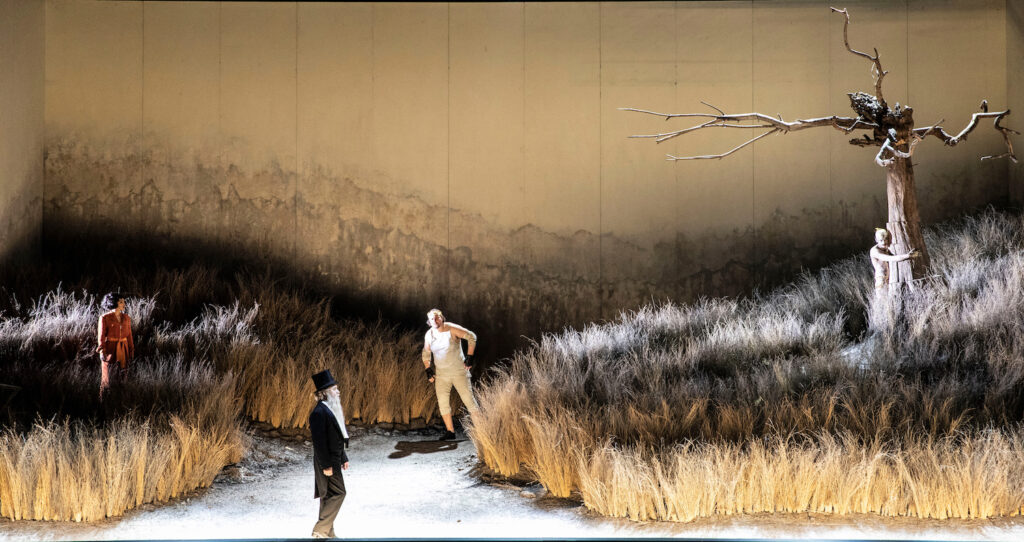 These four comedic, straight-faced ballerinos were easily the stars of the show, appearing first as horses, then as harem women and finally as cockerels. Though the real stars of the show were Czar Dodon and the Queen of Chermakha, Russian bass Dimitry Ulyanov deliciously glorying in Dodon's sloth, and Armenian soprano, Bolshoi finished Nina Minasyan effecting the second act seduction with indefatigable sexual (read vocal) charisma, at once theatrical and entirely convincing. The seduction scene holds such beautiful, seductive music that you wish it would never end.
The absolute star of the show was however the astrologer, Russian tenor Andrei Popov whose first utterance was an unholy shriek, and whose very last words came from his severed head, its mouth moving and eyes glittering. Mr. Popov boasts a range that incorporates a falsetto reaching beyond a tenurial stratosphere, loud, and definitely not pretty. A commanding performer he created the blackout breaks between Rimsky Korsakov's acts by trudging very slowly, haltingly, across the audience (about row 12), muttering.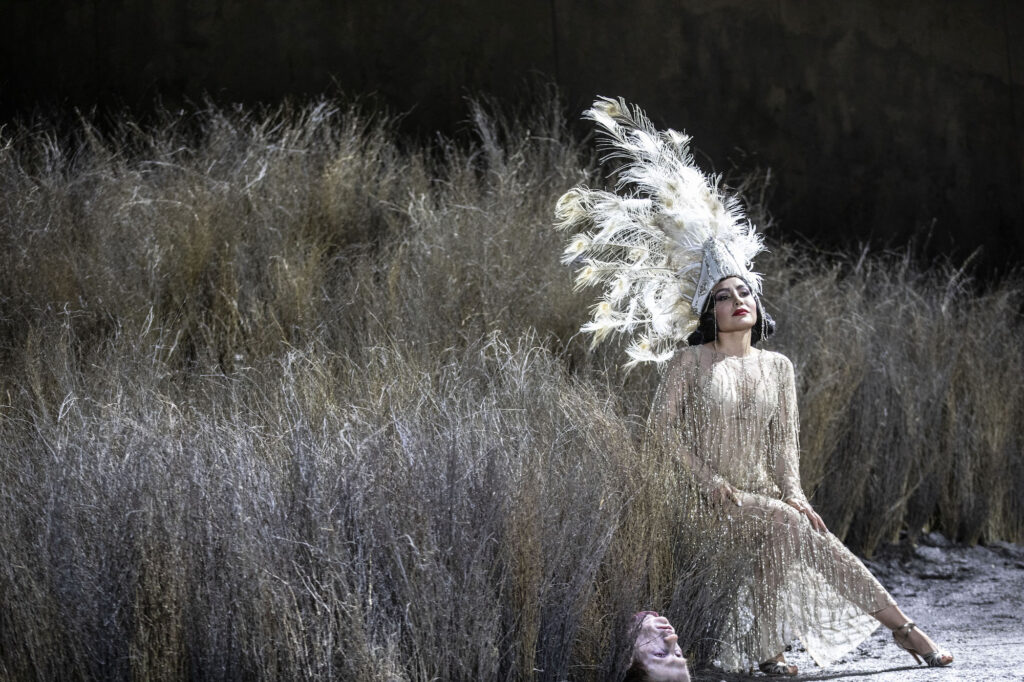 Added to Pushkin's original poem were spoken, i.e. sung lines by his counselors, his two arguing tsarovitches (sons) Apron and Gvidon, sung respectively by Moldavian baritone Andrey Zhilikhovsky and Russian tenor Vasily Efimov. Dressed in modern business suits they were deputized by the Tzar to become impromptu generals. Defeated, their heads came to be tossed around like footballs, their suited torsos dangling from the cockerel's tree.
The cockerel herself sat way-up-high in a forlorn tree, dangerously hanging over a branch, visibly singing every word — though we came to perceive that it was a stuntman (see lead photo). The real voice, that of Russian soprano Maria Nazarova held forth beautifully evidently from high up, back stage.
Tzar Dodon's trusted general, and therefore kindred spirit Polkon was sung by Russian born, German finished Mischa Schelomianski, and Amelia, his nurse was sung by Russian mezzo-soprano Margarita Nekrasova.
The Rimsky Korsakov showpiece score gave the Opéra de Lyon's orchestra (one of Europe's finest theater orchestras) plentiful opportunity to show the beauty of its woodwinds and the richness of its strings. The pit performance was revelatory of the composer's affinity to opera, and to satire, the resulting inspirations offering far more colors and moods than in his more familiar instrumental works. Le Coq d'Or is certainly the Rimsky Korsakov masterpiece.
The production was a refugee from the canceled 2020 Aix Festival. It will travel to Lyon, Adelaide and Berlin in future seasons. Catch it if you can. It's worth a trip.
Michael Milenski
Production information:
Conductor: Daniele Rustioni; Stage director: Barrie Kosky; Set design: Rufus Didwiszus; Costumes: Victoria Behr; Lighting: Franck Evin; Choreography: Otto Pichler. Orchestra and Chorus of the Opéra de Lyon. Théâtre de l'Archevêché, Aix-en-Provence, France, July 22, 2021.
All photos courtesy of the Aix Festival, copyright Louis Fernandez