The final instalment of Signum's four-part Fauré exploration comes, as previously, with the ever-reliable collaborator Malcolm Martineau. This disc's two dozen plus songs are shared by a luxury line-up of new, established and veteran singers, with Lorna Anderson, Iestyn Davies, John Chest and Ann Murray a recurring presence throughout the series. Recorded within the last dozen or so years (and pre-Covid) at All Saints' Church, East Finchley, London, this disc complements Hyperion's similarly curated four-part survey with Graham Johnson.
Mélodie occupied Fauré from his student days in the 1860s through to his retirement in the early 1920s. Rather than follow Hyperion's chronological scheme, Signum has assembled a broad spectrum of Fauré's art within a diverse collection of songs reflecting the composer's poetic choices and stylistic changes. It's heard to great advantage in two significant anthologies, La bonne chanson and L'horizon chimérique, cycles that shine a light on both his mature and autumnal years.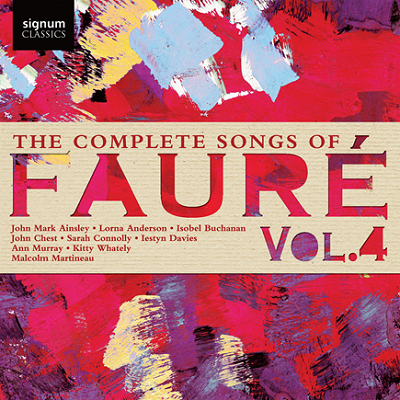 While this spotlighting approach convinces, the choice of singers is not always so felicitous. A wobbly Isobel Buchanan makes heavy weather of three songs – 'Seule!', 'La rançon' and 'L'absent' – written in response to the Franco-Prussian war. Interpretative insights aside, one finds oneself listening more to Martineau than Buchanan in these sober settings.
The cleaner tones of Kitty Whately make an engaging appearance in La bonne chanson, a cycle of nine songs that drew consternation from Saint-Saëns who, after hearing them, thought he'd gone "completely mad". Certainly, Fauré lengthens his harmonic stride here reaching a peak of complexity – dispatched with Martineau's customary assurance. Disappointing is Whately's limited expressive range, not quite chaste enough for the seraphic calm of 'Une sainte en son auréole', nor discovering the intimacy of the moonlight in 'La lune blanche luit dans les bois'. She seems more at home in the explosive joy of 'Puisque l'aube grandit' (a rare example of exuberance in Fauré) and in the rapture of 'Donc, ce sera par un clair jour d'été'. In 'Avant que tu ne t'en ailles', with its striking contrasts of contemplation and twittering birdsong, her voice takes wing.
More varied and compelling is the quartet of songs allocated to John Mark Ainsley whose honeyed tones grace the repeated declarations of love in 'Chanson d'amour'. When necessary his easy tenor floats naturally in 'Puisque j'ai mis ma levre', rises vigorously to the challenges of 'Larmes', and responds with touching simplicity to 'Au cimetière', a passionate elegy for sailors without a known grave who drift "Far from their beloved land".
For sheer smoothness of rendition there's Iestyn Davies. T he flowing lines of 'En prière' are textbook legato, while the subtle shadings and 'stillness' he brings to 'Nocturne' with its heart-easing final phrase are beyond beautiful. In 'Noël' one can so easily imagine 'the flight of angels' conjured by the Belgian poet Victor Wilder. So too one can hear the tinkling bells captured by Martineau's accompanying trills and arpeggios.
There's an agreeable cameo appearance from Sarah Connolly's melancholic tones in 'Prison', a song written on the eve of the composer's 50th birthday. Verlaine's regret and recrimination ("what have you done with your youthful days?") is wonderfully caught in the soloist's and pianist's heightened anguish. Ann Murray makes a singular and attractive contribution in the first of two Vocalises recorded here. The other is sung by a jewel-toned Lorna Anderson who impresses more in the tormented emotions and gratifying contours of 'Les présents', and in the celebratory post-war 'C'est la paix' of 1919. A pity Signum haven't managed to tone down Anderson's gleaming soprano, her triumphalism jarring with the composer's own sense of gratitude in peace rather than victory.
Of the younger generation of singers on this disc I was drawn to American baritone John Chest whose commanding richness, yet warmth, drew me repeatedly to L'horizon chimérique, Fauré's final cycle (1921) comprising four songs to words by Jean de La Ville de Mirmont. There's no doubting Chest's sense of exhilaration and nostalgia in 'La mer est infinie', or the determined pleas (at times expressed a little too forcefully) for the freedom of the seas in 'Je me suis embarqué'. Tenderness colours 'Diane Séléné', Chest now at his most poignant, and the farewell to youth that is 'Vaisseaux, nous vous aurons aimés regret' is equally pleasing.
All in all, this disc offers many rewarding performances, rich in contrasting vocal timbres. It makes a fine conclusion to a very worthy series.
David Truslove
John Mark Ainsley (tenor), Lorna Anderson (soprano), Isobel Buchanan (soprano), John Chest, (baritone), Sarah Connolly (mezzo-soprano), Iestyn Davies (countertenor), Ann Murray (mezzo-soprano), Kitty Whately (soprano), Malcolm Martineau (piano)
Fauré: 'Puisque j'ai mis ma levre, Noël' Op.43 No.1; 'En prière, La rançon Op.8 No.2; 'Seule!' Op.3 No.1; 'Chanson d'amour' Op.27 No.1; 'L'absent' Op.5 No.3; 'Nocturne' Op.43 No.2; 'Larmes' Op.51 No.1; 'Les présents' Op.46 No.1; 'Au cimetière' Op.51 No.2; La bonne chanson Op.61; 'Prison' Op.83 No.1; Vocalise 21; 'Pleurs d'or' Op.72; Vocalise 9; 'C'est la paix' Op.114; L'horizon chimérique Op.118.
Signum SIGCD681 [68.07]