A superb cast, a fine production, inspired conducting, classy orchestra and a classy chorus, a wired audience — it was Fidelio last night at the War Memorial Opera House.
To boot, long overdue new chairs in the opera house, more comfortable with more legroom for the masked and vaccinated spectators. All in all it was a triumphant return of actual world class opera to San Francisco.
Soprano Elza van den Heever shone as the Fidelio of your dreams. Her voice clear and strong, her presence magnetic, majestic. As Florestan's wife Leonore she commanded the stage realizing the opera's goal of saving this political prisoner from an ugly death. Her impassioned first act aria "Komm, Hoffnung, lass den letzten Stern" ("Come, hope, let the last star") earned a remarkably huge ovation.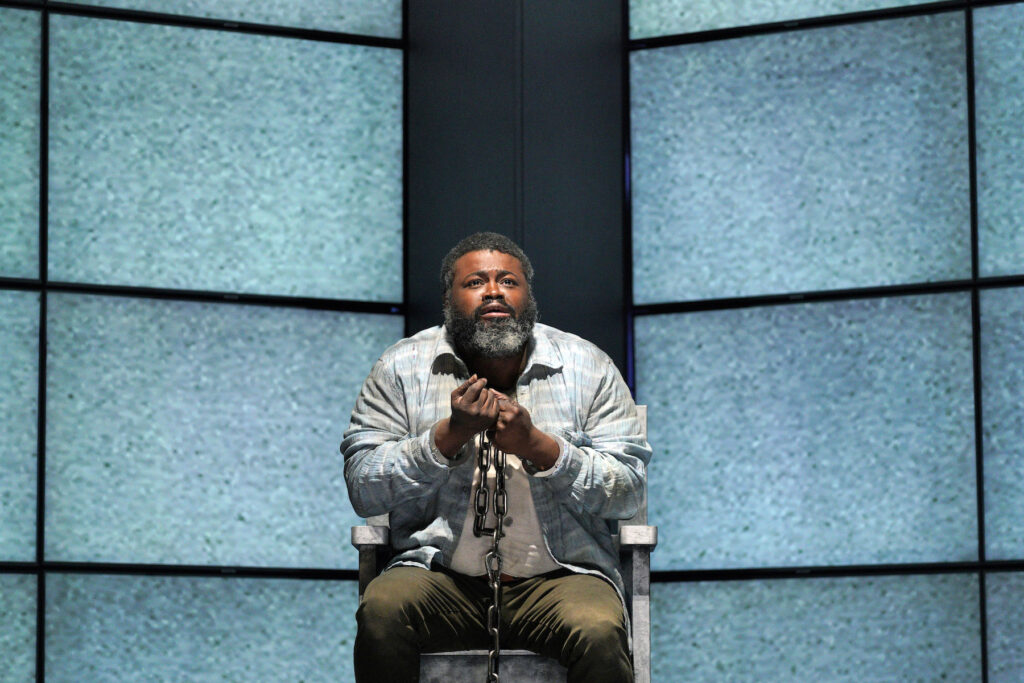 Tenor Russell Thomas as the delirious, starving prisoner Florestan radiated musical elegance in his beautifully voiced vision of his savior, Leonore, and held the stage with consummate dignity through to the eventual, sublime moment when his chains are removed.
Mme.Van den Heever's Fidelio shone in spite of the blue denim coveralls and cap she wore, somehow meant to be a uniform of the security or more likely, custodial staff at some sort of heavily bureaucratic (lots of file boxes and very busy personnel) contemporary detainment center somewhere. The set, designed by Alexander V. Nichols, was a two sided open metal super structure dressed with TV screens and lines of industrial neon lights. The massive structure gracefully revolved to a new position for each of the opera's scenes, the prevailing black background becoming a blinding white for the opera's triumphant finale. The structure, now fully transparent, its neon lights fully aligned in infinite parallels, achieved, finally, its moment of liberation. It was a huge, and quite magnificent effect.
Maestra Eun Sun Kim urged the final, Rossinian strepitosissimo moments of Beethoven's complex finale to shattering, fortissimo levels, the seventy-two voices of the San Francisco Opera Chorus joining Florestan and Leonore, the jailer Rocco and the minister Don Fernando, and the first act refugees, Marzelline and Jaquino — the arch-villain Don Pizarro having been unceremoniously hustled off the stage — in full voice celebration of an impassioned ode to conjugal loyalty. The audience went wild.
If stage director Matthew Ozawa seems a bit vague as to what this was all about, Beethoven certainly was not. In modern, everyday dress director Ozawa's prisoners were men, women and children who could have been you and me, though some were in yellow (low risk) prison jumpsuits, leaving it uncertain as to why we were imprisoned. Beethoven nonetheless responded with his sublime ode to freedom "O welche Lust" ("O what a joy").
Fidelio was originally a French play set in Spain, one grandee exposing the crimes of another. The accuser, abducted and secretly imprisoned, is saved by his wife who infiltrated the prison disguised as a man. Variations of this "rescue" plot were wildly popular during the very recent French Revolution, satisfying an understandable need to escape whatever. Stage director Ozawa with the obvious relish of San Francisco Opera's Wotan, bass baritone Greer Grimsley, created an anonymous, business suited villain from whose rhetorical vileness (i.e. caricature) you really wanted to distance yourself.
This was the first act. In the second act Don Pizarro was (as all of us were) caught up in Beethoven's massive musical structures that spoke to the genius of conductor Eun Sun Kim. Ma. Eun is a big conductor. The second act of Fidelio is big music, its philosophical terms are heroic. The maestra ran with with her superb singers and her powerful orchestra to create a truly thrilling tribute to Beethoven's muse, and to the dignity of humankind.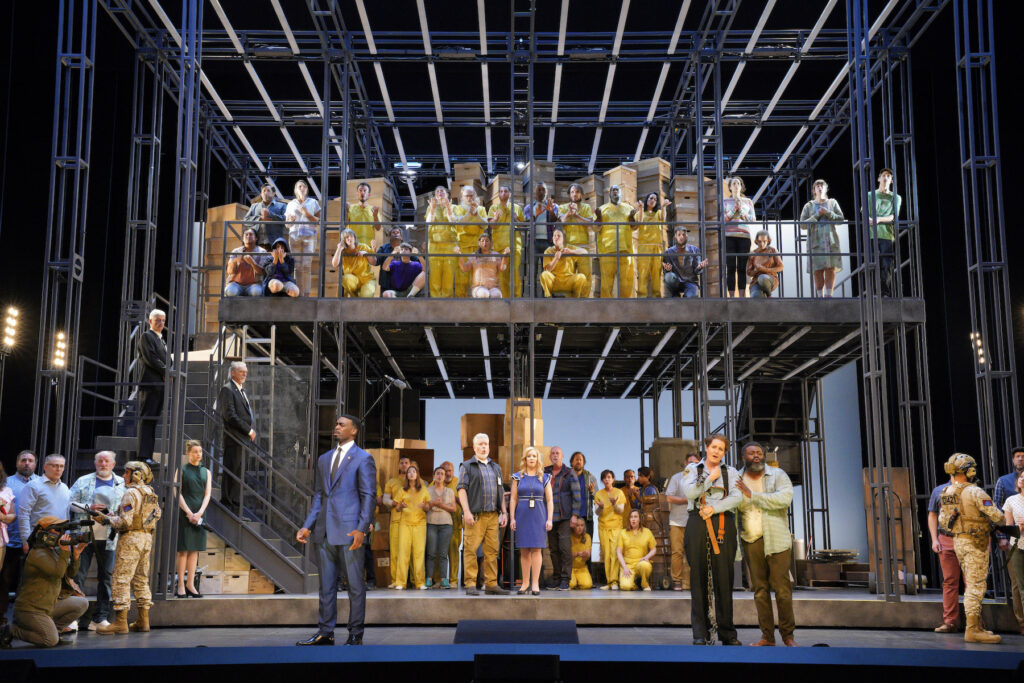 Puzzling however was the arrival of the minister from Seville, Don Fernando. Costumed in a natty, bright blue business suit, bass Soloman Howard strode onstage with cocky confidence. While this entrance did indeed add zing to the proceedings, it unbalanced the musical gravity of the moment. Puzzling also is the seating of all the winds at the extreme left side of the orchestra pit (except the trombones who were at the extreme right with the percussion). Though this placement allowed us to admire this colorful choir, particularly in the pomposity of this conductor's take on Beethoven's 1814 Fidelio overture, it was sometimes oppressive in the first act when the orchestra often overwhelmed Beethoven's less heroic characters.
The jailer Rocco was sung by American bass baritone James Creswell who successfully navigated the gulf between the common man attitudes of the first act, and the dignity of the common man in the second act. Mr. Creswell was both folksy and sincere, and in beautiful voice, as were the Marzelline and Jaquino, sung by Adler Fellows Anne-Marie MacIntosh and Christopher Oglesby. Stage director Osawa's detention center metaphor did not sit easily with the domesticity of Beethoven's first act placing all these artists at a disadvantage, though the maestra's Canon Quartet celebrating wondrous love (Fidelio, Rocco, Marzelline, Jaquino) came through with remarkable musical sublimity.
Michael Milenski
Cast and Production:
Fidelio: Elza van den Heever; Florestan: Russell Thomas; Don Pizarro: Greer Grimsley; Rocco: James Creswell; Marzelline: Anne-Marie MacIntosh; Jaquino: Christopher Oglesby; Don Fernando: Soloman Howard; First Prisoner: Zhengyi Bai; Second Prisoner: Stefan Egerstrom. Chorus and Orchestra of the San Francisco Opera. Conductor: Eun Sun Kim; Stage Director: Matthew Ozawa; Set & Projection Designer: Alexander V. Nichols; Costume Designer; Jessica Jahn; Co-Lighting Designers: JAX Messenger and Justin A. Partier. War Memorial Opera House, San Francisco, October 20, 2021.