Cosi fan tutte (1790), the little sister of the Mozart Da Ponte trilogy, was mounted last night in the same set used by its older brother The Marriage of Figaro (1786) that began San Francisco Opera's new, integrated version of the trilogy before Covid shut everything down.
One may presume that the trilogy's most powerful sibling, Don Giovanni (1787), set for this June at the War Memorial Opera House will use again this same abstracted household some say to be Thomas Jefferson's Monticello though architecture historians disagree.
In stage director Michael Cavanagh's San Francisco Da Ponte trilogy this architectural monument to the Enlightenment (the French intellectual moment that gave us our Constitution and Bill of Rights), has become a pleasure palace, the Wolfbridge Country Club, Don Alfonso general manager. Let's place it somewhere in Virginia.
Though Thomas Jefferson is now infamous as a slave owner.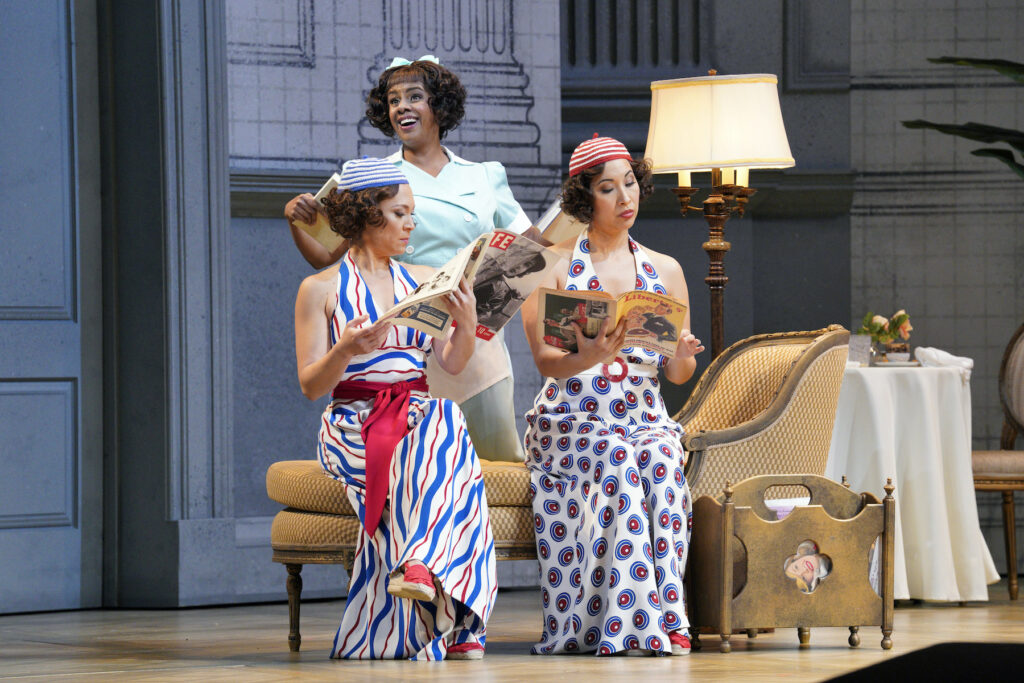 Opera is color blind (SFO's recent Fidelio as example) but it isn't, thus in director Cavanagh's Marriage of Figaro both Figaro and his bride Susanna were of color (black). Jefferson's home has now become The Wolfbridge Country Club, frozen in time into the 1930's by costume designer Costance Hoffman's very witty, broad abstractions of provincial period fashion, and very witty takes on period set accoutrements (treadmills, easels, martini glasses, etc.) The quick scene changes were a tour de force of stage management.
Since opera is colorblind but isn't Despina, a country club employee/servant, was of color (black), and like Figaro, Despina was the moral conscience of the opera, such as it was, reveling in the hedonism of the well fed, indulged lives of the country club set back then — where were the cigars? — with plenty of indulgent, condescending humor.
All this allowed for the really fun, spoofy tableaux that opened many of the scenes set in the myriad of spaces that director Cavanagh and his witty designer Erhard Rom invented to help us get through this long, very long opera — most notably a parade of aged males in swimming attire. But all this witty action was quickly shooed off the stage, leaving us alone with Mozart's Cosi fan tutte sung mostly standing just in front of the prompter box.
Fortunately the rewards were great, starting with the splendid reading of Mozart's overture by Hungarian conductor Henrik Nánási, the musical mastermind behind the San Francisco trilogy. The orchestra pit was made less deep, allowing a vivid, balanced presence for a 45 count San Francisco Opera Orchestra. It was very pleasurable music, wonderfully colored by wind solos made wittier by the accompanying, projected graphic depictions of 30's silhouettes (cars and people) that enlivened the architectural schematics of the 18th century house of the show curtain.
Conductor Nánási finds a wonderfully flowing lyricism in his Mozart, eschewing the emotional intensities that other conductors may find in Mozart operas. This maestro favors a beauty of line and tone that is most appealing. The Cosi fan tutte story favors, obviously, much vocal writing in parallel thirds and sixths, smooth harmonies that resulted often in parallel physical movements of the protagonists in the Cavanagh staging. The more intense musical moments of Mozart's opera occurred when the front of the Jefferson house was a closed wall all across the stage, the heroine alone with her music. There was resplendent lyricism in abundance.
The complex and subtle dramatic context (though maybe way too obscure to perceive) and very subtle musical drama were enveloped within the gentle humor of the production.
In the end in fact the heroines amusingly donned mustaches (the emblem of disguise in the opera) to give their tormentors a taste of their own medicine, Despina evidently was surprised to learn that the Albanians were the original fiancés, and everyone exited the wild finale through separate doors.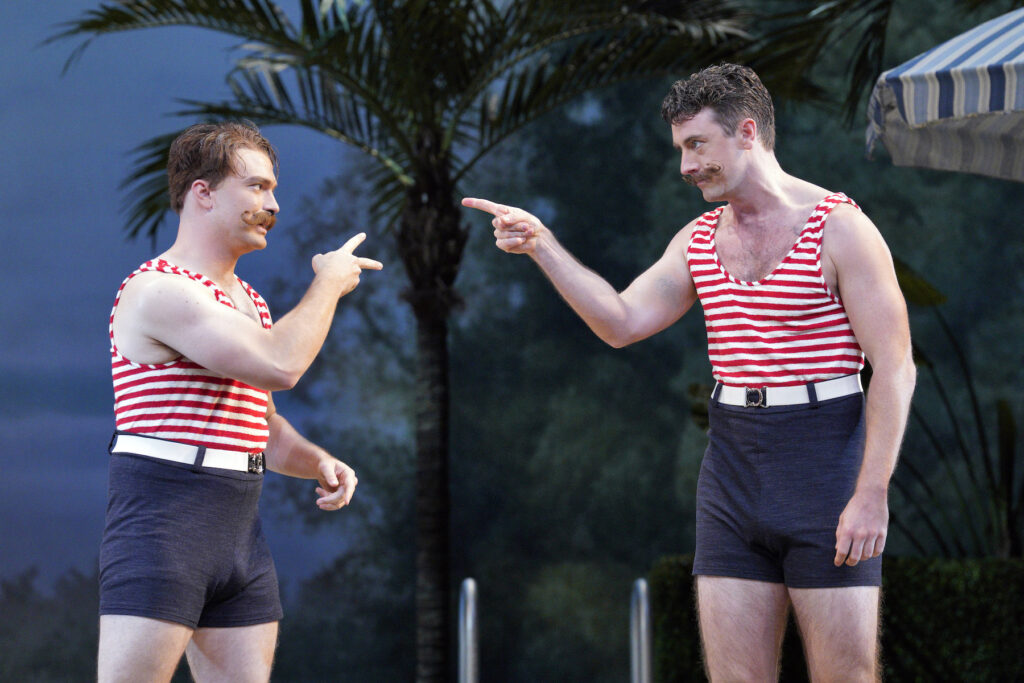 San Francisco Opera assembled an excellent, balanced cast for this production, anchored by bass Ferruccio Furlanetto. This venerable Italian buffo provided solid vocal and histrionic management of the country club, magisterial rather than whimsical. If soprano Nicole Heaston had made her fine San Francisco Opera last minute debut as the Countess in this trilogy's Marriage of Figaro she found her true calling as Despina, a role she wholly owns vocally, and manages with mayoral aplomb. She was one of the great pleasures of the afternoon.
Soprano Nicole Cabell, remembered vividly for climbing the wall as Giulietta in San Francisco Opera's 2012 I Capuleti ed I Montecchi, held the stage with equal authority as Fiordiligi, capturing the Mozart line in rich voice and impeccable intonation. Mme. Cabell's voice was beautifully matched by mezzo soprano Irene Roberts as Dorabella, the two voices finding rich, warm vocal sympathy in their duets. Mlle. Roberts played the fun and humor of her character in uniformly even singing, not having been asked to explore Dorabella's darker sides.
Tenor Ben Bliss played Ferrando to the hilt, unfazed by the swimming suit and other ungainly period costumes. His voice is of even strength from top to bottom allowing him to extol the Mozart line to its utmost. It was quite beautiful singing. Baritone John Brancy as Guglielmo reveled in the fun of the costumes, and obviously enjoyed his well made character. He is a fine singer, well matched to Mr. Bliss in the many duets they shared, and in his arias.
Michael Milenski
Cast and Production:
Fiordiligi: Nicole Cabell; Dorabella: Irene Roberts; Ferrando: Ben Bliss; Guglielmo: John Brancy; Don Alfonso: Ferruccio Fulanetto; Despina: Nicole Heaston. Chorus and Orchestra of the San Francisco Opera. Conductor: Henrik Nánási; Director: Michael Cavanagh; Set and Production Designer: Erhard Rom; Costume Designer: Constance Hoffman; Lighting Designer: Jane Cox. War Memorial Opera House, San Francisco, CA, November 21, 2021.