Hot off the press in 1610 was A Musicall Banquet furnished with varietie of delicious Ayres, Collected out of the best Authors in English, French, Spanish and Italian – a compilation of the 'greatest hits' of the day for solo voice and lute; or, as the anthology's publisher Robert Dowland, son of the more famous John, put it in his Preface, 'gathered out of the labours of the rarest and most judicious Masters of Music that either now are or have lately lived in Christendom'.
Robert (1591-1641) was only nineteen at the time of the publication, and though he was a fine lutenist, and in 1626 was to follower his father into royal service as one of the King's Musicians for the Lute, one detects the influence of the well-travelled Dowland père – who had by 1610 worked in France, Germany, Italy and Denmark – in the collection's eclectic assembly of songs from the continent's leading exponents of lute song. Dowland dedicated the Banquet to his godfather, Sir Robert Sidney, brother of the poet Sir Philip Sidney. The large selection of English songs with which the collection opens are followed by three French airs de cours by Pierre Guédron (c.1570-1620), taken from Gabriel Bataille's Airs de Differents Autheurs, Mis en Tablature de Luth, which was published in Paris in 1608, and to which a bass part has been added in the English manner. After three anonymous Spanish songs, the volume concludes with four Italian monodies of the seconda prattica – including Caccini's 'Amarailli, mia bella' which had been published in the composer's Le nuove musica in 1602 – the harmonisation of the original figured bass being presented as lute tablature.
The cross-continental span both illustrates national idioms and illuminates the ways in which continental song was impinging on the English genre. Moreover, the circulation of music outside national borders reveals such musical conversations to be but part of a wide international network of courtly and cultural interaction and exchange, such as was neatly reflected in this recital at Wigmore Hall by countertenor Iestyn Davies and lutenist Thomas Dunford through the re-ordering of the Banquet's delectable morsels, with works for solo lute cleansing the palate between the diverse dishes.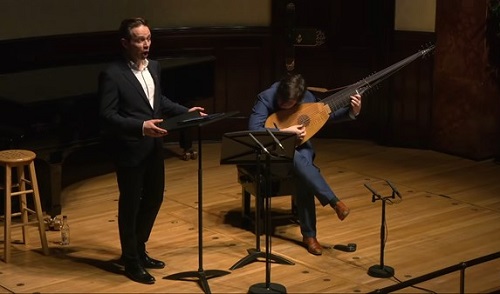 Davies and Dunford opened their programme with a setting of eight stanzas from Sir Philip Sidney's 'In a grove most rich of shade', one of three lyrics from Astrophel and Stella included in the Banquet. Or, rather, not a 'setting' of Sidney as such but rather an appropriation by Dowland of the melody of a French song which he must have thought would be a tidy fit for Sidney's words. The programme listing suggested that the composer of that French melody was one Charles Tessier, a French composer and lutenist who worked at the court of Henri IV and who travelled the length and breadth of Europe, arriving in London in the 1580s. I hope Opera Today readers will forgive me a digression here, since this ascription – which was corrected in Rick Jones' programme note – confirms both the complexity of these inter-court exchanges, and how little we know of their precise nature.
For, Charles Tessier's Le Premier Livre de chanson et airs de court, tant francois quen italien et en gascon a 4 et 5 parties, published in 1597, does indeed include settings of some of the Astrophel and Stella sonnets, as well as a work dedicated to Lady Penelope Rich, sister of Robert Devereux, 2nd Earl of Essex (the latter's poetry is also represented in the Banquet). But, the composer was in fact Guillaume Tessier, probably the father of Charles: the melody, setting Ronsard's 'Le petit enfant amour', can be found in the former's Primo Libro Dell' Arie, which was published in Paris in 1582 –a year in which John Dowland was in the French capital having travelled there in 1580 to serve Sir Henry Cobhan, the English ambassador to the French court.
Such fascinating labyrinths aside, 'In a grove' was sung with characteristic poise by Iestyn Davies, the countertenor's unpretentious artistry immediately drawing the listener into the courtly intimacy which these English songs embody, their imagery underscoring the intertwining of music, poetry and politics. The elegant vocal phrases were expertly coloured and heightened, reflecting the tension between pastoral innocence and human passion which accrues in the Edenic shady grove, redolent with floral perfume and "wanton" birdsong, where the besotted Astrophel meets his Stella, "sovereign of my joy". Davies showed us that Astrophel's sophistry cannot hide his desperate need as he tries to seduce Stella: "Smiling air allows my reason;/ These birds sing: now use the season." And, the text and its repetitions were exploited to confirm both the finality of Stella's denial of Astrophel's desire, and her cruel affirmation of feeling, her avowal, "I should blush when thou are named", enriched first by the slightest smile and then by a wry ornament. Dunford's lute seemed symbiotically connected to the vocal line, a support, companion and antagonist. First warm and delicate, the left-hand grace reflecting the preciousness of the sensuous moment, the lute then tripped lightly with the spring that propels Astrophel's confident step, and finally became forthright and rhythmically charged, seemingly driven by Astrophel's frustrated yearning,
Often the Elizabethan lutenists' texts were intended as direct appeals to Queen Elizabeth, expressing dissatisfaction with her rule or using flattery to disguise a desire for political favour. Richard Martin's 'Change thy mind since she doth change' sets words by Robert Devereux which form a bitter complaint against feminine betrayal. Davies used the major-minor alterations to convey the irony of the poet-speaker's self-acknowledged weakness, "See how she have still delay'd thee", while his countertenor was fiercely direct in rebuking the female fickleness that has been recognised too late: "Love loves truth, which women hate." The lute's agitations culminated in assertive cadential strums and the deep almost metallic bass timbre seemed fired by fury.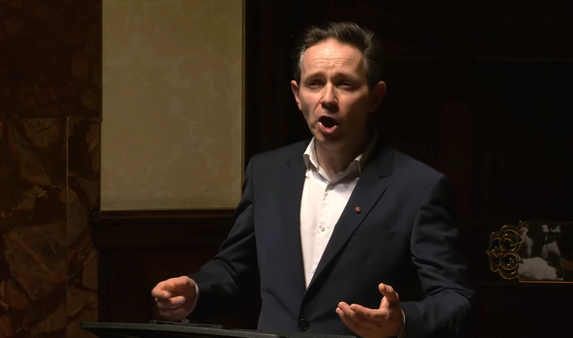 In 1597, Antony Holborne (1545-1602), Gentleman Usher to the Queen, published The Cittharn School and, after Dowland, he left the largest oeuvre of lute music from this period. The long, unadorned lines of the composer's 'My heavy sprite, oppress'd with sorrow's might' progressed with firm directness until the lute's troubling restlessness inspired Davies' rhetorical statement of anguish, "And for thy sake this world becomes my hell", the final word drawn-out with almost defiant misery. The song was fittingly prefaced by Holborne's Pavan 2, in which Dunford seemed to tease the listener, holding back the musical gestures which, together with the resonant throb of the bass strings, seemed to create an almost erotic sense of anticipation.
The second Sidney setting was the anonymous 'Go, my flock, go get you hence', which had a lovely grace, the asymmetries of the phrase structures creatinf a gently sprung buoyancy, which gained in intensity as the poet-singer's doubts accrued before dissolving into despairing pathos at the close. The Sidney connection continued with Daniell Batchelar (1572-1619), who was at one time a page in the aristocrat's household. In 'To plead my faith', however, Batchelar sets Essex, and here the edginess of the inner-voice lute agitations enhanced the scorned poet-speaker's insistent implorations.
The air de cour was cultivated at the courts of the French Kings Henri IV (r.1589–1610) and Louis XIII (r.1610–1643) and its polished suavity was perfectly embodied here by three songs by Pierre Guédron, who served as Superintendant of the King's music from 1613 till his death around 1620. The supple fluidity and sensitive accenting of the vocal line in 'Ce penser qui sans fin tirannise ma vie' movingly captured the languishing poet-speaker's lament. The paradox of love was perfectly pointed by the dissonant inflection of Davies' rising appoggiatura against the lute's tierce de Picardie cadences, the stanzas closing with bittersweet ambiguity: being near or far from the beloved is of no import, both wield the same power. Davies' ornamentation in 'Si le parler et le silence' was exquisite, making the flowing, wide-ranging vocal line fairly shiver with the ecstasies felt but not spoken by the two lovers in the lyric.
There were considerable demands on Davies' linguistic skills in this recital, particularly given the inextricable bond between word and music in this repertoire, and he moved between the various languages persuasively. If there was a 'weak spot' then perhaps he was less convincing in the Spanish repertoire. The singing was, of course, consummate and communicative, but I feel these dance-driven songs need punchier consonants, more exaggerated vowel shapes and a wide range of colour – a greater sense of abandon, perhaps. But, the anonymous 'Passava Amor su arco desarmado' – Belisa's song in Jorge de Montemayor's pastoral novel, Los siete libros de la Diana (1559), for which she is applauded by the nymphs – ended the first half of the recital with a taut rhythmic swagger, while Davies' two-against-three clapping prompted Dunford to get the second part underway with 'Vuestros ojos tienen d'amor'.
The Italian songs allowed Davies and Dunford to unleash a more theatrical musical rhetoric, the declamatory nature of the vocal line enriched with ornament which Davies employed in service of the text with discerning musicianship. The lawyer and sometime cantore-composer Domenico Maria Melli (fl. early seventeenth century) pipped Caccini to the post in publishing his own book of monodic song just a few months before Le nuove musiche appeared. The madrigalian 'Se di farmi morire' from Melli's second book (Venice, 1609) was a beautifully arioso refutation of rejection, its lyricism highly coloured. Caccini explains that he wrote his Preface to explain 'how much is required of one who desires to make a profession of solo-singing to the harmony of a chitarrone or other chord-producing instrument.' The florid 'Sta notte mi sognava' (Anon.) confirmed Davies' masterly vocal technique; the Italian singer-composer would surely have been more than satisfied by the ease and precision with which the countertenor streamed silkily through the rapid divisions. Similarly, in 'Amarilli mia bella' there was not a trillo, giro, messa di voce or esclamazione that was not both flawlessly crafted and used for expressive intensity. Here and in Caccini's 'Dovrò dunque morire' the balancing of emotive theatrics and simple song was stunning.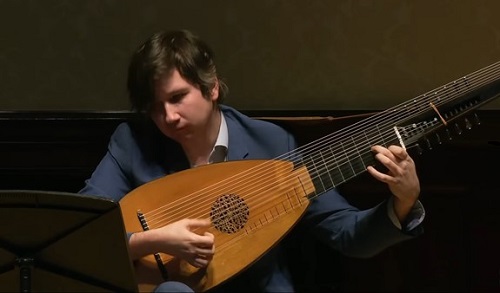 Dunford wove his witchery in lute dances by Dowland, Holborne, Dalza and Kapsberger which fused the songs into unbroken sequences and served as a sort of commentary on the vocal pieces – especially so in the anonymous 'O dear life, when shall it be?', in which the elegant composure of the central lute interlude seemed to deny the fraught poet-speaker an answer to his question, and where vocal melisma and lute embroidery cohered in the charged closing, "At her lips my nectar drinking". In the brief 'Mrs Winter's Jump' – approached by fey improvisatory imaginings – fancy, song and dance mingled and merged. Here his tone was warm but his finger-work fairy-delicate, matching the music's blithe spirit.
It's not just that his music-making mesmerises but more that Dunford often seems to have bewitched himself too, luring the listener into his trance. In Dowland's 'Preludium' the genie came out of the bottle and refused to be put back inside, the music's sinuous meanderings, tinged with melancholy, were shaped with almost devilish dexterity, as if blown by Shelley's West Wind. The Round Battle Galliard, in contrast, danced with lithe muscularity, while the meandering mysteries of 'A Dream' slipped into the ether with delicate wistfulness. A touching halting quality characterised the Melancholy Galliard. Two rebelliously irregular toccatas by Giovanni Girolamo Kapsberger (c.1580-1651) at times had a bluesy twang, Dunford's astonishing dexterity enabling him to control and cohere the frantic rushes of finger-fluttering notes and wayward harmonic twists, which eased reassuringly into the pulsing circularity of Joan Ambrosio Dalza's Calata.
Robert Dowland included in his collection three songs by his father. The tension between the declamatory-arioso vocal line and the twitchy speculations of the lute in 'Lady, if you so spite me' perfectly embodied the paradox in the textual metaphor central to the age, "Come kisse me sweet and kill mee", which Davies made swell with anguish and allure. Dunford was brilliantly mercurial in 'Far from triumphing court' which Davies sang with stunning eloquence, despite the awkwardness of some of the text-setting in the later verses.
The imagery of 'In darkness let me dwell' echoes that in Devereux's pleading letters to Elizabeth: 'till I till I may appear in your presence, and kiss your fair correcting hand, time itself is a perpetual night, and the whole world but a sepulchre.' Davies' firm lower register projected this self-consuming despair with compelling expressivity, musical gestures exploited but never at the expense of the prevailing black inertia. Only in the final textual line was the voice lifted by passionate impulse, but such spirits burned themselves out all too quickly, the repetition of the titular phrase hovering on a perilous dissonance before Davies snuffed out the cadence, the resolution disappearing like a moth's wing in flame. Yet, Davies and Dunford had brought light into the darkness.
And, they'd clearly enjoyed themselves in so doing.  They gave the Wigmore Hall audience, who despite the banquet they'd enjoyed were still very hungry for more, three encores: first, Schubert's 'Litanei' from Die schöne Müllerin – which Davies has just released with Joseph Middleton on the Signum Classics label, and because "it isn't a lute song"; then, apparently at Dunford's insistence, more Dowland – 'Now o now I needs must part' – which segued by musical magic into Eric Clapton's 'Tears in Heaven'.  One was put in mind of Dowland's observation in the Dedication to Lachrimae that, 'The teares which Musicke weeps' are not 'shed always in sorrow but sometime in joy and gladnesse'.
Claire Seymour
A Musical Banquet:Iestyn Davies (countertenor), Thomas Dunford (lute)
Guillaume Tessier – 'In a grove most rich of shade'; John Dowland – Mrs Winter's; Jump Richard Martin – 'Change thy mind since she doth change'; Dowland – Preludium' Domenico Maria Melli – 'Se di farmi morire'; Pierre Guédron – 'Ce penser qui sans fin tirannise ma vie'; Antony Holborne – Pavan 2, 'My heavy sprite, oppress'd with sorrow's might; Dowland – 'Lady if you so spight me'; Guédron – 'Si le parler et le silence'; Dowland – Round Battle Galliard; Anon – O' bella più'; Robert Hales – 'O Eyes leave off your weeping'; Giovanni Girolamo Kapsberger – Toccata No.6; Joan Ambrosio Dalza – Calata; Anon – 'Passava Amor su arco desarmado'; Anon – 'Vuestros ojos tienen d'amor; Anon – 'O dear life, when shall it be?'; Dowland – A Dream; Anon – 'Sta notte mi sognava'; Dowland – A Fancy; Anon – 'Go, my flock, go get you hence'; Dowland – 'In darkness let me dwell'; Kapsberger – Toccata No.1; Dowland – 'Far from triumphing court'; Guédron – 'Vous que le Bonheur rappelle'; Dowland – Melancholy Galliard; Daniell Batchelar – 'To plead my faith'; Giulio Caccini – 'Amarilli, mia bella', 'Dovrò dunque morire'
Wigmore Hall, London; Friday 28th January 2022.