The Opera di Roma marks the centenary of Janacek's intimate domestic tragedy Kat'a Kabanova with a new cast for Richard Jones' prize winning, 2019 Covent Garden production. Reportedly spell binding in London, in Rome, though some faults were apparent, its effect was certainly no less overwhelming.
That is because it is the Janacek of the gritty real, finding immeasurable beauty in the ugly. These scores, Kát'a Kabanová and From the House of the Dead in particular, take you to emotional planes you would not endure without the cloak of art — absolute hopelessness and absolute alienation. You may revel in the pristine clarity of such feeling, knowing it is art.
Janacek scores usually thrive on the minimal, the simplest of surrounding, anything more detracts from the tracery of emotional movement that Janacek so carefully and specifically etches. In Rome American born, London schooled conductor David Robertson masterfully delineated the detailed Janacek score.
British stage director Richard Jones teased minimalism in this staging. The elaborate abstractions of his set — a huge brown wooden box; the spare interior and exterior of a house; a bus stop shelter; a street light — alone drowned the orchestral continuum. All this was in concert with sharply geometric lighting shapes imposed on these elements (that went awry in the performance I saw compromising Kát'a's Act I monologue — the germ of director Jones' concept).
Mr. Jones revises, with the justification of Kát'a's monologue, the libretto's inherent intent that societal and commercial pressures crush basic human instincts. Kat'a is a victim. Jones elaborates, reading Kát'a in the Act I monologue as an unstable personality, whose descent into a depressive madness is the thread we will follow. In the end she is the victim of her isolation and of her madness.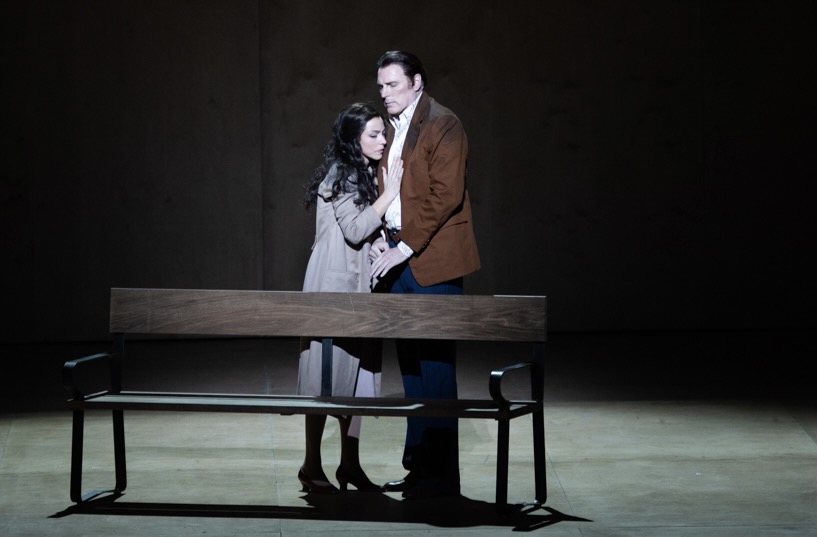 American soprano Corinne Winters brilliantly fulfilled director Jones' reading of the libretto, initially convincing us in the first act that she is a lost soul, her words themselves lacked precise enunciation. Precision was indeed present in the beautifully sung role of Varvara, Kát'a's nemesis — a free spirit able to break free away from familial and social fetters, enacted with infectious abandon by Canadian soprano Carolyn Sproule.
Conductor Robertson's Act II precisely teased the ecstasies of love, its fulfillment hinted but seldom achieved. Varvara and her equally free spirited, if wise boyfriend Vaña Kudrjáš — sung by British tenor Sam Furness — indulged in fleeting lovers spats underpinned by soaring, joyous offstage utterances by Káty'a and her equally doomed lover Boris. American Heldon tenor Charles Workman offered an exquisitely passive portrayal as Kát'a's lover.
Often director Jones' staging indulged in superfluous illustration of Janacek's inner emotional states. A confusing example was the apparition of a 1960's Mercedes sedan with Kat'à's internal musical confusion marked by her repeated attempts to climb in, thwarted by her husband Tichon Kabanov — sung by British tenor Julian Hubbard. Conversely a quite powerful example of Jones' staging was at Kát'a's final encounter with her lover when she attempted to lift Boris' flaccid arms into an embrace.
Of surprise, and indeed fine effect was Jones' totally abstract river Volga, nothing more than the disappearance of all scenic paraphernalia leaving black voids, the river becoming the void of the auditorium, and the revealed void of a blackened upstage creating the Act III bridge. In a heavy handed directorial flourish Mr. Jones had fishermen pull a fish from its waters in Act I, the dead fish image becoming Kát'a in Act III. Director Jones' point was made, and the story was thereby told.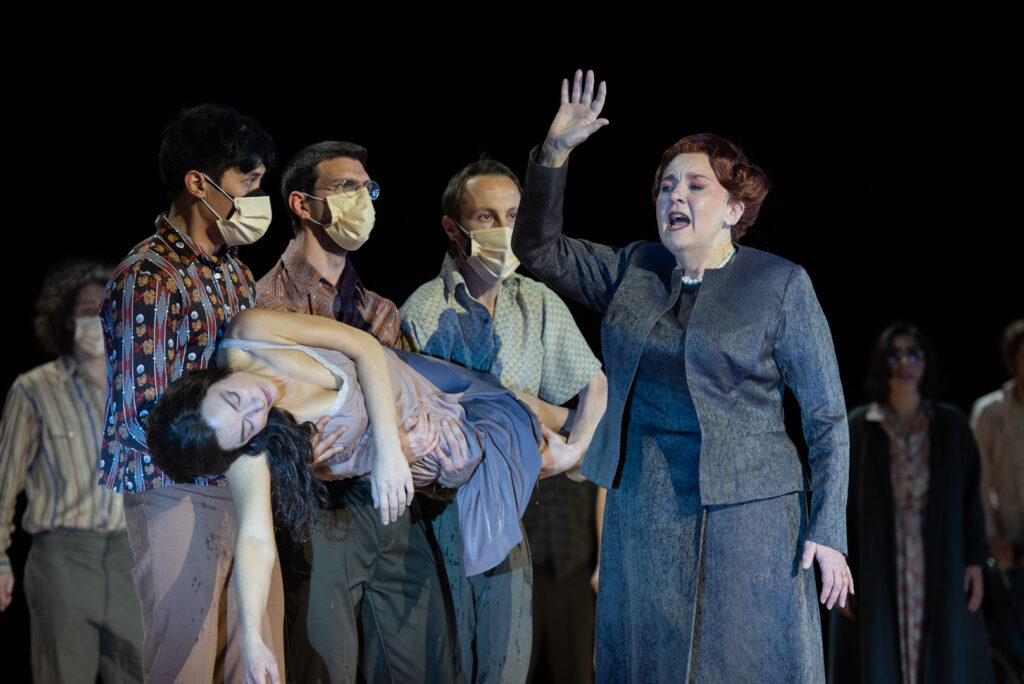 The opera's final image, Kát'a's stepmother — ably performed by British character mezzo Susan Bickley — is rejected by her son, Kát'a's bereaved, drunken husband. This last scene, sometimes made into an important pronouncement (i.e. that Kát'a was crushed by what these two figure represent), for director Jones was but a somewhat insignificant postlude, and definitely beside the point.
Finally, maybe this Richard Jones production, with this superb cast, did again earn that prize.
Michael Milenski
Cast and Production
Kát'a: Corinne Winters; Boris: Charles Workman; Tichon: Jullian Hubbard; Vana: Sam Furness; Varvara: Carolyn Sproule; Kabanicha: Susan Bickley; Dikoj: Stephen Richardson; Kuligin: Lukas Zeman. Orchestra and Chorus of the Rome Opera. Conductor: David Robertson; Stage director: Richard Jones; Costumes and Sets: Anthony McDonald; Lighting: Lucy Carter. Teatro Costanzi of the Teatro dell'Opera di Roma, January 21, 2022.