Failure to love the operas—more generally, the music—of Janáček would be a strange, soulless thing indeed. It seems more to be opera companies, strange, incomprehensible entities, than opera-goers, be they casual or more seasoned and committed, that accomplish that strange, incomprehensible failure. Fortunately, since opera returned to London, we have had opportunity to see a Janáček opera at Holland Park, Covent Garden, and now at the Coliseum too, with Glyndebourne adding to the tally not so far away. Holland Park's Cunning Little Vixen last summer makes ENO's claim that the opera is 'rarely staged' especially peculiar, but arts advertising is another strange and incomprehensible world. We can and should be grateful for Janáček wherever we find his works staged; that is surely the important thing, not least at a time when humanity stands in danger of extinction from so many catastrophes at once.
The idea of Jamie Manton's new production seemed to be that the human world aged more readily and found itself less capable of regeneration, perhaps in light of its incomprehensible despoliation of Nature, than the natural world of animals, to the detriment of the slow-witted former and probably the quicker-witted latter too. Deforestation was, I think, part of that tale, felled logs across the stage, living wood turned dead at the hand of man. Silent child and/or adolescent versions of certain characters—the Forester, his Wife, the Vixen, and the Dragonfly—heightened the sense of cyclical, generational narrative, freer than their elder selves, without merely getting in the way. Just as important, they and other silent roles gave opportunity to child performers, as of course did the children's chorus. Vivid, painterly impressions of human life and the seasons were unfurled: always a dramatic reminder that what we think of as Nature, or at least what we can ever know of it, will always remain an uneasy compromise with the natural world 'itself'.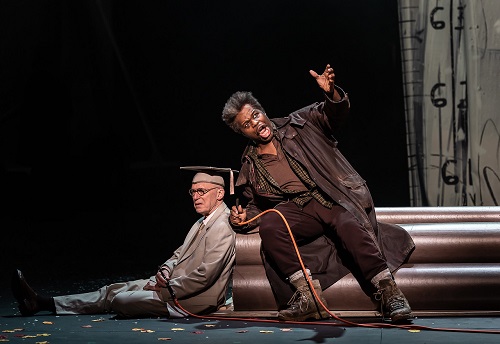 There was also an intriguing sense of the story, or at least the human part of it, lying closer to earlier Janáček works such as Jenůfa and Katya Kabanova. When the Forester took the Vixen home, it was indoors, to a claustrophobic setting that would not have been out of place in a typical 'contemporary'-minded production of either of those. This Moravia was far from a rural idyll, though it arguably had more in common with the stage of life at which Janáček wrote his opera, memories of his relationship with Kamila Stösslová colouring the Forester's strange love for the Vixen and ultimately that sense of transcendental communion engendered by that love.
Martyn Brabbins led a loving—perhaps in the third act, a little too loving—musical account, especially strong in conveying not only the metrical implications of Janáček's use of Czech speech rhythms, but how evidently felt they might be by performers and audience alike (even in English translation). Here was a score clearly internalised, whether its moments of rapture or its (often overlooked) harder edges, chiming nicely with what we saw on stage. By the nature of the work, a Vixen performance needs to be a company effort. That was certainly what we saw and heard here.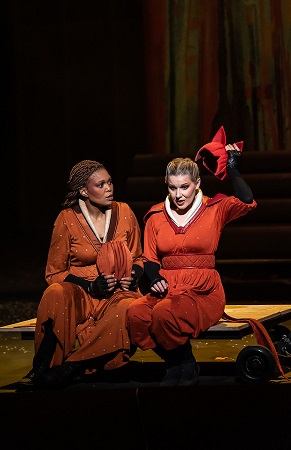 Sally Matthews shone in the title role, her bell-like soprano emotionally adaptive to a variety of situations, Pumeza Matshikiza's Fox similarly likeable and (strangely?) relatable. The journey of Lester Lynch's Forester offered a crucial dramatic counterpoint, ably supported and brought into relief by a host of sharply drawn cameos. It would ultimately be a little pointless to go through the large cast, but Madeleine Shaw's Forester's Wife and Ossian Huskinson's Harašta seemed to me particularly vivid portrayals, in stage and vocal terms. Storm Eunice, the natural world in notably hostile guise, may have put paid to the premiere, but there will always be more to come, further opportunities. Like the Forester, we human beings must learn better how to take them—before it is too late.
Mark Berry
Forester – Lester Lynch, Vixen – Sally Matthews, Forester's Wife/Owl – Madeleine Shaw, Schoolmaster/Mosquito – Alan Oke, Priest/Badger – Clive Bayley, Poacher – Ossian Huskinson, Innkeeper/Cock – John Findon, Fox – Pumeza Matshikiza, Innkeeper's Wife/Chief Hen – Gweneth Ann Rand, Dog – Claire Barnett Jones, Pepík/Woodpecker – Alexandra Oomens, Frantík/Jay – Ffion Edwards, Harašta – Ossian Huskinson, Dragonfly – Joy Constantinides, Frog – Robert Berry-Roe, Cricket – Ethan James, Grasshopper – Kavya Kutsa; Director – Jamie Manton, Conductor – Martyn Brabbins, Designs – Tom Scutt, Lighting – Lucy Carter, Movement – Jenny Ogilvie, Children's Chorus (chorus director – Patrick Barett), Chorus (chorus director – Mark Biggins), Orchestra of the English National Opera.
Coliseum, London; Tuesday 22nd February 2022.
ABOVE: ENO's The Cunning Little Vixen (c) Clive Barda