Irrelohe. An orchestral orgy — triple winds, quadruple brass though six horns, two harps, organ, celeste, guitar, mandolins, an eighth player percussion battery plus tympani and strings.
Libretto and music by Austrian composer Frank Schreker — of Jewish descent. Schreker was emblematic of the Nazi idea of degenerate art.
*[Towards the end of March each year the Opéra de Lyon presents its winter festival of three operas on a theme, this year "Family Secrets." The second installment is Irrelohe. Photo is the Opéra Nouvel, architect Jean Nouvel's opera house built upon and within Lyon's old opera house.]
Innkeeper Lola was raped some 30 years ago by the debauched count of Irrelohe (an imaginary duchy somewhere). Her resulting illegitimate son is therefore the brother of the current son and legitimate heir of the offending count. The brothers love the same village girl who loves them both. Moving deeper into the story it becomes a gory Grand Guignol tale colored by the sensualism of a D'Annunzio novel with healthy doses of Dostoyevsky and Freudian innuendo.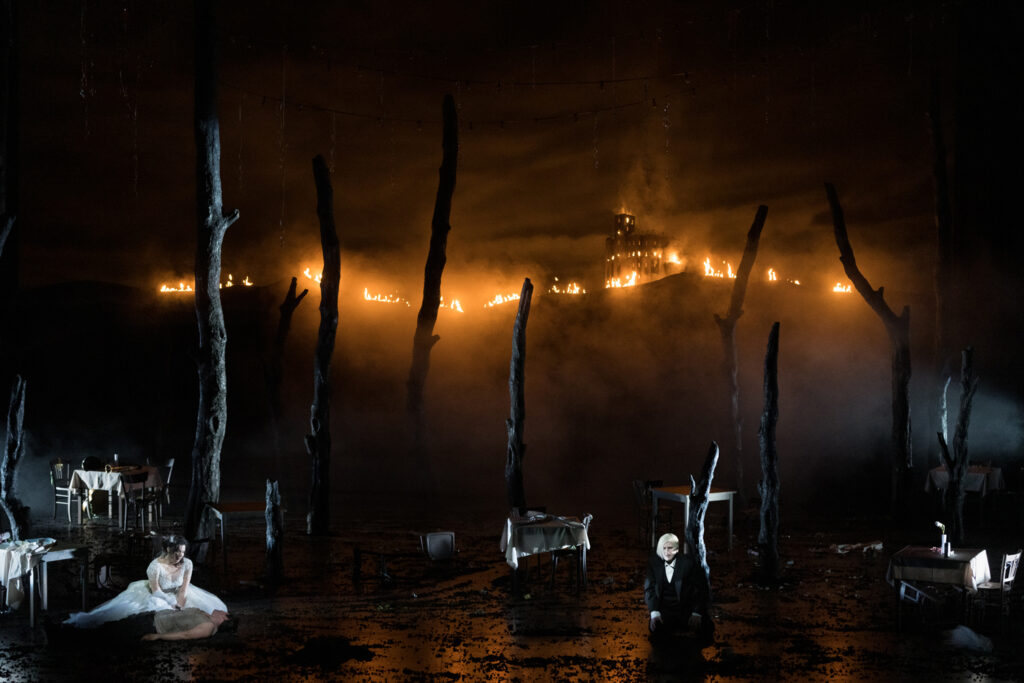 Composer Schreker follows the dictates of Wagnerian gesamtkunstwerk, his degenerate tale offering ample fodder for the mind boggling complexities and colors of the collapsed tonalities of his orchestral continuum. It is awesome music, overpowering in its totality.
Rather than take his visual clue from a Klimt or Kandinsky German stage director David Bösch chose the scratchy black and white of silent film, as if the magnificent, beautiful degenerate music of Franz Schreker was live music accompaniment to the tiny screens of a Fritz Lang or Robert Weine movie. Going a step further, the Opéra de Lyon's publicity for the opera likened Schreker's music to that of films of the 1950s.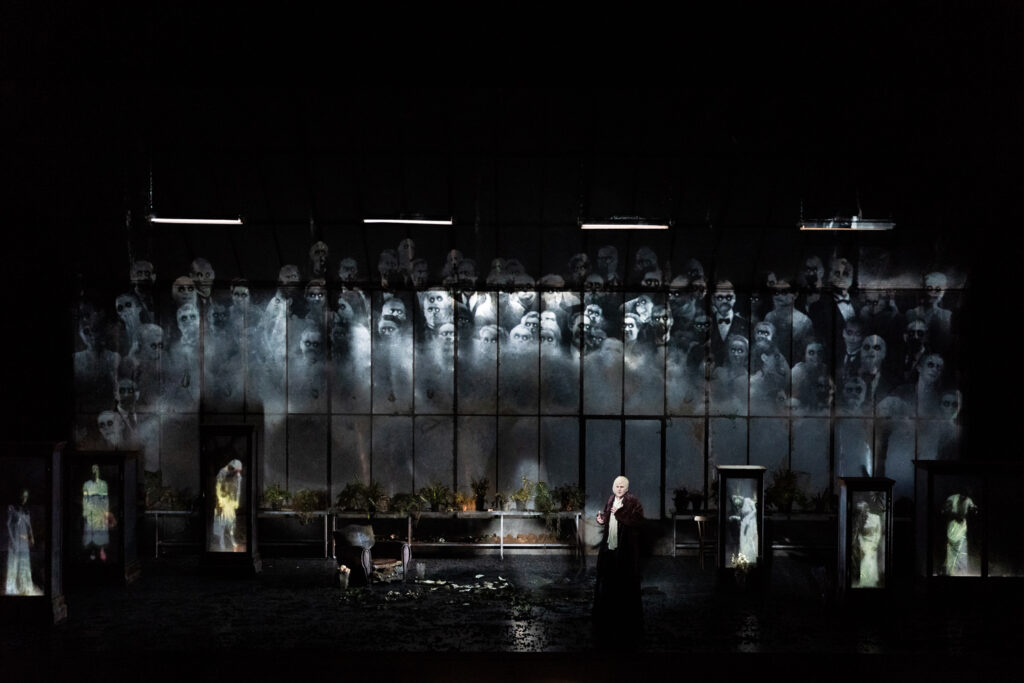 Expressionism specialist, venerable German conductor Bernard Kontarsky inspired the 80 or so players of the very able Opéra de Lyon orchestra to achieve the opulence of this degenerate, spellbinding music. It was surely more pleasurable for these players (having the immense satisfaction of meeting a formidable challenge) than for us spectators who had the onerous challenge of relating the score to the dramatic conventions of silent film.
When not actual imitation silent film footage the scenery itself was mostly in the black and white (and many shades of gray) tonalities of silent film. Even the 44 members of the Opéra de Lyon chorus were costumed in black and white.
Meanwhile three itinerant, arsonist musicians whose instruments doubled as phalli, and their chef Christobald, once engaged to Lola (those thirty long years ago) have rampaged the countryside setting fires. They incinerate, finally, after all these years, the chateau. There is lots and lots of real flame, imitating at last the spectacle of real, live opera!
In the end the very weird count Heinrich kills the illegitimate Peter and falls dead, gloriously. Eva, the village girl, having embraced Lola's dead son, falls dead too. That's all folks.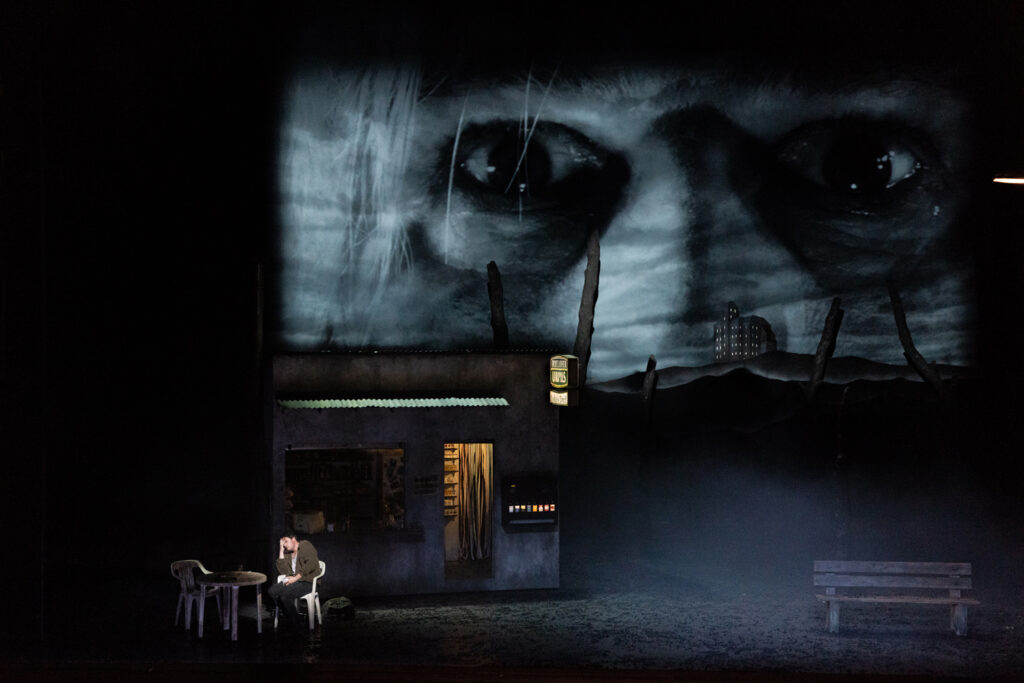 But just maybe Schreker's opera is not stage director David Bösch's silent movie after all.
The massiveness of conductor Kontarsky's orchestra generally overwhelmed the singers. Canadian soprano Amber Braid as Eva did however sail above the continuum with effective, Straussian delivery. Tenor Tobias Hächler, from the Kassel Opera [a city in the north of Germany] rallied as well, effectively portraying the very weird count Heinrich. German baritone Julian Ortishaussen as Lola's son Peter gave an admirable, very physical performance of this obsessed and doomed young man.
Old Lola's long ago fiancé Christobald was firmly enacted by character tenor Michael Gniffke, as befitting the role of an aggrieved, now old, vindictive lover. Lola, entrusted to veteran mezzo Lioba Braun, was sung in a barely discernible, indeed old voice, and with minimal presence. The three arsonist musicians were rendered with infectious, nasty verve by Peter Kirk, Romanas Kudriašovas and Barbary Rea.
Michael Milenski
The Comte Heinrich: Tobias Hächler; Le Forestier: Piotr Micinski; Eva: Ambur Braid; Old Lola: Lioba Braun; Peter, Lola's son: Julian Orlishausen; Christobald: Michaël Gniffke; Fünkchen, a musician: Peter Kirk; Strahlbusch, a musician: Romanas Kudriašovas; Ratzekahl, un musicien: Barnaby Rea; Le Prêtre: Kwang Soun Kim; Le Meunier: Paul-Henry Vila; Anselme: Antoine Saint-Espès; Un Laquais: Didier Roussel. Orchestre et Chœurs de l'Opéra de Lyon. Conductor: Bernhard Kontarsky; Director: David Bösch; Sets and Video: Falko Herold; Costumes: Moana Stemberger; Lighting: Michael Bauer. Opéra Nouvel, Lyon, France, March 19, 2022.
All photos courtesy of the Opéra de Lyon.