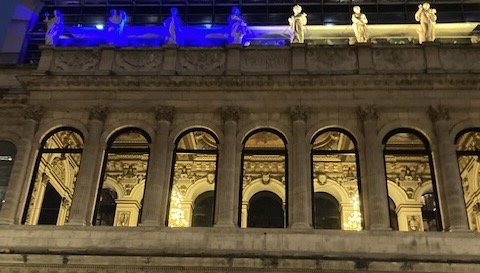 Rigoletto. Docudrama of a father whose wife dies in childbirth, raises daughter who falls in love with a selfish, debauched hoodlum. Show curtain is block apartment lighted windows. And they are winking. Who is jesting whom?
Answer: everyone except Rigoletto and Gilda in this Westside Story (sort of) take on Verdi's early middle period bel canto masterpiece. And anyway, maybe Verdi had just seen The Barber of Seville when he wrote Rigoletto.
*[Towards the end of every March the Opéra de Lyon produces a winter festival of three operas around a theme. This year it is family secrets. The operas speak for themselves. Above is a detail of the façade of the Opéra Nouvel showing the grand salon of the original Opéra de Lyon.]
The story opens in a cinematically toned, Harlem like speakeasy in a modern Western-world city, the Countess Ceprano crosses herself to a priest on portable oxygen who plays the slots, a pole dancer or two (real ballerinas) tirelessly work out, a lively young hood sings "questa o quella" to backup, lively synchronized dancing by his debauched friends (including crossed dressers of various sexual persuasions).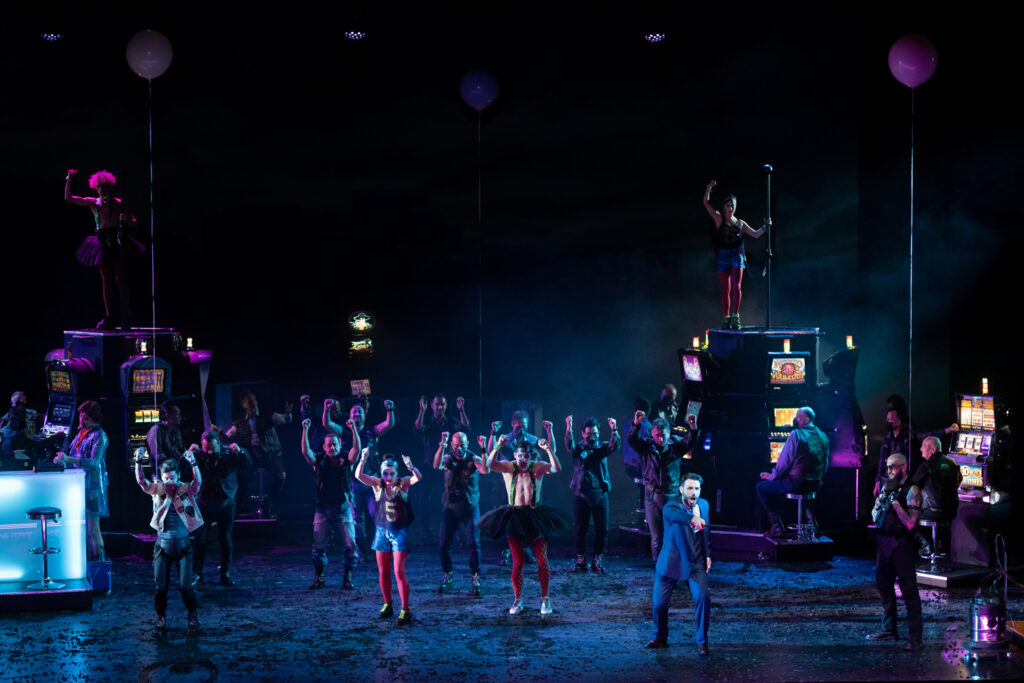 Complicit was conductor Daniele Rustioni in the pit who walked a tightrope the entire evening between finding a good beat — indeed successfully — for the numerous full out production numbers in Verdi's numbers opera, and defining the operatic bathos, and every emotional twinge, of the Victor Hugo's domestic tragedy.
A daughter stigmatized by her father's suicide was the story told in a drop down screen by filmmaker/opera stage director Axel Ranisch. Simultaneously on the stage floor was his story of the suicide of the daughter discovered by the operatically traumatized father, both stories unfolding amidist massive public housing apartment blocks.
Not to mention the jukebox, a 33 LP store, a Rigoletto VCR. All this was, in fact, the tip of the iceberg for the musical and dramaturgical complexities of the evening. The final result was very theatrical, mind-boggling, intellectually stimulating, highly emotional (verging on visceral overload), in short Rigoletto.
Seen from without. And within. Musically and dramatically.
Adding to the evenings baggage: both the Rigoletto, Slovak baritone Dalibor Jenis, and the Gilda, Armenian soprano Nina Minasyan, have had extensive ties with the Bolshoi. Ironically, the Monterone (of the famed curse), towering Ukrainian bass Roman Chabaranok, took his bow wrapped in an Ukrainian flag.
Director Ranisch kept his singers mostly down stage center for maximum volume and presence. Baritone Jenis's Rigoletto interchanged with his ever present, live mute double named, of course, [Victor] Hugo (this was actor Helko Pintowsky, an Alex Ranisch film collaborator). If Hugo was a lost, timid soul, Verdi's Rigoletto was magnificently defiant. Neither were hunchbacked court jesters. Rigoletto sharply and proudly voiced his condemnations, though he found quite beautiful, tender tone when singing to, with or about his daughter.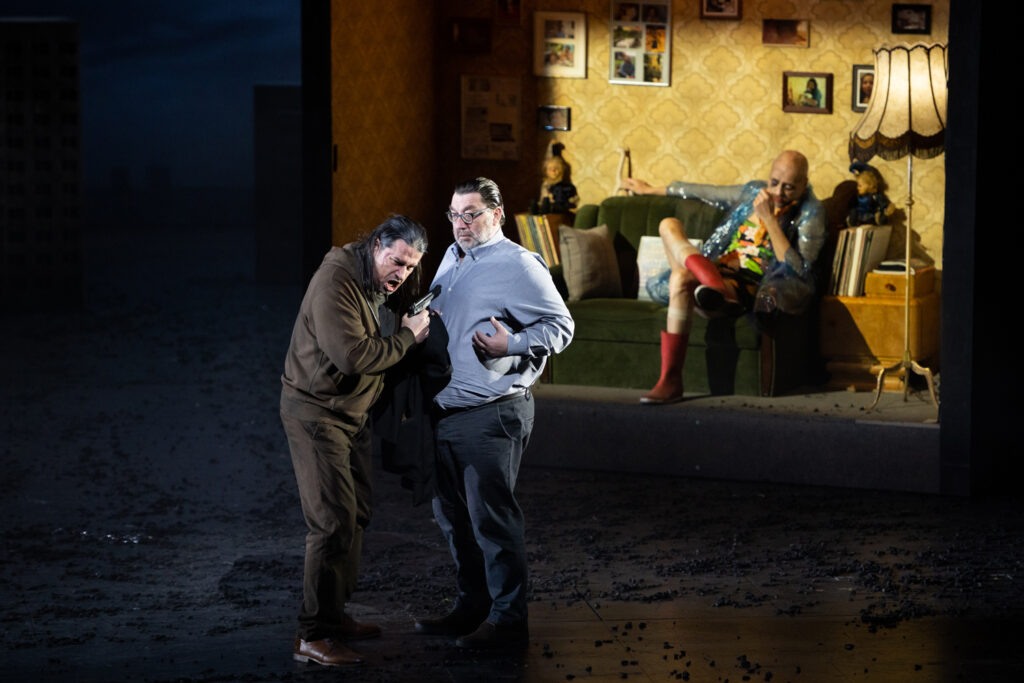 Mlle. Minasyan is a uniquely voiced Gilda, reveling in her brilliant above-the-staff ecstasies, her Slavic intonations bringing pliant humanity to her middle voice that expressed very real, dying love for the Duke (of Harlem maybe, or Chicago or a Parisian banlieue). She killed herself, sparing the shaved head, black-voiced, hit-man-caricature Sparafucile, sung by bass Gianluca Buratto, the trouble.
Sicilian tenor Aeneas Scala pranced, danced, swaggered and drank his way through the sordid tale, his voice sharp, brittle and loud in his famous arias, belying a false confidence, his tiny mother (mute) was always nearby to help him out of a mess. He did attain, finally, a drunken smoothness of voice in his "la donna è mobile." FYI his doubled, video personage was an employee in a CD and LP shop.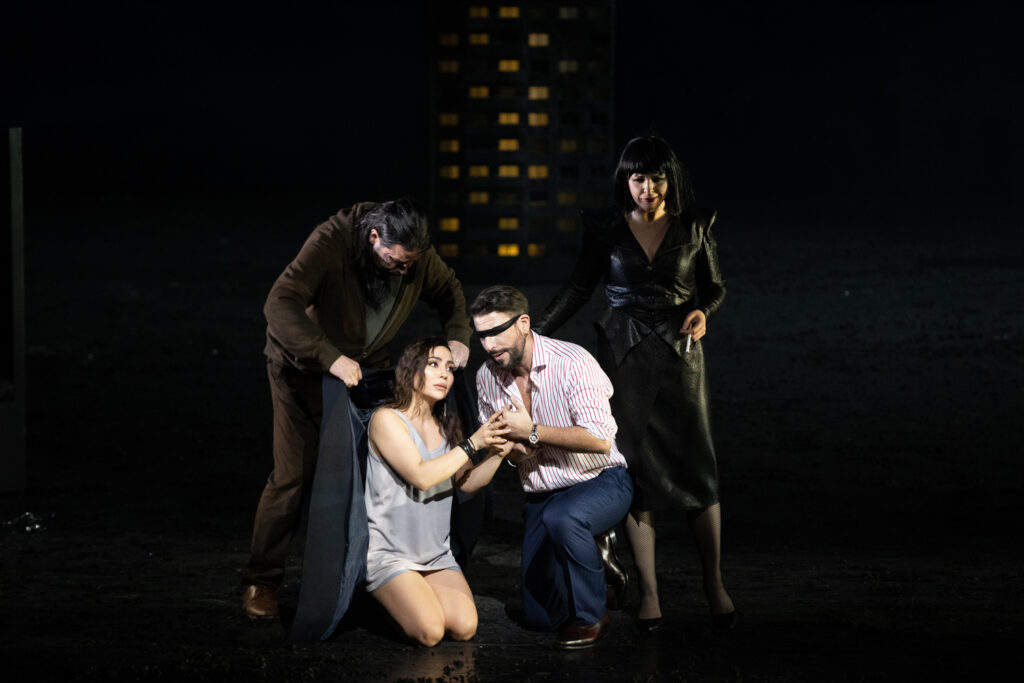 Upholding the Eastern European tonality of the production Polish mezzo Agatha Schmidt, dressed in chic sadistic black, sang Maddalena. She handled her drunk client with cool vocal aplomb, coldly aware of and sympathetic to his vulnerability. Of special note was the Borsa of Grégoire Mour whose dance movements upheld the Westside Story energy of the production.
The production was impeccably cast, and flawlessly produced.
Michael Milenski
The Duke of Mantua: Aennea Scala; Rigoletto: Dalibor Jenis; Gilda: Nina Minasyan; Sparafucile: Gianluca Buratto; Maddalena: Agata Schmidt; Marullo: Daniele Terenzi; Matteo Borsa: Grégoire Mour; Conte de Ceprano: Dumitru Madarasan; Conte de Monterone: Roman Chabaranok. Orchestre et Chœurs de l'Opéra de Lyon. Conductor: Daniele Rustioni; Stage Director and Videographer: Axel Ranisch; Costumes; Alfred Mayerhofer; Lighting; Michael Bauer Choreographer: Daphné Mauger. Opéra Nouvel, Lyon, France, March 18, 2022. All photos courtesy of the Opéra de Lyon