A Quiet Place has come of age, thirty-nine years later. In 1983 much of its subject matter was sensitive, even taboo. As well it dwelt on naked emotional histories that were foreign to public forums.
If I got it right Stephen Wadsworth's libretto tells us that Sam's alcoholic, now dead wife Dinah had been menopausibly unhappy, Sam's kids felt ignored by their success driven father. His son Junior is queer, his daughter Dede is married to Junior's Canadian French lover François who in turn was ignored by his father. Junior had incestuously loved his sister. They all learned to live happily ever after, having taken to heart the mother's posthumous admonition to accept yourself as you are.
The mother's catty friends had a field day at her funeral.
These were real people, the stuff of psychodrama if that's your thing. The real real is, after all, the new zeitgeist. It is social media where everyone is a star, and all that.
Yet in A Quiet Place there is the Leonard Bernstein's American mid-twentieth century genius, and now in Paris let's add Polish stage director Krzysztof Warlikowski's crystalline vision, and the considerable artistic and technical resources of the Opéra de Paris.
In A Quiet Place Bernstein synthesizes the musical palate we share with Europe into a homogenous language that takes on the American openness, its guile and naïveté, and its brilliance. A Quiet Place's first act challenges Verdi's Falstaff in its wit, and Wagner's Meistersinger in its choral complexities. The Bernstein opera's intense interludes recall those of Debussy and Berg, our ears now adept at counting twelve tones without fear while accepting the Tchaikovsky's emotional urgencies with equanimity.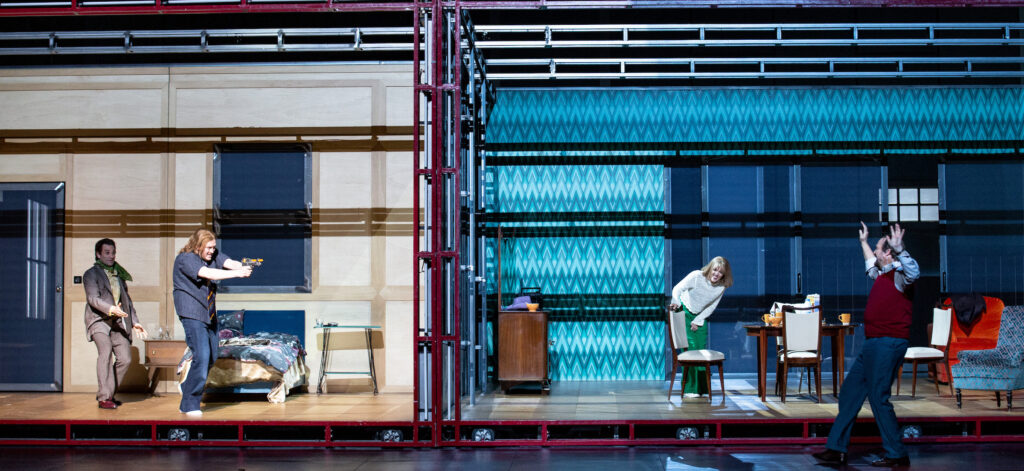 And its climaxes often resolve with the ease and charm of the American musical, its lyric moments sometimes succumb to little songs for the sake of a little song sung for the fun of it. There are the thick, turgid colors and rhythms of American jazz that promote an aggression or an intense flood of reaction.
A Quiet Place has been through many orchestral and dramaturgical. transformations, first by its creators, Wadsworth and Bernstein, then in 2013 its original full sized orchestra was reduced to eighteen players by Garth Edwin Sunderland, a move to reconcile its musical forces with its dramatic intimacy. Mr. Sunderland has since recast the opera into a very large orchestra, this Paris production is its premiere.
Krzysztof Warlikowski has great experience dealing with dysfunctional families, most famously in his recent Elektra in Salzburg — a  production of grandiose proportion. In A Quiet Place he has miniatured his approach in keeping with the gentle aphorism of its denouement (you must accept yourself as you are). With his designer Malgorzata Szczęśniak (his wife) he envisioned a huge open box into which flow, seamlessly, from time to time, two smaller boxes, one a living room, the other Junior's bedroom. 
A video of Dinah's deadly car accident inaugurated the production. It was brutally real. The other videos were brief minimalist settings of location projected onto the back wall of the large box.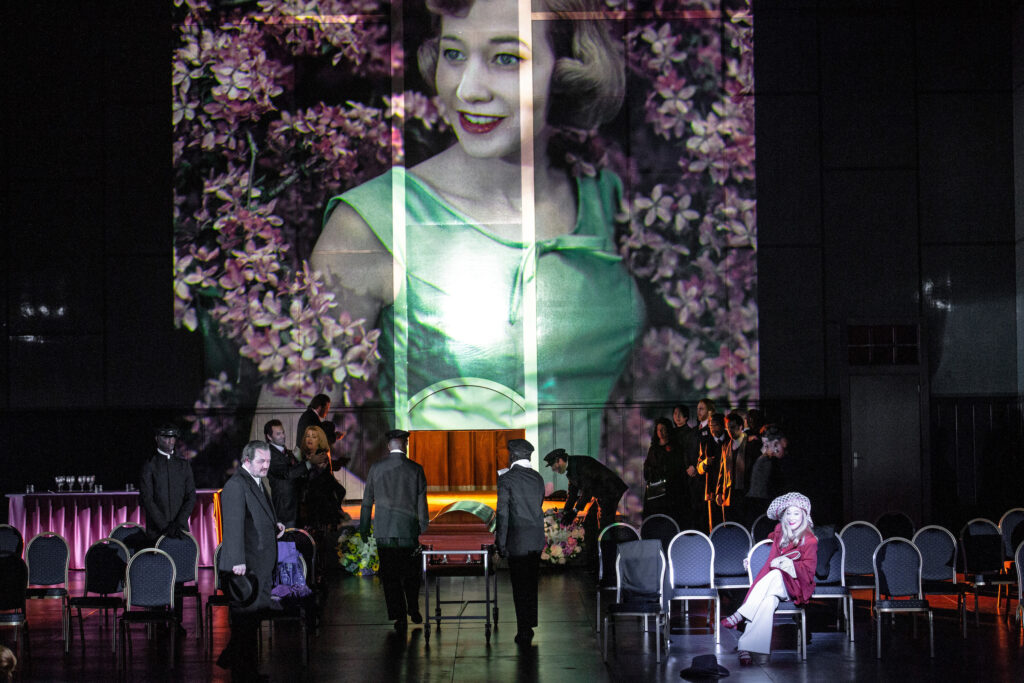 To great dramaturgical value, and relief from the personalities of the four protagonists, the mute presence of the mother had been added somewhere in the history of the piece (it was her funeral that had brought the dysfunctional family together). As well a clip of Bernstein's famed, televised introduction to music for children was included, offering more relief — and the only, very small moment of charm in the evening. Though this clip did motivate the introduction of Junior as a child (mute) who soon entered (flashback) into his mother's garden garden and attempted to kill her. This within the intense orchestral prelude to the final act.
This Paris production introduces the Bernstein opera back into the big house repertory. Despite the opera's obviously huge musical value it is unlikely that this large scale psychodrama will achieve much presence as a staged work. 
There is the temptation to elevate the personal histories of the opera's creators and producers as validation of an artistic integrity. These thirty-nine years later, however, such histories have very little relevance.
The cast was international, among whom there was but one American. It is difficult music that was confidently performed. Given the sensitivities of the libretto one can imagine the emotional toll paid by the performers to realize their characters. The conductor was Kent Nagano, a Bernstein specialist and one of the primary promoters of this largely Canadian endeavor.
Michael Milenski
François: Frédéric Antoun; Junior: Gordon Bintner; Sam: Russell Braun; Funeral director: Colin Judson; Bill: Régis Mengus; Susie: Maria Fiselier; Analyst: Loïc Félix; Doc: Jean-Luc Ballestra; Mrs Doc: Emanuela Pascu; Mourners: Marianne Croux, Ramya Roy, Kiup Lee, Niall Anderson; Dinah (actress): Johanna Wokalek. Orchestra of the Opéra national de Paris. Conductor: Kent Nagano; Stage Director: Krzysztof Warlikowski; Set and Costume Design: Małgorzata Szczęśniak; Lighting design: Felice Ross; Video: Kamil Polak. Palais Garnier, Paris, France, March 21, 2022.
All photos copyright Bernd Uhlig – OnP, courtesy of the Opéra national de Paris.