In 1971, the year in which he made his professional debut as a conductor, the late Richard Hickox founded the Richard Hickox Orchestra and the Richard Hickox Chorus, and commissioned John Rutter's Fancies, a cycle of six settings for choir and chamber orchestra. Two years later the orchestra and choir were performing their first BBC Prom (Messiah), and the first recording (of some masses by J.S. Bach) came in 1975. By 1979, the orchestra's name had changed to City of London Sinfonia, to reflect its close links with the City of London. So, during this 2021-22 season CLS are celebrating 50 years of music-making, and this concert in their Origins series at Southwark Cathedral was the 'official birthday concert' in which CLS reflected on Hickox's legacy and showcased the special qualities that define the orchestra's identity today.
One of those special qualities is the way that CLS concerts fuse a serious belief in and commitment to the music performed with a desire to enable audiences to engage with that music in a sincere and comfortable way, moving around the performance space if they wish. This concert positively invited such engagement, with the various instrumental groups positioned around the cathedral, and individual players moving both between those groups and amid the audience.
CLS has a rich tradition of commissioning new works, and in this Origins series they are presenting premieres by by Cheryl Frances-Hoad, Donghoon Shin, Dobrinka Tabakova and Huw Watkins. The Hidden Face was one of several works that Hickox commissioned from John Tavener; it was premiered by counter-tenor Michael Chance, oboist Nicholas Daniel and the CLS strings at the Barbican Hall in 1996, the orchestra's twenty-fifth year. Here, Tavener's 'prayer' provided a moment of meditative unity in which aesthetic beauty and spiritual strength cohered.
Though I do not doubt Tavener's sincerity, I sometimes struggle to find real depth or 'truth' beneath the hypnotic attractiveness of the composer's 'iconic' formulas and progressions, but on this occasion there was a 'magic' that went beyond surface sonority.  The strings' initial slow-moving, murmuring consonances established a quiet intensity.  The entry of Dan Bates' melodising oboe imbued mystery and mysticism.  Countertenor Hugh Cutting, winner of the 2021 Kathleen Ferrier Competition, brought a visceral richness to the vocal line, singing with melismatic fluency, a lovely, rounded softness and unpressured strength when pushed high.  Facing each other, Bates and Cutting conversed with controlled rapture and striking expressivity, building towards the direct appeal, 'Hide not thy face'.  This spacious performance artlessly filled the vaults and arches of Southwark Cathedral but also suggested otherworlds.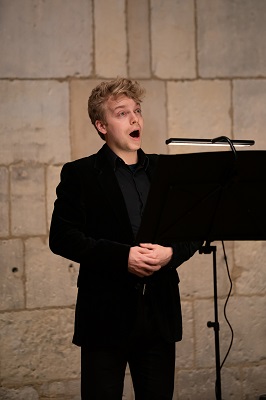 The world premiere of Dobrinka Tabakova's Origins directly reminded us of the anniversary that the concert celebrated, and brought the various instrumental groups together, with the brass players positioned beneath the Cathedral's Tower, the strings and wind in the central Lantern and leader Alexandra Wood positioned in the centre of the Nave.  The Pärt-ian echoes were strong – in the solo violin's string-crossing ruminations which recall the Estonian composer's Fratres, and in the ostinato-block structure – but Tabakova demonstrates skill and invention in creating sustained lines and textures, and in balancing a persuasive broad sweep with expressive detail and subtlety.  Wood's crafting of the riveting harmonic journey travelled by the solo violin was as consummate as the sureness of her left-hand intonation and the fluid loveliness of her weaving bow action.  The music reached sensuous heights then dissolved back to whence it had come, as Wood walked away to the side aisles and her whispers vanished.
Tabakova's Frozen River Flows was originally composed for oboe and percussion and has been recorded by violin, accordion, and double bass. Here, it was performed by clarinettist Katherine Spencer and percussionist Chris Blundell, the vibraphone and antique cymbals creating a sonic context for the clarinet's sinuous calls and echoes which wove themselves through the Cathedral's spaces.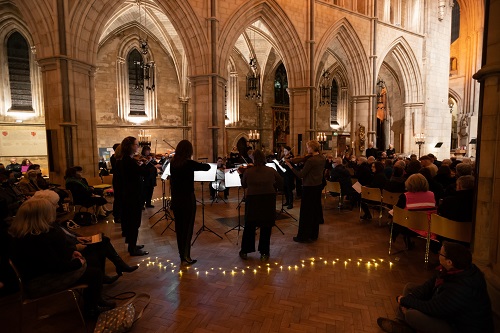 There was more sonic whispering and patterning in Edmund Finnis's The Centre is Everywhere for twelve solo strings, which takes its title from The Book Of The Twenty-Four Philosophers – a medieval text which contains different definitions of God, the second of which is 'An infinite sphere whose centre is everywhere and circumference is nowhere'. Emerging out of pitch-less sound and ghostly harmonics, the strings' layers and repetitions gradually carved a form in which there was no foreground or background, just timbre and texture, sound and space. At times, individual lines seemed to acquire weight, only to slip back into the whole, the latter ever more complexly wrought. Think of the ebb and flow of the tide, or of night-time breathing. There wasn't rhythm as such, but there was gesture, pulse, warm expansion and then haunting retreat. At the risk of tautology, it felt like thinking about thought.
The CLS woodwind players embodied the exodus of Pēteris Vasks' migratory birds in Music for Fleeting Birds, winding through the audience and gathering in the Choir, their finely articulated avian cries conveying freedom, escaping from sound clusters into the air and light, building into a dramatic and energetic assemblage of kinaesthetic elevation.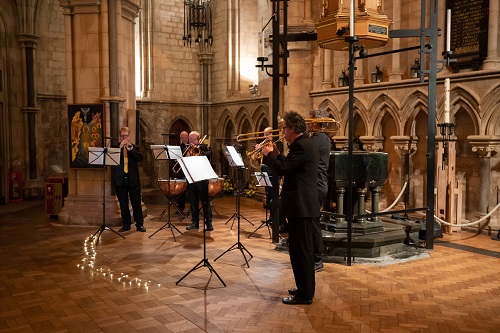 The past was as strong a presence as the present. Elliott Carter's A Fantasy about Purcell's 'Fantasia upon One Note' for brass ensemble was wonderfully seamless and sonorous, the musical moods evolving with organic persuasiveness. And, the concert opened with the opening Toccata from Monteverdi's L'Orfeo (arranged by Stephen Wick), establishing a mood of dignity and stature, and hooking in the listener with its rhythmic arguments and glossy timbres.
It was perhaps Vaughan Williams' Fantasia on a theme of Thomas Tallis that most summoned spiritual majesty, though, played as it was without sentimentality, with striking coloristic contrasts –strong, rich pizzicato from the cellos and violas at the start, communicative fluidity from the solo quartet, alert antiphonal conversations subtly but supremely directed by Wood – and always moving forwards: free, aspiring, optimistic.  It was as if the CLS strings were tuning the Cathedral, filling the vaulted ceiling with hope and faith.
Claire Seymour
Hugh Cutting (countertenor), Dan Bates (oboe), City of London Sinfonia, Alexandra Wood (director/violin)
Monteverdi – Toccata from L'Orfeo; Ralph Vaughan Williams – Fantasia on a theme by Thomas Tallis; Dobrinka Tabakova – Frozen River Flows; Edmund Finnis – The Centre is Everywhere; Pēteris Vasks –Music for the fleeting birds; Dobrinka Tabakova – Origin (world premiere); Elliott Carter – A Fantasy about Purcell's 'Fantasia on one note'; John Tavener – The Hidden Face
Southwark Cathedral, London; Thursday 3rd March 2022.
ABOVE: Hugh Cutting (countertenor) with CLS at Southwark Cathedral (c) Nick Rutter