A world premiere, the tenth opera of 67 year old, prolific French composer Pascal Dusapin in a production that will move on to Paris, Saarbrücken and Luxembourg.
In the staging of the opera by famed German metteur en scène Klaus Guth a drunken driver — who later will be named Dante — crashes his car on a dark, lonely country road (a huge video projection on the show curtain). Dying, he is not alone, a woman who will be named Beatrice is with him.
The opera is a highly sophisticated and very witty satire on the 14th century Italian poet Dante Alighieri's adoration of a woman, Beatrice, who will lead him to love, to understand love, and to be consumed by love. The libretto is by Frédérick Boyer, creator of the famed television series A French Village, as well as a translator of Shakespeare's sonnets into French, among a massive catalogue of original and translated works.
Il Viaggio, Dante is sung entirely in Italian (some Ecclesiastical Latin is included) quoting from time to time lines and verses from both Dante Alighieri's little book La Vita Nuova and his very big book, The Divine Comedy. These lines anchor us in the opera's structure — a descent through Dante Alighieri's nine circles of hell, transition into a purgatory, finding at last a paradise. 
The main characters in the opera are the same as in the medieval Dante's books, namely Dante (baritone), Beatrice (high soprano) who will lead him to ecstatic contemplation, Virgilio (bass) who guides him through hell, and the patron Saint of the blind, Lucia (very high soprano), who directs Dante, weirdly and blindly, towards enlightenment. The opera though adds two more characters, a narrator (spoken), and in a Faustian complication, a young Dante (mezzo soprano).
Dante, whom we already know from the directorial preface, is dying, but he is now dying in his room (see lead image, Jean-Sébastion Bou as Dante, Jennifer France as Beatrice). Saint Lucia knows he needs help to find the light, and the young Dante arrives who laments the loss of his guiding light, Beatrice. Beatrice appears in a dream needing a light for her cigarette (she is a serial smoker — a directorial flourish), and says not to sleep, though the opera continues, dream like. 
Virgil leads Dante into a waiting room filled with spooks/shades (Limbo), then through various circles where he is presented with a diversity of spooks, including a hideous Beatrice (now a sprechstimme, shrill haute-contre tenor). Meanwhile the young Dante keeps chasing and losing his Beatrice.
There is lot of Gregorian chant (the Beatitudes) from the choir in the pit as Dante and Virgilio pass through Purgatory, and finally they arrive at Paradise where there is more Gregorian chant from the pit while a parade of zombie angel spooks are suctioned off towards eternal light. Beatrice appears back in Dante's room needing a light for her cigarette (she's high maintenance). Dante experiences ecstasy. It seemed to fade.
Did I get this right? The charming ring master narrator was not much help, given that Dante's will and desire are said to exchange themselves as you change a tire — Gia volgeva il mio disio e'l velle, sì come rota ch'igualamente è mossa.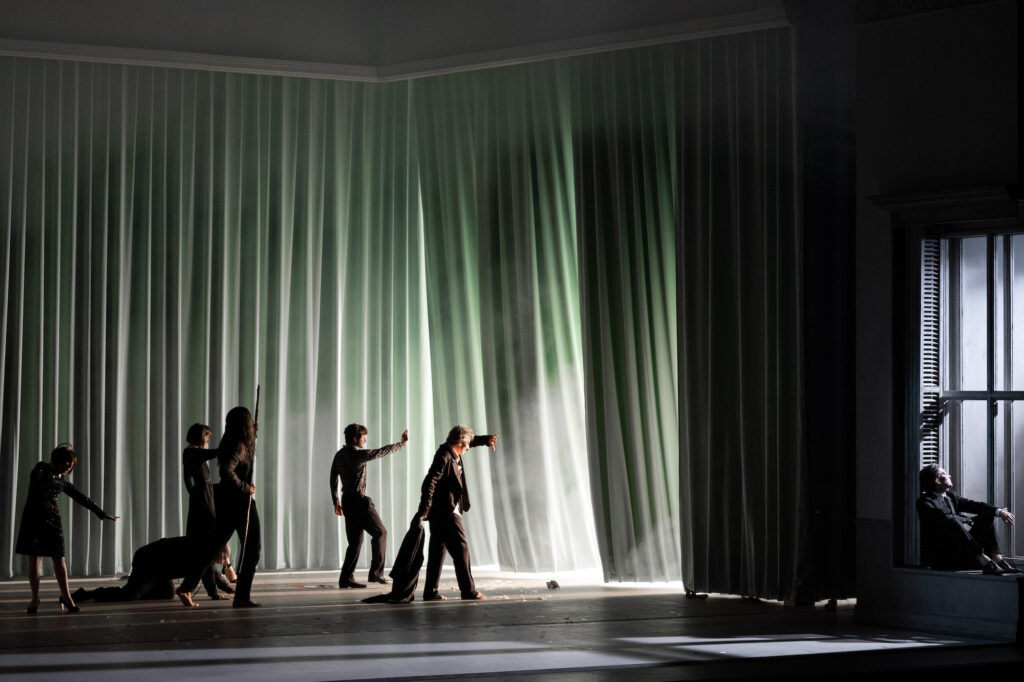 Composer Dusapin is no stranger to these themes. His most recent operatic hit was Macbeth Underworld (2019) at Brussel's La Monnaie. His very first opera was Romeo and Juliet.
The Pascal Dusapin sound, and it is very particular, absorbed all this with great élan. In the French stylistic spirit it is impressionistic rather than mechanical, its sounds now melding together rather than establishing individual colors. The sound has no perceivable structure, remaining a mass. The mass, and it is huge, moves with amazing ease, assuming myriad hues as needed to create a sonic world into which the rarefied world of the divine comedy of the libretto and staging slipped so very naturally.
Dante's ecstasy was persuasively achieved orchestrally, with the help of an occasional, well placed diatonic chord, as Messiaen too knew exactly where to place them.
Composer Dusapin moves his voices in seeming natural melodic shapes, eschewing sharp intervals, as in fact his orchestral sound avoids sharp percussive noises. His orchestra was double winds and a reasonably small string contingent. The lone exotic instrument was a glass harmonica. The four registers of a sizable chorus of human voices added huge resonance upon occasion. The chorus and orchestra were from the Opéra de Lyon.
The pit of Aix's Grand Théâtre de Provence is naturally very loud, thus it was unclear to me how much electronic enhancement of sound there may have been. There is a program credit for the name Thierry Coduys as responsible for sound management.
As usual at the Aix Festival the complex production was flawlessly executed, and the casting was exemplary. Foremost was the spoken Tuscan Italian of venerable Florentine bass Giacomo Prestia, who did not sing a note but rendered the evening truly Dantesque in a sparkling white tuxedo, most likely impersonating Dante Alighieri himself. Within the comedy of the libretto and staging both Dantes exhibited great warmth of tone, French baritone Jean-Sébastian Bou was the mature Dante, German mezzo-soprano Christel Loetzsch was the young Dante.
The two stratospheric sopranos were the Brazilian Maria Carla Pino Cury as the delightfully spastic Lucia, and the English Jennifer France [sic] as the celestially deadpan Beatrice. American bass Evan Hughes was the Virgilio. The hellish Beatrice, as the voices of the damned, was a brilliant cameo appearance by the venerable French haute-contre Dominique Visse.
American conductor Kent Nagano managed all the musical and dramatic forces with absolute  surety.
Michael Milenski
All photos © copyright Monika Rittershaus, courtesy of the Festival d'Aix