It is hard to say which was more impressive just now in Aix's tiny Jeu de Paume theater — the musical edition of the Monteverdi masterpiece realized by conductor Leonardo Garcia Alarcón, the production created by American stage director Ted Huffman, or the performance by an ensemble of eleven singers and an instrumental ensemble of eleven players.
The Huffman production made it perfectly clear that this opera is about sex — not that that is any secret — ergo eleven beautiful young men and women with one thing on their minds. Though what good is sex if you can't talk about it, thus these eleven excellent singers had been coached within an inch of their lives (or maybe it came naturally) to negotiate the heightened speech (Monteverdi's famed dramatic arioso recitatives) that exploded from their throats.
Basically the emperor Nerone and his paramour Poppea are having at it (he's a buff high soprano counter tenor, she's a gorgeous lyric soprano), but there are problems. A Nerone adjunct, Ottone, is sick in love with Poppea (he's a handsome, warm voiced haute-contra tenor), Nerone's wife Ottavia is neurotic, classy, rich, but yesterday's news (she's a very good looking woman with a beautiful, forceful mezzo soprano voice, until Nerone throws her chokingly out of Rome). Drusilla is sick in love with Ottone (she's sleek and exotic, a shining, Indian soprano), not to mention the stoic philosopher Seneca (he's a handsome, fashionably bearded young man with a beautiful, persuasive bass voice).
We sat in spellbound, absolute silence waiting for the poison to take effect. Supine, Seneca then enjoyed a long, painful death. A death Nero celebrated with the poet Lucano (he's a buff, beau Englishman) and Poppea, the three of them, semi-naked, left the stage for a bit of intermission.
You ask about Arnalta and the Nutrice? They are sung by the same tenor (he's a charming, young, consummate comedian with a voice that could be very loud, and at times [expressing his love for Poppea] quite beautiful). A most delicious moment was Valletto's seduction of Damigella (played of course by Arnalta). Valletto was played by Amore (she's a cute, fine soubrette who could go white voiced to be infantile, and then bray bratily) — this compound travesty a witty joke about the opera's confusion of male and female voices.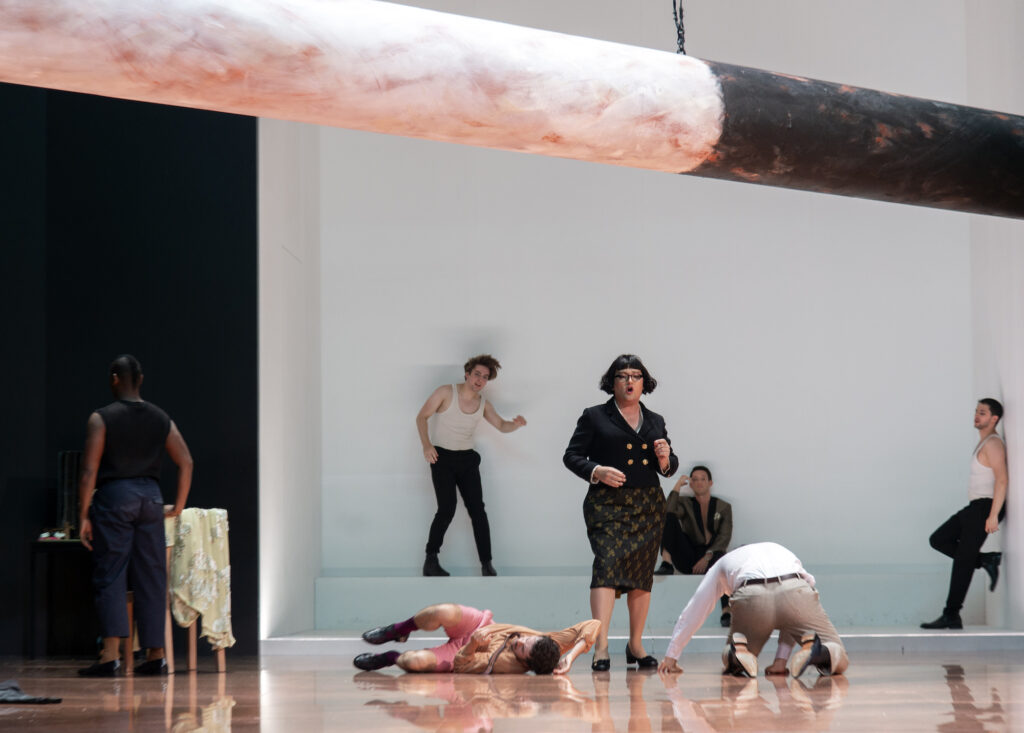 The Huffman production has its eleven performers hang out on the naked stage at all times. Though there is a huge tube of evident indeterminate symbolism hanging horizontally from the rafters, and a hard edge, abstract proscenium platform sitting at the back. An a vista clothing rack to effect the changes of character sits upstage right. There are a few tables and chairs that sit on the sides of the stage except when they are used oh-so-sparingly in the action.
Costumes are contemporary chic off to high fashion. There is a lot of low beam, golden sidelight that floods the stage from time to time. No gesture was not provocative in the endless, seamless flow of the opera's 32 scenes.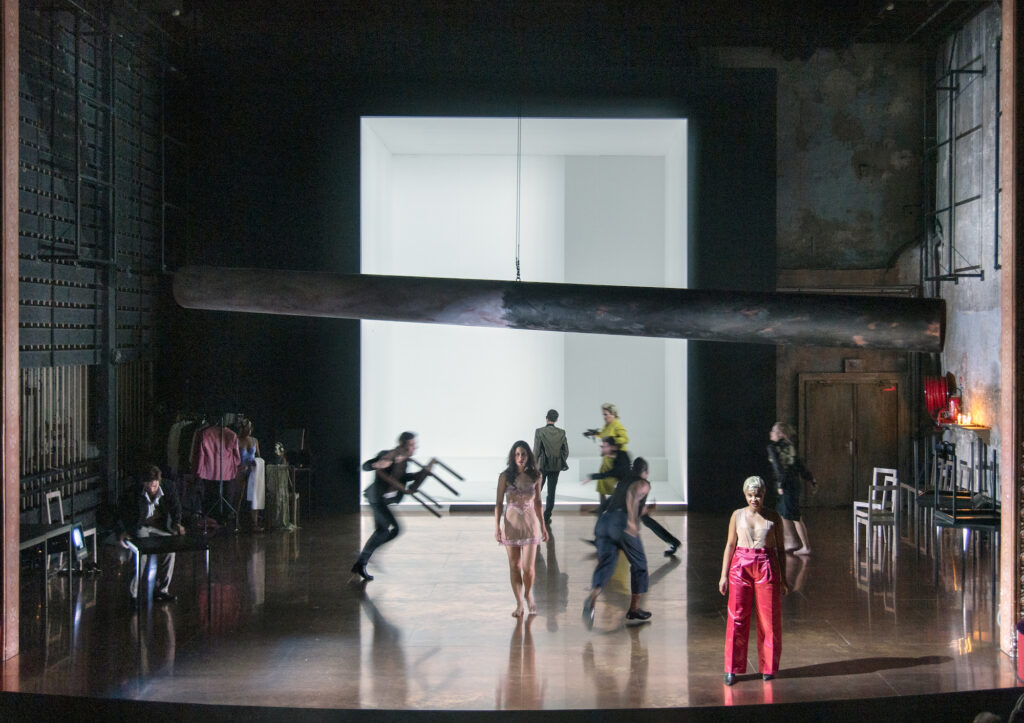 Magically the eleven voices encompassed the 20 named roles in Monteverdi's opera. A guards' duet at the beginning added yet another tenor to the ensemble (he's a fine voiced, handsome young Italian) while someone had to hand the poison to Seneca (a muscular dancer, black Guadeloupean bass baritone) and both became, with others, consuls, tribunes and students as needed.
The musical edition, as the staging, was of exquisite detail, foremost in constraining the opera's personae to eleven chosen voices. The production's coup de théâtre was certainly the pairing of two soprano voices for the final, sublime duet that unites Nero and Poppea at last, sublime in the voicing of the orchestra for this scene, and sublime in the tension of the two lovers slowing shedding their wedding whites. Lingering sex was one with Monteverdi's enigmatic last few notes.
Conductor Alarcón made the eleventh players in the pit, adding a third keyboard continuo to a harp, two harpsichords with their cellos and bass, the lute, theorbo and the two cornettos doubling on secondary instruments. Far from creating a spare accompaniment to the recitatives, ariosos and madrigals conductor Alarcón saw to it that these instruments added a flurry of sounds to the production's swirling world of primary instincts. The maestro moved well beyond all sense of a purity of Baroque style, finding no musical shame to adding the sophisticated harmonies and gestures of American jazz to Arnalta's meteoric rise in social standing.
The ovations were thunderous.
Michael Milenski
Cast and Production Staff
Poppea, Jacqueline Stucker (US); Nerone, Jake Arditti (GB); Ottavia, Fleur Barron (GB); Ottone, Paul-Antoine Bénos-Djian (FR); Seneca, Alex Rosen (US); Arnalta, Miles Mykkanen (FI); Drusilla, Maya Kherani (US); Amore, Julie Roset (FR); Lucano, Laurence Kilsby (GB); Guard, Riccardo Romeo (IT); Littore, Yannis François (GP). The Capella Méditerranée (FR). Conductor, Leonardo Garcia Alarcón (CH); Stage Director, Ted Huffman (US); Scenery, Anna Wörl (DE); Costumes, Astrid Klein (DE); Lighting, Bertrand Couderc (FR); Movement, Pim Veulings (NL). Théâtre Jeu de Paume, Aix-en-Provence, France, July 18, 2022.