When he published his novel Bruges-la-Morte, in French, in 1892, the symbolist author George Rodenbach included within the narrative dozens of black-and-white topographical photographs of the Belgian city, largely images of buildings reflected in still, stagnant canals. His intention was 'that all those who read this work may themselves feel the presence and the influence of the city, experience the contagiousness of the waters, and be conscious of the long shadows of the high towers as they fall across the text'.
As Michael Newman, in his article 'Dead Mirrors: Relics and photographs in Georges Rodenbach's Bruges-la-Morte' points out, many other authors since have followed suit.[1] Virginia Woolf made use of photographic portraits of real people, including her lover, Vita Sackville-West, in her 1928 novel-fantasy Orlando; more recently, the auto-fiction of W.G. Sebald has included photographs and other illustrations. In these and other cases, the images have often served to blur the boundaries between the real and unreal, between literary realism and fiction, and to mediate on the interplay of history and memory.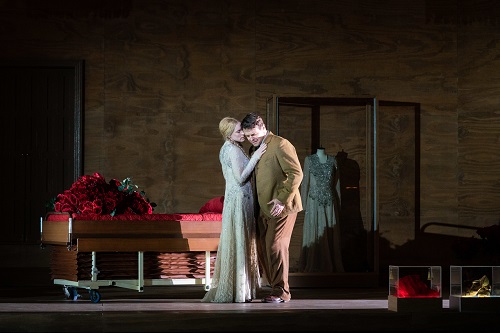 It is this sort of fusion that is at the heart of Rodenbach's novel, most especially in the form of the affinity he suggests between place and character, or, as Newman puts it, 'states of the soul'. 'Bruges était sa morte. Et sa morte était Bruges', writes Rodenbach. And, this is the sentiment which Paul, the protagonist of the 22-year-old Erich Korngold's Die tote Stadt (1920), reprises when he reflects on his dead wife, Marie: 'Die tote Frau, die tote Stadt, flossen zu geheimnisvollem Gleichnis.' ('The dead woman, the dead city, seemed to be fused into one mysterious being'; the libretto was prepared from Rodenbach's novel by Korngold and his father, Julius, under the pseudonym, Paul Schott.) The deathliness and decay of the city is conjured by Korngold, who describes the city, where he never lived, as 'wearily dreaming of the past amidst the mystic peace of its churches and cloisters, its bells, its weather-worn Gothic facades, its stagnant waterways and abandoned canals'.
Moreover, there is a collapsing of the boundaries between life and death. Paul, mourning obsessively for his dead wife, Marie, whose cause of death remains unexplained, meets her doppelgänger, Marietta, triggering confusion, conflict and violence, as reality and dream collide and coalesce. He thinks the woman exactly resembles his dead wife: as Rodenbach puts it, 'In the countenance of the living woman he saw that of the dead. […] The liquid radiance of the eyes that he had believed closed forever filled him with ecstasy. The waters were no longer stagnant — the mirror lived!' Marietta, a dancer at the opera, 'theatrical' of demeanour and dress, becomes the projection of Paul's desire to recapture his lost wife: 'Deprived of all vestige of energy, he now found himself dragged irresistibly in the wake of the apparition. Hopelessly magnetized for the moment, he understood only that a re-incarnation of his dead wife was walking in front of him.'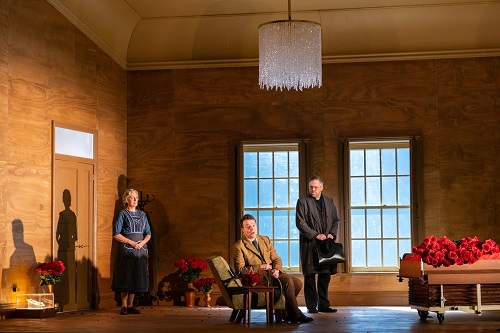 This lengthy preamble, which I hope readers will forgive, is by way of introducing Annilese Miskimmon's new production of Korngold's opera at English National Opera. Die tote Stadt took a long time to reach the UK stage, and performances remain rare. A concert performance by the Kensington Symphony Orchestra conducted by Russell Keable at the QEH in January 1996 was followed by the first staged performance thirteen years later at the ROH. But (that bus analogy comes to mind again), last year director Carmen Jakobi presented a staging at Longborough Festival Opera, of which I remarked that Nate Gibson's design made 'the opera's fusion of place and persona powerfully present'.
Not so Miriam Buether's sets at the Coliseum. Occasionally the shutters are opened on the two windows at the rear, but the canals and towers are nowhere to be seen. Instead, and with considerable impact, we are taken into the 'dead city' of Paul's own mind – a reliquary of memories and objects ('die Kirche des Gewesenen'), the pale wood walls of which perhaps resemble the inside of a coffin (or a Scandi loft-apartment). We do not venture out of Paul's mental mausoleum (save for one exception (see below)) and the canals and towers which embody the corruption of the city – which is essentially a cipher for the dilemmas facing post-Imperial, post-WW1 Vienna – do not directly cast a shadow over his crumbling psyche.
Presenting Korngold's opera in a new English version based on a translation by Kelley Rourke, Miskimmon seems to have set out to 'simplify' things. That's often no bad thing when staging operatic convolutions and inconsistencies, but here she does so at the expense of the very ambivalence that is at the heart of the work. The set makes Paul's obsessive stagnation clear: a plait of Marie's hair, her shawl, her shoes are enshrined in glass boxes on the walls and floor, and he dons the sterile white gloves of a forensic archaeologist to handle them. The only colour is the blood-red of the profusion of roses which are carried in daily to perpetuate Marie's memory, but which also sustain – their imagined scent intoxicating – the morbidity of his mindset.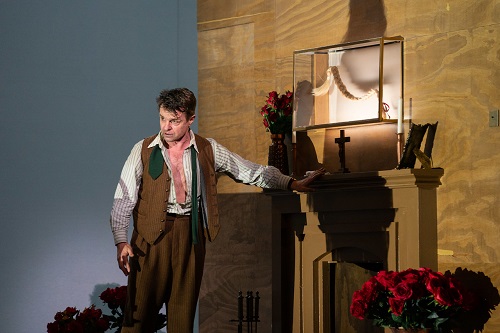 In Miskimmon's view 'the opera starts off in reality, before dissolving into a dark dreamscape of hallucination' and her production draws a stark dividing line between the two states. And, so, in Act 2 the back wall of Paul's apartment rises and, later, in the misty hinterland we witness a religious process – Marie's funeral, complete with children's chorus (members of Finchley Children's Music Group) who emerge through a fire-place – and the production's only nod to the Catholicism which infuses Korngold's opera.
From the moment the wall is lifted, we 'know' we are in his dream, rather than experiencing through Korngold's music Paul's refusal to accept that the image of Marietta is merely an image, a representation and not a living reality. When he strangles Marietta with Marie's ice-maiden braid there is no horror – the violence isn't 'real'. It also means that there is little of the ambiguity – so present at Longborough – about their respective fates when Paul declares, 'Now she is just like the other … Marie!' And, when Paul returns to the 'real world' at the close, there's no sense that the once-again-living Marietta will now be able to guide Paul to a new future, relieved of his obsessions.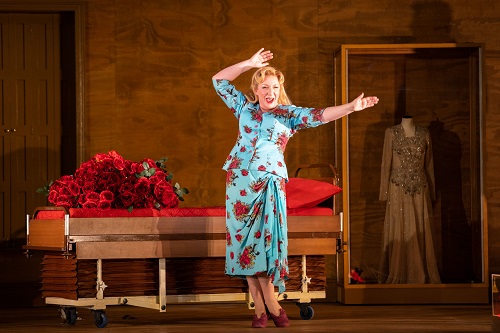 The Swiss tenor Rolf Romei sang the stratospheric and vocally stress-inducing role to acclaim at the 2021 Enescu Festival. Here, though, it was announced that he was recovering from illness. That said, apart from a slightly raw tone at times and a few cracked high notes (for which anyone could be forgiven, so relentlessly does Korngold tax both the lead soloists), this was a committed and gripping performance. The Freudian resonances echo resoundingly in the opera, and Romei was a veritable portrait of male hysteria.
Vocally, though, he was overshadowed on this occasion by Allison Oakes's exuberant Marietta – no winsome dancer this, but a dynamite diva, costumed with excessive garishness and sensuality by Nicky Gillibrand, thereby awkwardly emphasising the unlikelihood of Paul's delusion. For, Marietta is said to resemble Marie in looks and voice. How on earth would Paul fall for a vamp, such a polar opposite of his 'pure' Marie? And, as we don't see the latter, so we can imagine his conflation. At the Coliseum, though, Miskimmon gives us the ghostly, gliding apparition of Marie (actor Lauren Bridle) who silently stalks the stage – or hangs above it, on a dangling coffin – as Oakes sings her words off-stage. Visually, it's clear that the two women couldn't be more different, which both undermines the integrity of Paul's delusion and destroys the blurring of reality and dream.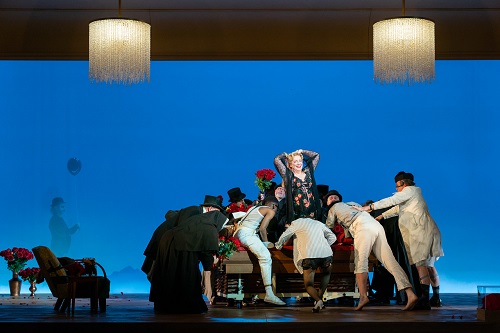 The theatrical troupe with whom Marie works and plays are vibrantly characterised by Rhian Lois (Juliette), Clare Presland (Lucienne), Innocent Masuku (Gastone) and William Morgan (Victorin), and their defilation of Marie's hospital bed and coffin is rather ghastly, suggesting the extent of Paul's sickness.  There's terrific acting and singing, too, from Norwegian baritone Audun Iversen as a rather creepy Franz, Paul's friend, and he doubles up as Felix in the troupe to perform 'Pierrot song' with sensitivity.  Like Marietta's own 'lute song' – here a gramophone recording, depriving her somewhat of her theatrical mutability – it was a beautiful moment of wistfulness and calm.  Sarah Connolly puts in a star turn as Paul's housekeeper, Brigitta, her acting and singing equally discerning and nuanced.
In the pit, Kirill Karabits turned up the emotional temperature and the expanded ENO Orchestra did justice to the heady Viennese extravagances of the score as Strauss meets Puccini then twists in new directions. But, for all the vocal and instrumental strengths, this production doesn't quite have the cinematic sweep to blur the lines between fact and fantasy and so take us deep into a diseased, dark psyche and its re-emergence into the light.
Claire Seymour
Paul – Rolf Romei, Marietta/Voice of Marie – Allison Oakes, Brigitta – Sarah Connolly, Franz/Fritz – Audun Iversen, Juliette – Rhian Lois, Lucienne – Clare Presland, Gastone – Innocent Masuku, Victorin – William Morgan, Count Albert – Hubert Francis, Marie – Lauren Bridle; Director – Annilese Miskimmon, Conductor – Kirill Karabits, Set designer – Miriam Buether, Costume designer – Nicky Gillibrand, Lighting designer – James Farncombe, Finchley Children's Music Group, Orchestra and Chorus of English National Opera
English National Opera, Coliseum, London; Saturday 25th March 2023.
ABOVE: ENO's The Dead City (c) Helen Murray
---
[1] Newman, M. (2011) 'Dead Mirrors: Relics and photographs in Georges Rodenbach's Bruges-la-Morte', Photographies, 4(1), pp. 27–43.