A strange evening: I very much enjoyed this new Rusalka, though found myself slightly haunted by the suspicion I did so more than I should have done. Musically magnificent yet theatrically inert: opera should intrinsically be more than that, yet I suppose we should be grateful that it can still partly satisfy, even when one crucial component misfires.
The production is oddly listed as having been 'created by Natalie Abrahami and Ann Yee' but with 'Ann Yee and Natalie Abrahami' as directors. Equitable, perhaps, but does such re-listing really merit a line in the programme? (Does it really merit three lines in a review, one might also ask, I suppose.) I mention it only as a minor instance of something more irritating. Equity, sustainability, so much else: these are of course causes toward which we should all be working, a great deal faster and harder than we are now. They do not, however, in themselves make a production; they are certainly no substitute for one either. For here, whilst one could read an interesting programme note, promising much, by Jessica Duchen on 'A Sustainable Rusalka for the Royal Opera House', the results were actually neither sustainable – for that, 'we'd have to have started the control systems much earlier' (Abrahami) – nor, contra what we read, saying anything much about sustainability or wider ecological issues. Instead, there was a strange boast, admittedly fulfilled, of having 'worked with our creative team to create the illusion of water, using paint effects and lighting, and a set that can hold this without having to turn over actual water'. Fine, if hardly unprecedented. Is that not more often the case than not with water? How many productions will theatregoers already have seen that did just that?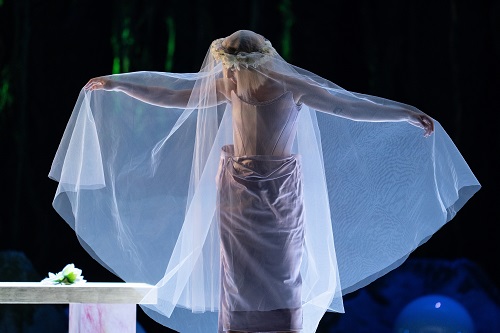 Ultimately, the directors (or 'creators') feel the story is 'not about nature's conflict with humanity, but rather humanity's need to connect and meld with nature'. It is a point of view: not one that makes a great deal of sense to me, either intrinsically or in the case of Rusalka, but worth a hearing or viewing. What, then, do we have? A sort of non-directed cartoon with words and music attached. Singers generally have to fend (creditably) for themselves. A mossy fairytale without irony or magic turns mildly trashy in the second act, presumably out of a desire to be 'contemporary'. It looks as though a few items from Claire's Accessories have been magnified on stage to frame the 'party'. Inflatable toy animals are presumably intended to imply distance from Nature's real animals, yet since no one seems to know what is going on, they just look silly. We return more or less to a slightly broken version of the setting for the first act. Alleged intentions go unrealised, as if our 'creators' have failed to appreciate that stating you will do, let alone explore, something is not the same as doing or exploring it. As a framework for the story, it works reasonably. Paule Constable's lighting pretty much steals the visual show, saying so much more than Yee's tedious, seemingly tone-deaf choreography.
And save, mercifully, for the musical performances: singers, orchestra, and conductor. My two other big house Rusalki over the past decade or so have been Paris in 2019, not so long before the end of the world, and Covent Garden's first (!) staged performance in 2012. An excellent Komische Oper staging in Berlin was a slightly different animal, built as it was around a thriving company, as opposed to an 'international' cast; it offered by some way the most interesting, penetrating production (Barrie Kosky). Paris had Camilla Nylund, Klaus Florian Vogt, Karita Mattila, Thomas Johannes Mayer, and Michelle DeYoung, Covent Garden 2012 also had Camilla Nylund, working with Bryan Hymel, Petra Lang, Alan Held, and Agnes Zwierko. At this level, comparisons are often more a matter of taste than anything else, but I should unhesitatingly plump for David Butt Philip's Prince from Covent Garden 2023 and consider its cast every inch the equal of its illustrious predecessors.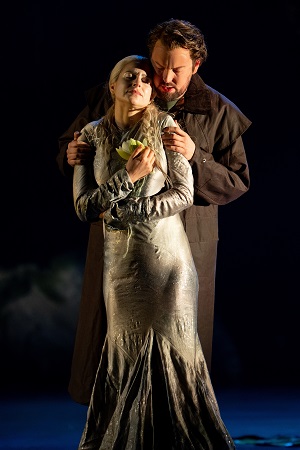 One of my first thoughts was that surely we must be due a Lohengrin from Butt Philip soon; lo and behold, on later reading the programme biographies, one (Deutsche Oper Berlin) is forthcoming. Beautifully, unerringly musically phrased, his Prince conveyed a vulnerability and complexity of character considerably beyond either of the aforementioned performances. This was a considered character development, conveyed through words and music. Asmik Grigorian's Rusalka likewise had it all: effortlessly scaling the vocal peaks, drawing in through hushed intimacy, and offering almost everything in between. Her stage presence likewise was second to none. Sarah Connolly's Ježibaba and Emma Bell's Duchess – I am not sure why the usual 'Foreign Princess' was not used here, but no matter – represented luxury casting. The former's expressive range, controlled in technique yet with dramatic spontaneity (or the impression of such), could hardly have been bettered. The latter's star quality shone through: both in itself and as something akin to metacommentary on the role. Rafał Siwek's dark-toned Vodník was just the thing too, in voice and presence. Lively and warmly sympathetic performances from Hongni Wu (Kuchtík) and Ross Ramgobin (Hajný) were also highly worthy of note.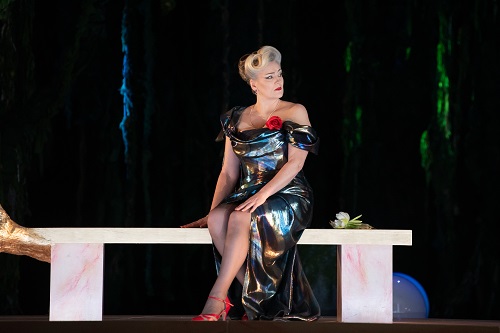 Excellent conducting from Susanna Mälkki (Paris) and Yannick Nézet-Seguin (Covent Garden, 2012) notwithstanding, Semyon Bychkov was for me in a different league. His was world-class conducting, the Orchestra of the Royal Opera House sounding the equal of its very starriest peers. One might expect operatic symphonism from Bychkov, but the extent to which the entire work sounded as if heard in a single, variegated breath nonetheless astonished. A symphony in three movements emerged, its first two acts strongly contrasted. The first was doubtless 'objectively' on the slow side, but emerged as an exquisitely conceived, quasi-Wagnerian tapestry in absolute commanded of our musical attention. The second entered more Italianate waters, enlivened by a welcome dash or two of Tchaikovsky, and the third effected due synthesis, culminating in a climax that can surely have never sounded closer to the pantheistic ecstasy of Janáček. Not, of course, that this was not first and foremost Dvořák, but it was a generous, cultivated and culturally broad performance that denied national, let alone nationalistic, clichés.
Mention should also go to the language coaches, Lada Valesova and Lucie Spickova. I do not speak or understand Czech, save for odd words and phrases I have picked up. But I could have had a stab at transcribing some of it here, such were the clarity of diction and, insofar as I could tell, evident meaning with which words in their alchemic union with music were treated. All in all, then, a splendid evening—but despite, rather than on account of, the inconsequential production.
Mark Berry
Rusalka – Asmik Grigorian, Prince – David Butt Philip, Vodník – Rafał Siwek, Ježibaba – Sarah Connolly, Duchess – Emma Bell, Kuchtík – Hongni Wu, Hajný – Ross Ramgobin
Wood Spirits – Vuvu Mpofu, Gabrielė Kupšytė, Anne Marie Stanley, Lovec – Josef Jeongmeen Ahn. Conductor – Semyon Bychkov, Created and directed by Ann Yee and Natalie Abrahami, Set designs – Chloe Lamford, Costumes – Annemarie Woods, Lighting – Paule Constable, Choreography – Ann Yee. Royal Opera Chorus (chorus director: William Spaulding), Orchestra of the Royal Opera House.
Royal Opera House, Covent Garden, London; Monday 27th February 2023.