Donizetti's melodramma eroico, L'esule di Roma, was the composer's first major success with opera seria.  It premiered in Naples at the Teatro S. Carlo on 1st January 1828, travelled to La Scala in July of that year, was revived – with revisions – in Naples in December, and further revised when it was performed in Donizetti's native Bergamo in 1840.
The critical reception when it was performed in London in February 1832, at the King's Theatre, was less favourable, though. The Athenaeum objected to its 'old-fashioned' idiom – 'The whole of the music of this opera is quite à la Rossini … indeed, except that it wants a scene for the entrée of the prima donna, [it] is like most modern Italian operas' – while the Spectator found it a 'very second-rate composition', complaining that 'there is hardly a new idea throughout' and wryly noting that 'we were not disappoint1ed in this respect for we did not expect one'.
Today, Donizetti's serious operas from the 1820s are still held in less esteem than the works which followed Anna Bolena in 1830, including Lucrezia Borgia and Lucia di Lammermoor.  But when Opera Rara was founded by Patric Schmidt and Don White in the early 1970s, one of the ambitions of the company was to initiate an international critical re-evaluation of the reputation of the work of composers such as Pacini, Offenbach and Mercadante, as well as to create a Donizetti collection that would document his entire operatic oeuvre through recordings. 
This performance of L'esule di Roma at Cadogan Hall, in collaboration with the Britten Sinfonia, represents another step towards the fulfilment of those ambitions. The preceding week a studio recording was made and will be released in spring 2024. Roger Parker's new critical edition – which must have been involved quite a lot of musicological detective work and which includes 'newly discovered music never previously heard' – will be published by Casa Ricordi.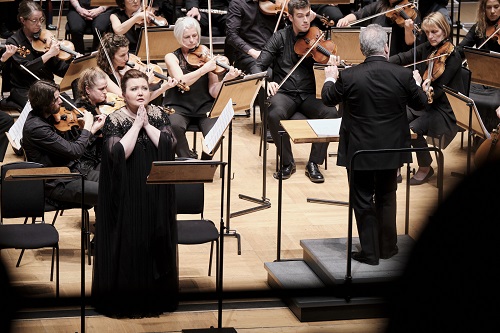 If L'esule di Roma fell from favour, then one reason may be Domenico Gilardoni's libretto which – via Marchonni's Il proscritto romana – is derived from Louis Charles Caigniez and Debotière's Androclès ou Le lion reconnaissant, the source of Shaw's Androcles and the Lion.  The denouement, which is swift and not entirely plausible, depends on a similar act of leonine gratitude.
The action takes place in imperial Rome during the reign of Tiberius (AD 14–37).  The Roman general, Publio, has been welcomed back, victorious, to the city.  He is betrothed to Argelia, daughter of the senator, Murena.  The latter has perjured Settimio, whom Argelia loves, condemning him to exile, but Settimio has returned to Rome, determined to see his beloved, though anxious to protect her from knowledge of her father's duplicity.  When Settimio is discovered in Rome, he is sentenced to die in the Circus Maximus but, far from rejoicing, Murena's sense of shame drives him insane.  However, one of the lions in the Circus defends Settimio, who had saved the beast's life during his Caucasian exile.  All are forgiven, and Argelia and Settimio are happily reunited.
Parker makes much of the innovativeness of Donizetti's formal experimentations, in both the trio finale, 'Ei stesso! La mia vittima!', which closes Act 1 – an original conception that brings the treacherous father, exiled lover and loyalty-divided daughter into confrontation – and the characterisation of Murena, whose unpredictability and instability are evident from the first, and whose E-flat minor cantabile in Act 2, in which he is driven to madness by remorse, anticipates the composer's famous mad scenes of the 1830s. Some research reveals that Donizetti includes directions such as 'with a dark, broken voice' and invents a new tempo, Andante in delirio.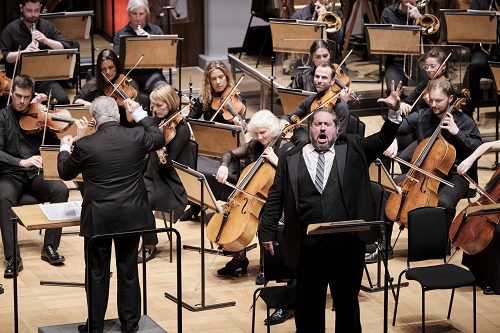 Parker is undoubtedly right about the imagination and skill that Donizetti shows in these two aspects of the work.  But, two numbers don't a compelling opera make.  So, is L'esule di Roma worth the love and care shown by Opera Rara here?  I confess that for much of the first Act, I found the score somewhat conventional and bearing the influence of Donizetti's teacher, Simon Mayr.  William Ashbrook's judgement that the score was 'chilly, posturing' didn't seem that far off the mark.  But, as Parker suggests, there are moments when the invention and beauty of the music are gripping, not least in that aforementioned Act 1 trio, where the voices of soprano Albina Shagimuratova (Argelia), baritone Nicola Alaimo (Murena) and Sergey Romanovsky (Settimio) engaged in thrilling interplay, energised but eloquent.  Figures who had seemed rather conventional and 'stock' were now individualised with persuasive dramatic effect.
In many ways this was Alaimo's evening. His mellow baritone has warmth and weight, as well as nuance and agility. His representation of both Murena's authority and his wretchedness was utterly convincing. The phrasing was fluent, and the sheer beauty of his tone was a joy to sink into, like a comfort blanket. His duet with Shagimuratova, with its poignant Moderato cabaletta was heart-touching.
Shagimuratova's soprano was characteristically lustrous, and she demonstrated both agility and vocal poetry. It was a pity that she was so score-bound, though in her final aria, just before the lion's wish to repay old debts brings about a slick happy ending, she did project more engagingly. The slow section of this aria was immaculate.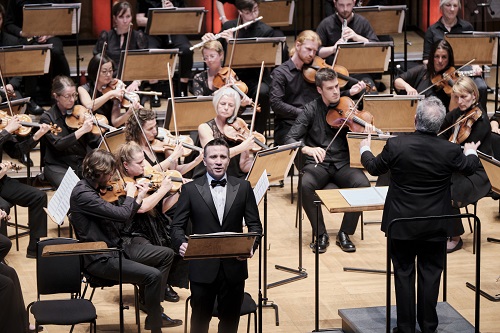 Sergey Romanovsky coped confidently with the taxing extended compass (the part ventures up to a high E), and his tenor has a lovely Romantic richness, but at time he was similarly rather glued to his score.  The result was that it was hard to discern any real passion between the two lovers.   Lluís Calvet i Pey was an eloquent Publio though not always as commanding as might have been expected of a Roman general.  In the minor roles Kezia Bienek (Leontina) and André Henriques (Lucio/Fulvio) sang with accomplishment.
With Carlo Rizzi at the helm, the Britten Sinfonia brought forth all the detail and colour of Donizetti's score – the woodwind obbligatos were especially expressive, but there was stylishness and coherence in the string ranks too.  It was a pity that the large orchestral forces pushed the Opera Rara Chorus into the Cadogan Hall gallery, men to the right, ladies to the left, but Rizzi worked hard to garner drama and passion from the Roman crowds.  Indeed, throughout he kept the drama moving forward with vigour and litheness.
Cadogan Hall was packed to the rafters with bel canto aficionados, all of whom will no doubt be eagerly awaiting the release of the recording next year – as will I.  By the end of the evening, Opera Rara convinced that there is much musical merit in Donizetti's score.  Even better would be to have a staging of the opera to 'test' its dramatic credentials in the theatre.
Claire Seymour
Donizetti: L'esule di Roma
Argelia – Albina Shagimuratova, Murena – Nicola Alaimo, Settimio – Sergey Romanovsky, Publio – Lluís Calvet i Pey, Leontina – Kezia Bienek, Lucio/Fulvio – André Henriques; Conductor – Carlo Rizzi, Britten Sinfonia, Opera Rara Chorus
Cadogan Hall, Thursday 11th May 2023.
ABOVE: Nicola Alaimo, Sergey Romanovsky, Albina Shagimuratova and conductor Carlo Rizzi, with the Britten Sinfonia (c) Russell Duncan