Hymn of the Forests was the programme title for what was really a celebration of events earlier in the day down the road at Westminster Abbey. There was certainly much peasant merrymaking and perhaps, for some, a whiff of woodsmoke in Janáček's Glagolitic Mass, but its sense of unbridled pageantry was unmistakable. The presence of Mendelssohn's Violin concerto served to remind us how this composer was a great favourite of Queen Victoria – Charles 111's great-great-great-grandmother. Meanwhile, Tippett's Suite for the Birthday of Prince Charles, written to mark the monarch's birth in 1948, opened proceedings and made clear the wonderful partnership between the London Philharmonic Orchestra and its principal conductor Edward Gardner.
In his introduction to the five movement Suite, Gardner spoke of its joy and childlike innocence. Without doubt, its use of hymn fragments and folk material makes it a very approachable work, not to say uncharacteristic of a composer known for his complex style. And how expertly does he weave his own personal, contrapuntal manner into a piece fit for public duty with no small hint of ceremony in the peeling bells of the opening 'Intrada'. Ian Hardwick's mellifluous oboe charmed the ear in the gently lilting 'Berceuse', as too did the orchestra's buoyant playing in the martial rhythms of 'Procession and Dance', not without a suggestion of swagger. 'Angelus ad virginem'in 'Carol' brought nobility and a wonderfully atmospheric bitonal passage, capped by an invigorating 'Finale', the whole polished and neatly executed, Gardner brilliantly underlining its festive mood and hinting at things to come.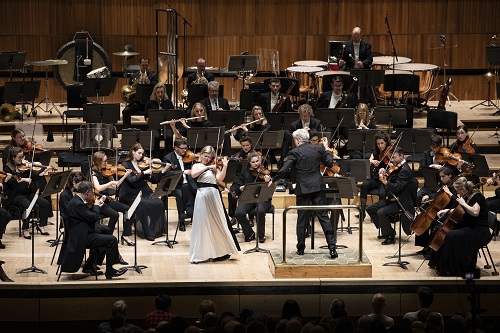 There followed an exhilarating and unsentimental performance of Mendelssohn'sViolin Concerto which showcased Alina Ibragimova's formidable technique. Nothing remotely routine here, but an account that focused on the work's joie de vivre, bringing to the swift-paced first movement ardour, humour and rumination, and intimacy to the 'Andante', where her dynamic shading occasionally sank below the radar. Then on to a pulse-raising finale, Ibragimova enjoying its giddy, unbuttoned character and its near ceaseless momentum. Throughout, the LPO players were exemplary collaborators, with Gardner allowing detail to emerge, horns given their moment in the sun, and fashioning a breezy, quick-silver account.
Where the Mendelssohn concerto is unorthodox in formal terms, Janáček's Glagolitic Mass might be said to be outlandish, as one Times critic ventured to suggest in 1953 following a performance at the Leeds Festival when he declared 'the whole conception is so alien to western ideas of ecclesiastical music that if it was done at a Three Choirs Festival someone would accuse the Dean of allowing a brawl in his cathedral'.  Not so far off the mark considering Janáček's fantasy was for this work to be performed at a cathedral wedding ceremony with his young muse Kamila Stösslová.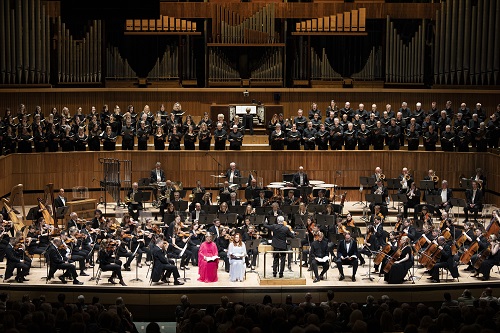 It is nearly a century since the Mass received its British premiere (Norwich Festival, 1930, directed by Sir Henry Wood), and its raw physicality can still elude the best UK choirs and orchestras that focus on polish and refinement. Not so here, in this gutsy, red-blooded account, in which choir, orchestra and organist Catherine Edwards very much had the measure of the work and admirably projected its untamed energy. Purely instrumental sections were suitably unbuttoned and the rhythmically taut LPO chorus rose to its challenges splendidly, firm in tone and expressive both in their ejaculatory 'Amens' with the 'Credo's' rustic playfulness and for the consoling serenity of the 'Agnus Dei'. Of the four vocal soloists it was the American soprano Sara Jakubiak (who has previously recorded the work for Chandos with Gardner) who impressed most, her voice soaring over the choir and orchestra and blazing with conviction, even if the Old Church Slavonic was not always easy to hear. Toby Spence valiantly delivered his high tenor lines, while mezzo Madeline Shaw and bass Matthew Rose fared more persuasively in their less demanding contributions.
At times it was hard to believe Janáček's unique vision of belief was the work of a composer in his seventies who, despite his self-avowed agnosticism, had created a life-affirming work of feverish exultation. Not so much Hymn of the Forests, but Hymn to a coronation.
David Truslove
Alina Ibragimova (violin), Sara Jakubiak (soprano), Madeline Shaw (mezzo-soprano), Toby Spence (tenor), Matthew Rose (bass), Catherine Edwards (organ), London Philharmonic Orchestra, London Philharmonic Choir, Edward Gardner (conductor)
Tippett – Suite for the Birthday of Prince Charles Mendelssohn – Violin Concerto in E minor, Op. 64, Janáček – Glagolitic Mass
Royal Festival Hall, London; Saturday 6th May 2023.
ABOVE: Madeleine Shaw, Sara Jakubiak, Toby Spence, Edward Gardner and the London Philharmonic Orchestra (photo courtesy of the London Philharmonic Orchestra)