This season opener brought together something new, rare and familiar – and with it, in the first half, a clear plea for freedom explicit in the choice of music by Sibelius and the contemporary Ukrainian composer Bohdana Frolyak. As if to reinforce the music's significance in the light of the current political turbulence in eastern Europe, the combined forces of the BBC Symphony Orchestra, BBC Singers, (given a spontaneous ovation before they had sung a note) and the BBC Symphony Chorus were conducted by Kyiv-born and adopted Finn, Dalia Stasevska.
Proceedings opened with Finlandia, a tone poem originally conceived in 1899 in response to the Russian suppression of growing Finnish nationalist sentiment. After three revisions Sibelius produced a choral version in 1940 prompted by a commission from the Finnish choir Laulu-Miehet. This seldom performed version was heard here. From Stasevska's initial taut body language, Sibelius's hymn to a nation unfolded with passionate intensity, snarling brass and ferocious timpani supplying plenty of menace and leading to a suspense-filled traversal (foot hard on the accelerator) until the radiant, if again, slightly fast but heart-warming rendition of 'Finland awakes' from the combined choruses.
Still with a politicising and personal edge, there followed the world premiere of a BBC commission Let There Be Light by Bohdana Frolyak (born 1968). Exploring the return of light from darkness, its arc-like structure lasting some eight minutes variously brought mystery, brooding and luminous sonorities along with haunting instrumental solos form oboe and cello. Nothing especially distinctive here: its stylistic mélange and connective tissue of melodic shards ultimately felt anonymous, and its gentle closing bars of tuned percussion were sadly drowned out by coughing.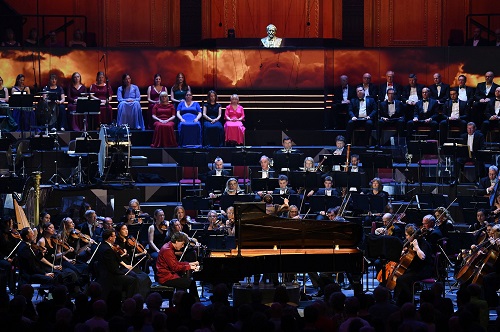 Paul Lewis joined the BBC Symphony Orchestra as the soloist for Grieg's Piano Concerto, producing a largely understated but fresh rendition with undemonstrative technical display and muted passagework in the opening movement.  There was no shortage of virtuosity with the arrival of the cadenza, crisply delivered with diamond-bright tone and muscle, incorporating dreamy introspection and thunderous rhetoric.  The Adagio was an intimate and poised affair, played with warmth and affection from all concerned, Lewis generating pure spring water in his crystalline tone.  And so to a rousing, dance-filled finale, Daniel Pailthorpe's soothing flute bringing temporary relief.  Rhythmically incisive with a momentum-building coda (timpanist not shy here), this was a finely honed collaboration between soloist and orchestra, bracing yet still managing to sound fresh, Stasevska releasing an audible gasp of delight at the end.
After the interval the first half's Nordic theme continued with Sibelius's dramatic 'improvisation', Snöfrid. Roughly contemporary with Finlandia, it was composed in the autumn of 1900, more or less at one sitting (so Sibelius claimed) for a fund-raising soirée arranged by the Helsinki Philharmonic Society to pay off debts incurred by its recent European tour of Sibelius's First Symphony. Scored for speaker, chorus and orchestra, the work's text is by Swedish poet Viktor Rydberg; based on characters from Nordic sagas, it outlines the temptations of Gunnar to sell his soul for untold treasures, which the sea-nymph Snöfrid begs him to resist and fight bravely for the downtrodden, even though it's a lost cause. Sung in the original Swedish, with the narrator's part, as translated into English by Edward Kemp, spoken by celebrated actress Lesley Manville, in a shimmering gold outfit, the work was vividly projected, its panoramas magnificently conveyed, orchestra and choir responding superbly to Stasevska's galvanising direction. Very much worth an occasional outing and one shining a light on Sibelius's early maturity, this was Snöfrid's Proms' premiere.
Benjamin Britten's The Young Person's Guide to the Orchestra concluded first night events in a forthright account that favoured velocity over grandeur. Commissioned for a 1945 film by the Ministry of Education entitled Instruments of the Orchestra and originally narrated by Sir Malcolm Sargent, the work illustrates all the resourcefulness of its composer. Here, while on the edge of being perilously fast, it was fascinating to be reminded of Britten's witty instrumental combinations: tuba and chirpy clarinets particularly catching the ear, and the parade of each string section presented like a workout at the gym. Overall, it was a stylish and invigorating account – a brilliant curtain raiser to the season.
David Truslove
Prom 1: Sibelius – Finlandia, Frolyak – Let There Be Light (BBC commission: world premiere), Grieg – Piano Concerto in A minor, Sibelius – Snöfrid, Britten – The Young Person's Guide to the Orchestra
Paul Lewis (piano), Lesley Manville (narrator), BBC Symphony Orchestra, BBC Singers, BBC Symphony Chorus, Dalia Stasevska (conductor)
Royal Albert Hall, South Kensington, London; Friday 14th July 2023.
ABOVE: Prom 1 (c) BBC/Chris Christodoulou