Adelaide di Borgogna was the wife of Lothario, king of Italy, who was assassinated in the year 950 A.D. Rossini set the eponymous dramma per musica by one Giovanni Schmidt for Rome's Teatro Argentina in 1817. One assumes that this theater's orchestra was endowed with very skilled wind players as Rossini's score makes a greatly expanded use of wind colors (horns, piccolos, english horn, clarinet, and trombone) — plus drums, to embellish the obsessions, ambitions, intrigues, battles, seductions, and pageantry of this bit of history according to opera.
The Orchestra Sinfonica Nazionale RAI (Torino) gave a tour de force performance of the Rossini score to the baton of Enrico Lombardi, the assistant to conductor Francesco Lanzillota who was unable to take the podium — he had crashed his motorcycle the day before, breaking a foot and some vertebras.
Meanwhile French stage director Arnaud Bernard had already taken the easy way out by setting his production of the opera as a rehearsal on an empty stage. Though the stage was hardly empty with all sorts of set pieces and props introduced from time to time, as well there was an improvised dressing room for the diva, a director's table, a rehearsal fortepiano and pianist. The chorus and chorus master entered from time to time, as well as a children's chorus, not to mention stage technicians, seven principals plus the director and his assistant. Bedlam.
And too, Mr. Bernard staged the overture, setting up some nasty relationships between the principals, in general adding emotional mess to the unfolding rehearsal turmoil.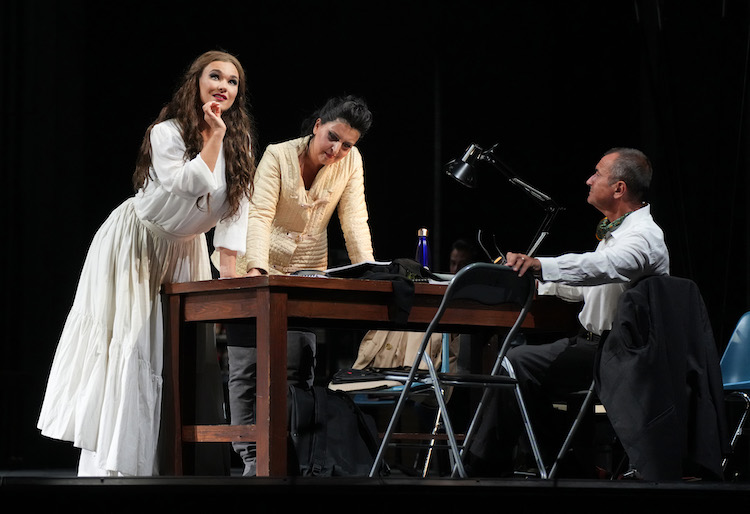 So, even if the hackneyed metaphor elicited our groans it offered some relief from the tales of medieval power struggles and attendant troubadour-like love affairs. It also sharpened our responses to human situations (the soprano apparently had something going with the tenor, though in the opera tale she abhorred him, and in the end she solved all the Rossini problems by marrying the Holy Roman emperor — a pants role, reminding us that gender fluidity is hardly news for Rossinians).
There were quite a few realities in play. Let's mention that the tenor was not leading-man- handsome, that the villain's father, a bass, was leading-man-handsome and younger by far than his son — opera is about voices, fathers are basses, sons are tenors. As well opera is about divas — Russians are divas by nature, therefore famed Russian coloratura soprano Olga Peretyatko was the evening's diva.
Like Rossini's score in the pit, there was a massive amount of wit in play on the stage, confusing life with the theater of life, confusing art with artifice, all focused on making a silly old tale a very real human moment.
Showing herself as a consummate comedian, soprano Peretyatko made Rossini and stage director Bernard's Adelaide a full-scale diva. Divas seem to run the risk of being a bit past their prime, such is the case of Mme. Peretyatko whose mid-voice no longer has its fine focus, though her high voice remains solid. She does indeed know how to make Rossini's fioratura truly exciting, and how to deliver a big performance.
Armenian mezzo soprano Varduhi Abrahamyan as the Holy Roman emperor Ottone (actually Otto I, "the great") had stiff competition in the other pants artists of this year's festival — the famed Daniela Barcellona and the brilliant young mezzo Raffaella Lupinacci. Mme. Abrahamyan brought rich sound and mature travesty art to her role. Stage director Bernard kept Ottone a bit aloof from the fraught energy of his rehearsal, allowing Ottone to bring everything together at the evening's conclusion when he discards his crown and mantle to embody the true love that has conquered all the adversities.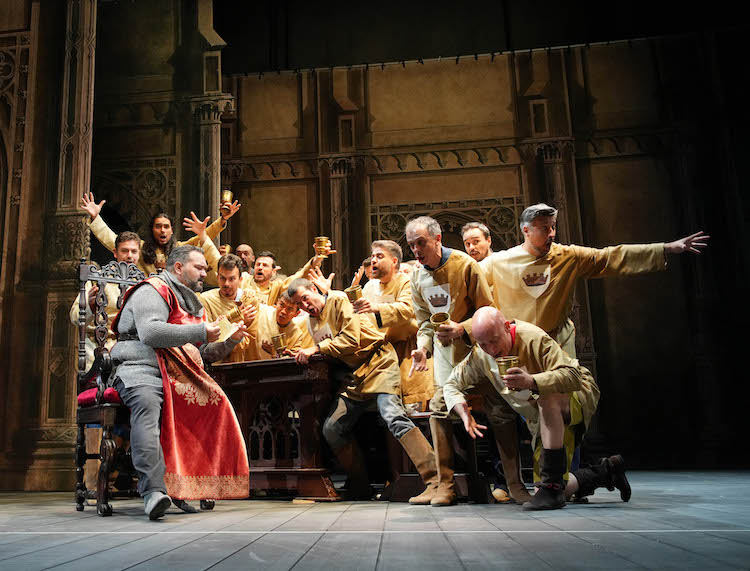 Though without a leading man figure at this mid-career point, tenor René Barbera (from Texas) was in leading man voice. As Adelberto, the son Lothario illegitimate successor, he was however an antagonist, albeit a romantically suffering soul (in the previous version of Adelaide di Borgogna in Pesaro we were rooting for him, as Ottone was a bit of a pathetic figure). But just now Adelberto had to heroically renounce his undying love for Adelaide, and content himself with filial loyalty.
Young bass Riccardo Fassi cut a fine figure as Berengario (the usurper), Adelberto's father, and, as is basses' want, sang nicely, in beautiful, youthful voice. Adelberto had a mother as well, Berengario's wife Eunice who had, early on, made a quick, business like (no drama) entrance into the rehearsal, given that later she saved the day (allowing Adelaide to escape the clutches of Adelberto). Rossini awarded her a brief aria that we dutifully applauded.
The fine chorus of Ascoli Piceno's Teatro Ventidio Basso (the name of an illustrious local citizen) served as oppressed peoples, present usually in impromptu musical rehearsals at the side of the stage, and especially as rowdy soldiers when Mr. Bernard got around to showing us a couple of actually staged numbers.
When it was all over, last minute conductor Mo. Lombardi gracefully accepted his huge applause for effecting this superb Rossini evening.
Michael Milenski
All photos copyright Amati Bacciardi, courtesy of the Rossini Opera Festival