Just now she has been made into an operatic heroine by composer Tobias Picker with one assumes a lot of undocumented help from J.D. McClatchy, his librettist.
But before the opera the fictional Dolores Claiborne became the heroine of a movie (film does not seem the appropriate term) back in 1995 that a lot of people seem to remember even though a lot more films based on Stephen King novels made a lot more money (seventeen of them made more money to be exact).
If these two pop genres are not part of your general culture and opera is, and you happened into the War Memorial Opera House and caught Dolores Claiborne you might have been as aghast as I was.
This poor domestic servant (Dolores) had just emptied the bedpan and changed the diaper of her mean old employer when the bitter old woman was chased down the stairs by the ghost of her murdered husband. A lot happened before this, for example Dolores' daughter Selena was raped by her father, Dolores' husband Joe (a big number about "into the well and don't tell"). But Selena worked hard and became a lonely Boston lawyer after Dolores got Joe drunk during the 1962 eclipse of the sun and pushed him into a well, then hit him on the head with a big rock when he tried to climb out.

Elizabeth Futral as Vera Donovan
With all this, and it is only for starters, there was not much time for psychological immersion. Empathy too was out of the question given that the sordid situations these unfortunate figments of Mr. King's imagination got themselves into were revolting.
The governing tension of the piece is that men abuse women (there is quite a list of ways in the opera) and that God is a man and not interested in women so women must become mean bitches to take care of themselves (these are the words used in the opera). One might take a moment to compare the tensions explored in Werther or Wozzeck (or for nearly any other opera in the repertory), tensions that engender psychological exploration and emotional elaboration.
There is no point in imagining the music that might equal the situations of this libretto, except, just for the fun of it, to imagine music that might be created for a solar eclipse. There was not a hint of any such music. Tobias Picker let the words of the story tell the story in plausible, more or less conventional musical lines supported by appropriate, more or less conventional contemporary sounds emerging from the pit.
There was but one moment of reflection that stood out in the evening. Dolores' daughter Selena was alone on stage in the starry blackness of the solar eclipse and senses that things are not quite right. It was a beautiful moment before it got musically boring, but it did call attention to the absolutely brilliantly designed set, the work of Allen Moyer. Here it was the projection of an all black abstraction of Van Gogh's "Starry Night," and it was the opera's only imaginative moment.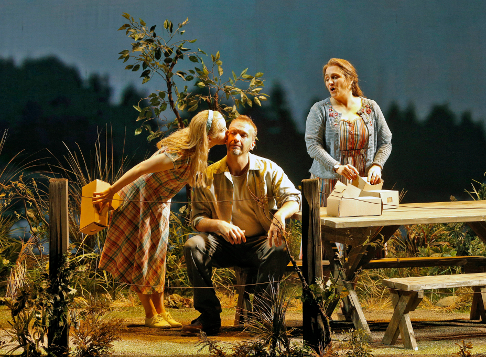 Susannah Biller as Selena, Wayne Tigges as Joe St. George and Patricia Racette as Dolores Claiborne
Moyer's set was the outline of a rural police office elaborated by cinematic projections (by Greg Emetaz), some realistic, some abstractions of physical spaces, and there were stunning landscapes created across the width of the stage, among them a realistic clapboard house sitting in actual coastal marshes of Maine. With effective lighting by Christopher Akerlind the physical production achieved immense emotional atmospheres that were without response in the music. One assumes that stage director James Robinson had much to do with the realization of this superb physical production.
Mezzo soprano Dolora Zajick had the foresight to abandon the project, the role of Dolores Claiborne assumed and achieved, heroically, by diva Patricia Racette. Unfortunately there are already two sopranos in the score. The old woman Vera, vocally conceived as a high, thin aged voice was taken by Elizabeth Futral (in splendid voice). Dolores' daughter Selena sung by Susannah Biller was the high coloratura voice of youth. Mme. Zajick would have provided welcomed alternative vocal color. Bass Wayne Tigges sang Dolores' no-good husband Joe, and tenor Greg Fedderly was the not-too-bright country detective.
It was a high-powered cast who gave it their all. It was a waste of important talent. Conductor George Manahan held it together from the pit.
Michael Milenski
---
Cast and production information:
Dolores Claiborne: Patricia Racette; Selena St. George: Susannah Biller; Vera Donovan: Elizabeth Futral; Joe St. George: Wayne Tigges; Detective Thibodeau: Greg Fedderly; Mr. Pease: Joel Sorensen; Teenage Girl: Nikki Einfeld; Teenage Boy: Hadleigh Adams; Maid: Jacqueline Piccolino; Maid: Nikki Einfeld; Maid: Marina Harris; Maid: Laura Krumm; Maid: RenÈe Rapier; Mr. Cox: Robert Watson; Mr. Fox: Hadleigh Adams; Mr. Knox: A.J. Glueckert. Chorus and Orchestra of the San Francisco Opera. Conductor: George Manahan; Stage Director: James Robinson; Set Designer: Allen Moyer; Costume Designer: James Schuette; Lighting Designer: Christopher Akerlind; Projection Designer: Greg Emetaz. San Francisco War Memorial Opera House, September 18, 2013.

image=http://www.operatoday.com/SFO_Clai_01.png
image_description=Patricia Racette as Dolores Claiborne [Photo © Cory Weaver/San Francisco Opera]
product=yes
product_title=Dolores Claiborne in San Francisco
product_by=A review by Michael Milenski
product_id=Above: Patricia Racette as Dolores Claiborne
Photos © Cory Weaver/San Francisco Opera