French theater director Jean-FranÁois Sivadier certainly gave it a go with his high, very high concept of Don Giovanni, focusing high-style Brechtian theater conventions onto Mozart's rich hero. His accomplishment was to take all the fun out of this over-indulged dramma giocosa and let us know that it makes a very significant point that we all are Don Giovanni.
The Brechtian process can easily be imagined (an open stage, people like you and me milling around, the Don among them, the opera begun the 18th century costuming progressively deconstructed into contemporary dress, absolutely abstract [nothing realistic] in its geometric staging, and much use of the half-curtain). The Don himself was a life-force symbol, not a stud (or Tcherniakov's drunk).
The Commendatore was an authority who was revealed as a buddha once the back wall was partially demolished (noisily a vista of course) and the Christian cross initially hung on the back wall became a "t" as the word liberta was written out. It was not a political statement.

Philippe Sly as Don Giovanni, David Leigh as the Commendatore
And finally the Don was delivered to his fate by taking all his clothes off except his briefs which were more or less the discretely placed loin cloth of the Christian crucifixion.
Or something.
As usual the Aix Festival casting was impeccable. Impeccable for this concept. Young Canadian bass-baritone Philippe Sly was the Don. This unique artist projects deep energy and unstoppable force. His youthful physique projected an innocence for the Don of this concept. Wigged with long hair, his final image was absolutely Christ-like.
An announcement was made before the performance that he was ill, but would perform. Perhaps intended, perhaps because of illness Mr. Sly's Don sometimes crooned, and this voice was indeed effective in his serenade to Elvira's maid. This was the moment in the performance when the extraordinary communicating power of this young artist was most apparent.
The Don's servant Leporello was sung by Argentine bass Nahuel di Pierro. Unlike the usual equality of master and servant in Mozart, Mr. di Pierro's Leporello was indeed a servant, remaining always in the shadow of the Don, both vocally and emotionally. Slovakian tenor Pavol Breslik made the arias of a beautifully voiced Don Ottavio among the high points of the evening.
In harmony with the concept the Commendatore, sung in beautiful, youthful tone by American bass David Leigh, morphed into one of the universal crowd.

Isabel Leonard as Donna Elvira, Philippe Sly as Don Giovanni, Julie Fuchs as Zerlina, English Voices as the peasants in the Act I finale
Stage director Sivadier's concept rendered the female heroines devoid of personality, though both sopranos brought splendid vocal colors and great virtuosity to their arias. American mezzo-soprano Isabel Leonard initiated her Donna Elvira at New York's Metropolitan Opera in May, vocally displaying its musical and dramatic richness just now in Aix in very bright, silvery tones. Italian soprano Eleonora Buratto who makes her debut at the Met this fall, sang Donna Anna in a full throated voice of both power and agility. Overheard comments at intermission lamented pitch problems in both voices though I did not notice such issues.
As usual Zerlina and Masetto went through their paces. Director Sivadier presented them with the formidable challenge of singing their duets placed on opposite sides of the stage. French soprano Julie Fuchs sang a much appreciated Zerlina, and Polish bass Krrzystof Baczyk made Masetto into director Sivadier's sung rather than acted peasant.
All splendid singers they came together wonderfully in the their second act chance encounter finding a gorgeous musical sublimity that we wish for and sometimes get in Mozart operas. Conductor JÈrÈmy Rhorer gave his singers easy tempos, allowing them to show off their voices in the arias and work together in the ensembles. His orchestra, comprised of players on 19th century instruments, made a dark, scratchy sound continuum that compounded the stultifying austerity of the directorial concept. The bright colors on the stage offered little relief.
An American mid-last-century musical institution, Igor Stravinsky was fully immersed in his extreme neo-classicism when he composed The Rake's Progress (premiere in 1951). In recent years the Aix Festival has focused on Stravinsky, having presented enlightened productions of his pre-American period operatic works — the Peter Sellars production of Oedipus Rex (1927) last year and the Robert Lepage production of Le Rossignol (1914) in 2010.
Thus all stops were pulled for this new production of The Rake's Progress, entrusted to British theater director Simon McBurney. Mr. McBurney is known to nearby opera audiences for his masterful production of Coeur de Chien in Lyon and his gimmick filled filled ENO production of The Magic Flute in Aix. As for Coeur de Chien McBurney worked with British set designer Michael Levine for this new production, and much the same setting resulted — a white platform and solid white walls. But the walls are really paper walls that at strategic moments are torn through.

White box set in Act II with projected decor. Baba the Turk's excesses having been thrust through the walls
For The Rake's Progress much use was made of projected moving images (video) thus there were very distinct locales quickly created to substitute the eight scenes of the William Hogarth moralistic engravings from 1735 that were Stravinsky's motivation. This as opposed to the unit set of the famed David Hockney production one fondly recalls.
The production was precisely conducted by Swedish maestro Elvind Gullberg Jensen replacing Daniel Harding who withdrew because of an injured wrist. The careful conducting seemed at odds with, and far away from the energy and brutality of the physical production, i.e. the fast moving images, the bursting of walls and the use of the theater itself as part of the stage.
As well the physical production itself was at calculated odds with McBurney's actors who were rendered low affect, indeed colorless in contrast to the brilliant coloration of the set and its machinations, and the fantastic apparitions of Mother Goose and Baba the Turk. McBurney announces in his program booklet apology that The Rake's Progress is a condemnation of braggartly Hollywood where Stravinsky resided with Auden as his guest. Evidently McBurney perceives Stravinsky and Auden, intellectually important, culturally alienated emigrants, as wanting to reveal and illustrate the inherent shallowness of the broader American civilization.
Stravinsky the neo-classicist is not universally admired, the detail and repetitiveness of his compositions in this period verging on the psychotic according to some critical estimations. In The Rake's Progress one does indeed find the kind of ego destruction that results from such psychosis in both Tom and Ann.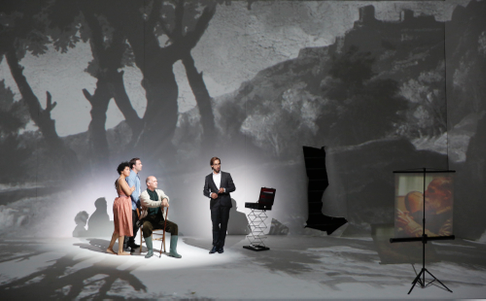 White box set in Act I with Ann, Tom, Trulove and Nick Shadow
The Aix Festival casting found American tenor Paul Appleby as a beautifully sung Tom Rakewell, ingenue American soprano Julia Bullock as Ann Trulove, American bass baritone David Pittsinger as her father Trulove. American bass baritone Kyle Ketelsen sculpted Nick Shadow on a level and energy far exceeding that of his compatriots. British counter tenor Andrew Watts rendered Baba the Turk as a brash, caricatured buffo presence that removed this pivotal character from Stravinsky's neo-classical, distanced and refined world. The same may be said of British contralto Hilary Summers' performance as Mother Goose.
Michael Milenski
---
Cast and production information:
Don Giovanni: Philippe Sly; Leporello: Nahuel di Pierro; Donna Anna: Eleonora Buratto; Don Ottavio: Pavol Breslik; Donna Elvira: Isabel Leonard; Zerlina: Julie Fuchs; Masetto: Krzysztof Baczyk; Il Commendatore: David Leigh. Chorus: English Voices; Orchestra: Le Cercle de l'Harmonie. Conductor: JÈrÈmie Rhorer; Mise en scËne: Jean-FranÁois Sivadier; DÈcors: Alexandre de Dardel; Costumes: Virginie Gervaise; LumiËre: Philippe BerthomÈ; Wigs and Make-up: CÈcile Kretschmar. ThÈ'tre de l'ArchevÍchÈ, Aix-en-Provence, July 8, 2017.
The Rake's Progress Anne Trulove: Julia Bullock; Tom Rakewell: Paul Appleby; Nick Shadow: Kyle Ketelsen; Nick Shadow 2 / Le Gardien de l'asile: Evan Hughes; Trulove: David Pittsinger; Mother Goose: Hilary Summers; Baba la Turque: Andrew Watts; Sellem: Alan Oke. Chorus: English Voices; Orchestre de Paris. Conductor: Eivind Gullberg Jensen: Mise en scËne: Simon McBurney; Dramaturge: Gerard McBurney; DÈcors: Michael Levine; Costumes: Christina Cunningham; LumiËre: Paul Anderson; VidÈo: Will Duke.ThÈ'tre de l'ArchevÍchÈ, Aix-en-Provence, July 5, 2017

image=http://www.operatoday.com/Giovanni1_Aix17.png
product=yes
product_title=Don Giovanni and The Rake's Progress at the Aix Festival
product_by=A review by Michael Milenski
product_id=Above: Nahuel di Pierro as Leporello, Philippe Sly as Don Giovanni [All photos by Victor Pascal, courtesy of the Aix Festival]