A solo debut recital at Wigmore Hall is a big occasion, and soprano Nardus Williams can be forgiven for looking a little nervous as she ventured onto the platform, with the experienced Roger Vignoles, for this afternoon concert in which Williams presented a selection of well-known repertoire – almost a 'greatest hits' medley – drawn largely from the 19th century.
Despite the pandemic, musically Williams seems to have had a good 18 months.  A current English National Opera Harewood Artist, shortly before lockdown in January 2020 her powerful shining soprano and impassioned vibrato made a striking mark in the revival of Calixto Bieito's production of Carmen at the Coliseum, and when theatres began to tentatively re-awaken and welcome back performers, if not necessarily audiences, she was a vibrant Marcellina in Garsington's Opera live streamed concert, Unmute – I described Williams' soprano as 'glow[ing] with the glossy shine of a mother's joy at rediscovering her long-lost offspring'.  Esteemed performances last autumn as Mimì for English National Opera's Drive & Live series and Ciboulette in Glyndebourne's frothy production of Offenbach's In the Market for Love (or Onions are Forever) – which I reviewed for another publication, judging that Williams 'hits the chanteuse d'agilité peaks perfectly but also brings lyricism to the role of Ciboulette' – followed, and more recently she offered an impressive performance, simultaneously graceful and intense, as Belinda in the world premiere of Errollyn Wallen's Dido's Ghost at the Barbican Hall.
There have been highly praised lieder performances, too, at the Leeds and Oxford Lieder Festivals, and Williams participated in the 2021 ENO Harewood Artists Day which was streamed live from Wigmore Hall on 23rd June (currently available on YouTube). Yet, there were times during the opening items of this recital when I was reminded of Williams' slightly unsettled performance at the 2018 Kathleen Ferrier Awards Final at Wigmore Hall. On that occasion, I felt that, given the tricky first-in-the-limelight spot, her nerves seemed to get the better of her, affecting intonation, tone and the control of what can be a wonderfully evocative, fluttery vibrato. The slightly taut quality that I found marred her 'Come scoglio' in 2018 seemed also to afflict Purcell's 'From silent shades', as realised by Benjamin Britten. This is a mad song and needs not just a beautiful tone, but vocal flexibility, and Williams certainly responded to Vignoles' characteristically deft flourishes and dramas, but Bess of Bedlam's vehemence, "The Furies lash their whips and call", and anguish, "Cold and hungry am I grown", required more control, seeming tense and at times wayward.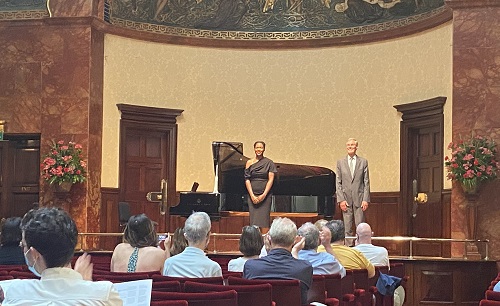 Things began to settle with Schubert's 'Viola' – and, no one could accuse Williams of not being brave in this recital, in tackling not just very familiar but also large-scale and expressively demanding repertoire. Here, the shining brightness of Williams' soprano began to evoke the sense of wonder at nature's sublimity and the shifts of mood felt more comfortably negotiated: the arrival of Spring was ecstatic, the sorrow of the violet – rendered dumb and pale by the crushing pain of love – affecting.
The rippling luxury of Williams' soprano as it rises, and her aforementioned rapidly pulsating vibrato, are well-suited to the songs of Richard Strauss, and, as in 2018 the composer's 'Cäcilie' saw her getting into her stride, so the Drei Lieder der Ophelie Op.67 offered her the opportunity to indulge in flashes of colour and light, and to enjoy the harmonic waywardness and rhythmic drama. There was tense fragility in 'Wie erkenn' ich Treulieb vor andern nun?' (How shall I know my own true love), and confident directness in 'Guten Morgen, 's ist Sankt Valentinstag' (Good morning, it's St Valentine's Day). And, though occasionally the search for intensity harshened the tone, there was beauty and pathos too, as at the close of 'Sie trugen ihn auf der Bahre bloss' (They carried him naked on the bier), in which Vignoles' circular roving added to the sense of mental vulnerability and rootlessness.
We returned to Schubert, for a quite steady rendition of 'Gretchen am Spinnrade'. One felt that Williams might strive for greater variety of vocal colour, when the dynamics increase and the pitch rises, and the climax – "Und ach, sein Kuss!" (and ah, his kiss!) – didn't feel entirely controlled. But, Liszt's 'Oh, Quand je Dors' allowed the sumptuousness of her soprano to blossom, and here the phrasing, dynamic grading and expressivity were impressive: the final rising arc was beautifully projected, then tapered.
Returning to the platform after a breath- and composure-gathering pause, Williams ventured into French territory, with Duparc's 'Romance de Mignon', but I found neither the diction nor the musical mood idiomatic to the mélodie. Williams and Vignoles presented the songs in thoughtful groupings, and Wolf's setting of Goethe's text, 'Mignon: Kennst du das Land' (Mignon's Song: Do you know the land?) followed segue. This lied was much more persuasive, the piano's final tremolando and the uplifting sentiment of the final vocal phrase, "Dahin, dahin/ Geht unser Weg! O Vater, laß uns ziehn" (There, there lies our way! O father, let us go!), making sense of the preceding repetitions and conveying appropriate elation.
Wiliams stayed with French repertoire at the close. Saint-Saëns's 'La mort d'Orphélie' was beautifully delicate, Vignoles so sensitive an accompanist as he supported and doubled the voice. Here, there was a real sense that Williams was embraced by the song's expressive 'moment' and mood. Fauré's 'Fleur jetée' had been a highlight of that 2018 Ferrier Award performance, and here Williams' soprano gleamed with passion, as Vignoles' repetitions and runs enhanced the inherent fervour of the vocal line.
Encouraged by a genuinely warm and appreciative reception from the fairly small Wigmore Hall audience, the duo offered an encore, a poised interpretation of the traditional Irish Song, 'Silent Noon'.
Claire Seymour
Nardus Williams (soprano), Roger Vignoles (piano)
Purcell – 'From silent shades, and the Elysian groves' (Bess of Bedlam) Z370 (realised by Benjamin Britten), Schubert – 'Viola' D786, Richard Strauss – Drei Lieder der Ophelia Op.67, Schubert – 'Gretchen am Spinnrade' D118, Liszt – 'Oh! quand je dors' S282/2, Duparc – 'Romance de Mignon', Wolf – 'Mignon: Kennst du das Land?', Saint-Saëns – 'La mort d'Ophélie', Fauré – 'Fleur jetée' Op.39 No.2.
Wigmore Hall, London; Sunday 18th July 2021.
ABOVE: Nardus Williams (c) Bertie Watson