Mozart meets hysteria in this new staging of his masterpiece by Dutch metteur en scène Lotte de Beer, to the quick and just baton of conductor Thomas Hengelbrock and his Balthaser Newmann Ensemble.
In recent years the Aix Festival has incorporated period instrument ensembles into its stagings of the Mozart canon, its signature repertory. Given our familiarity with these so-very-standard-repertory pieces this refinement is a breath of fresh air. And revelatory in the alacrity and directness period orchestras can return to these usually musically over-indulged pieces.
This freshness requires singers that have agility and wit and ensemble aspirations, with the given that they are fine singers. Of the glories of the Aix Festival the greatest is casting. The star of this show, no question, was its villain Count Almaviva, sung by sex obsessed Transylvanian baritone Gyula Orendt who pulled off raping an ironing board after indulging in a bit of child abuse (Barbarina, who looked about 13 years old).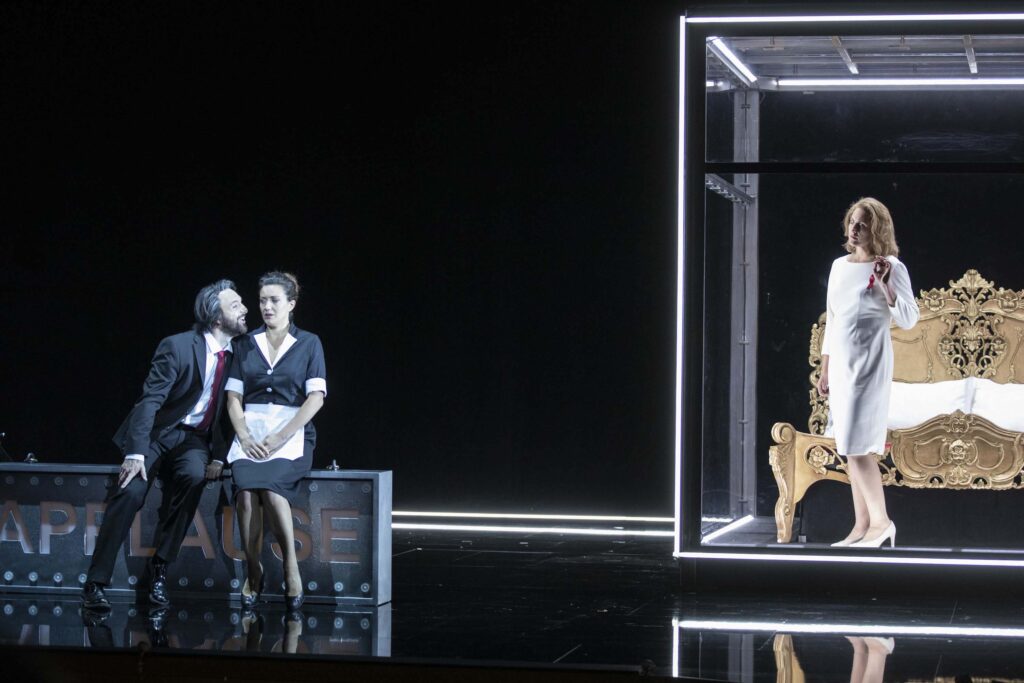 The dramatic climax of the piece was delivered by American soprano Jacquelyn Wagner who observed the shenanigans of Act III entombed in a glass case on a bare black stage from which she emerged to wonder where she could possibly be and to sing her "Dove sono i bei momenti" in the simplicity of purist tone, bringing welcome perspective. It brought the house down.
Figaro of Sud-Tyrolese (Italy) baritone Andrè Schuen and Susanna of French soprano Julie Fuchs inhabited the utility room of modest bourgeois home, and yes, their recitative "Orbene, ascolta e taco" was delivered to the roar of a vacuum cleaner. Acts III and IV, the second half of the evening, are essentially a string of arias, a couple of them normally cut (not in Aix). By the time we got to Figaro's "Aprite un po' quelgli occhi" and Susanna's "Deh, vieni, non tardar" it was already 1:00 AM and we were very ready to put hysteria aside and succumb to the intelligence, maturity and good sense this couple had exhibited throughout the evening. Both arias were delivered with a sublime calm that was pure balm.
Then came the what-the-hell-was-that! that ended the evening.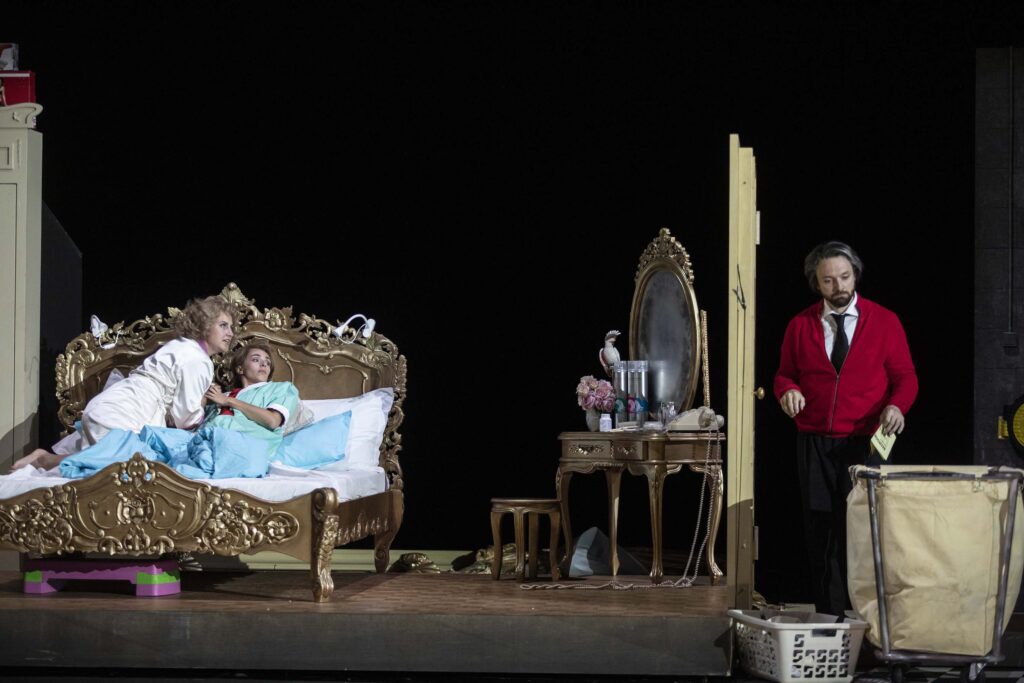 The central prop of the show was of course an elaborate bed. First it was in front of a show curtain tumbled upon by clown mimes. It gave way in the first half to an industrially sized clothes dryer, then in the second half the bed was in a glass case (with the countess in it), and finally a gigantic inflated phallus on its way to becoming a clown dressed tree.
During her aria Marcellina, sung by Italian mezzo Monica Bacelli, busily sewed up some clown attire, donned by Basilio, sung by tenor Emiliano Gonzalez Toro. Mr. Toro delivered, madly stuttering, the Don Curzio aria, a hilarious scene unabashedly laughed at by the Aix audience.
That leaves Barbarina, sung by Canadian soprano Elizabeth Boudreault easily passing for a thirteen year-old, and her intended Cherubino, sung by Franco-Italian soprano Lea Desandre easily passing for a seventeen year-old. There was no window for his usual escape as the walls of the Countess' bedroom had collapsed when the Countess tried to kill herself. He simply fell off the edge of the platform.
The gardener Antonio was forcefully incised by an enraged Italian baritone Leonardo Galeazi, and Bartolo, sung by Italian bass Maurizio Muraro, delivered his famed aria in an endearing, gossipy tone. And there was chorus of the Conservatoire National de Rayonnement Régional de Marseille, thus a plethora of gorgeous young girls to further excite the Count.
The brilliant, rapid fire comedy created by Mme. de Beer collided with the intense lyricism we have come to associate with the Mozart operas. The comic gags flowed gracefully within the quick and easy tempos instilled by conductor Hengelbrock with the consequence that many, even most of the scenes we cherish disappeared into a general hysteria (the Act I Basilio/Count/Susanna trio, the Act III Count's aria, even the Act II finale as examples). What we gained were three solitary, absolutely sublime moments, the "Dove sono," "Aprite un po gli occhi" and "Deh, vieni."
Was it worth it?
Seeing is believing. If you missed the show in Aix you can catch it in Madrid. P.S. I haven't spilled the beans. This was only the tip of the iceberg.
Michael Milenski
Production information:
The Balthaser Newmann Ensemble and the Choir du CNRR de Marseille. Conductor: Thomas Hengelbrock; Stage Director: Lotte de Beer; Scenery: Rae Smith; Costumes: Jorine van Beck; Lighting: Alex Brok. Théâtre de L'Archevêché, Aix-en-Provence, France, July 14, 2021.
All photos courtesy of the Festival d'Aix-en-Provence 2021 © Jean-Louis Fernandez