Omicron roared through Marseille, civil authorities refused its opera house orchestra entry into the dangerously close confines of its pit. But sitting comfortably distanced on stage itself, this under appreciated orchestra proved itself well capable of its starring role in Wagner's monumental Die Walküre.
Placed slightly upstage, sequestered behind a scrim, the orchestra attained a huge musical presence magnified by the flashes of light that penetrated the scrim when music stand score pages were flipped.
The proscenium apron and the now covered pit created a stage that thrust into the hall. There was nothing to separate us from Siegmund's heroics and Wotan's anguish, from Fricka's admonishments, Sieglinde's pride and Brunnhilde's pleadings.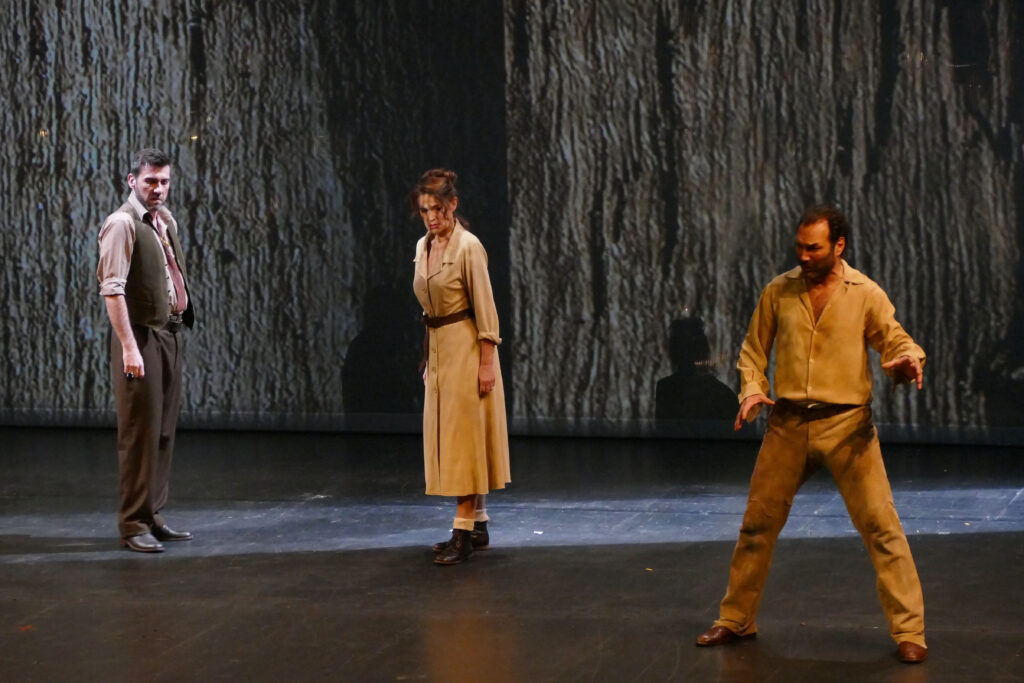 It was exactly as Wagner wished, nothing between the words of his actors and us, fellow celebrants of his tragic rite. Not exactly Bayreuth though, perhaps slightly fewer harps, horns and Wagner tubas (the program sheet does not list the orchestra personnel), instead a very transparent, clearly voiced sound though which the famed leitmotifs sang out, the bass clarinet pronounced and the tubas spat without restraint.
German conductor Adrian Prabava meticulously enunciated the orchestral flow, finding evident pleasure in the anger of his meddlesome tubas, and finding in the end phenomenal volume for Loge's wall of flames. We did not see him, or his players until the applause at the very end, though he and his players were the principal motivation and force of the performance.
Veteran Marseille stage director Charles Roubaud played with the idea of a semi-staging — though the Wagner masterpiece was in fact fully staged, every nuance of the score fully embodied within his actors, moved by sheer musical force all over the thrust platform.
There was, however, no dramatic action! There was not even a sword! We did not witness the battle between Siegmund and Hunding brokered by Wotan! There was only the music, deeply felt and precisely exposed in the voices and bodies of Mr. Roubaud's actors.
The thrust acting space was backed by the scrim on which was projected a surrounding of sorts, enveloping as well the columns of the proscenium. Though this video background had obvious limitless capability it eschewed all temptation to introduce horses or parachutes for the entrance of valkyries. Instead they were simply on the stage as the curtain rose on Act III, against a background of leafless tree branches. Costumed by the Opéra de Marseille's industrious Katia Duflot, they were a visual spectacle indeed! While all principals were discretely costumed, Brünnhilde and her sisters' attire was a post performance subject of controversy, consternation and condemnation at the O'Stop bar across the street from the opera house!
The valkyries were not only a visual spectacle but were also the vocal spectacle that Wagner intended. Eight, then nine big-voiced singers rose to sonic volumes that dwarfed all imaginable scenic intervention. Evidently that was the point — and we got it, like it or not.
The musical intimacy of Mr. Roubaud's production was realized by an extraordinary cast, dominated by Austrian tenor Nikolaï Schukoff as Siegmund and Korean bass Samuel Youn as Wotan, the two Wagnerian heroes who lost what they most loved.
Mr. Schukoff is athletic and heroic, an impetuous actor and an elegant singer. His well focused voice clearly enunciated each word. Of note was his immediate physical intimacy with the Sieglinde of French soprano Sophie Koch, Wagner's magic moment of recognition, as yet unconscious. Mme. Koch is of great vocal and physical charisma, her third act pronouncement of the sword's destiny attained a vocal and emotional magnificence that would, if needed, carry us through the prolonged vicissitudes to the Ring's ultimate denouement.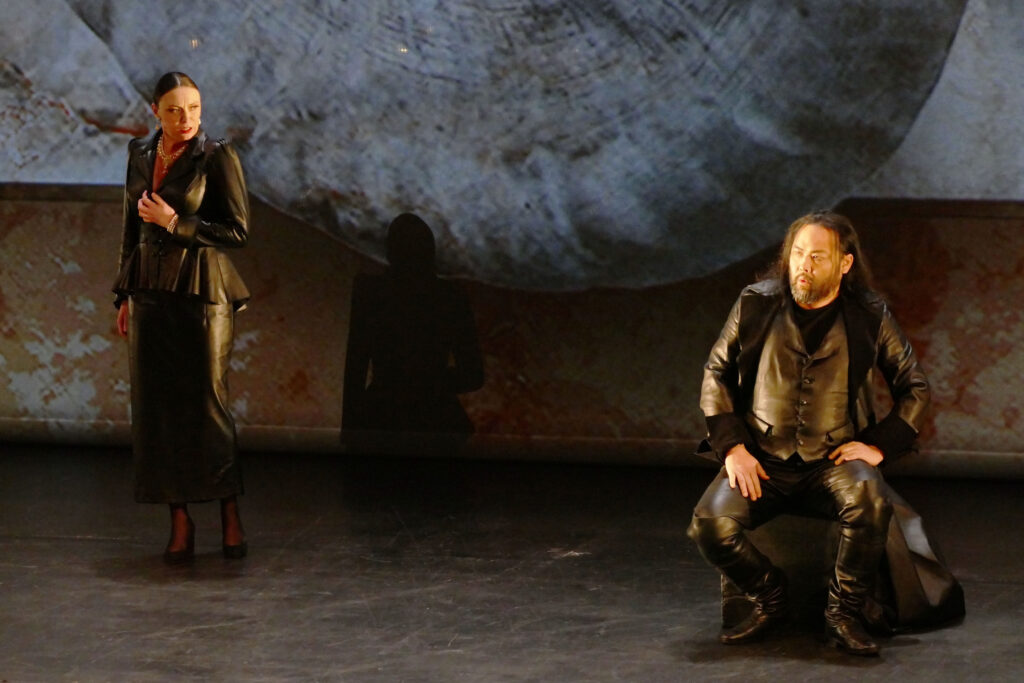 Samuel Youn sings the Walküre Wotan, but is known for Wotan's nemesis Alberich in Siegfrieds around the world. His Walküre Wotan is volatile, uncertain, deeply troubled, and violent. He shoutingly defied any so-called hero to penetrate the flames that surround his daughter. Mr. Youn is an intense performer, of sharply vocal focus and of myriad colors. We sat on the edge of our seats while he was berated by his wife Fricka (above photo) — the intense force of the young and beautiful French mezzo Aude Extrémo [sic]. We were both moved, dismayed and frightened by his confession to Brünnhilde, and we feared for the life of Brünnhilde at his anger in their final confrontation.
German soprano Petra Lang offered some amazing Brünnhilde whoops at her Act II entrance though we feared for her middle voice as the performance progressed. She offered a profoundly moving, almost sottovoce messenger telling Siegmund of his impending death (beautifully acted, intensely felt by Mr. Schukoff), and she pulled herself together vocally for her pleas to Wotan at the end. It was, finally, an appreciated performance.
The Roubaud production was not about Hunding, handily enacted by French bass Nicolas Courial. But it was all about lighting. Marc Delamézière often lights Opéra de Marseille productions. He well surmounted the challenges of lighting the faces as they moved throughout the thrust stage, capturing the emotional intimacy of the Wagner score. The productions minimalist videos were sensitively created by Camille Lebourges.
Michael Milenski
The Valkyries: Jennifer Michel, Ludivine Gombert, Laurence Janot, Lucie Roche, Carine Séchaye, Cécile Galois, Marie Gautrot, Jullie Pasturaud
All photos courtesy of the Opéra de Marseille, copyright Christian Dresse
Opéra de Marseille, Marseille, France, February 11, 2022