In some ways the Philharmonia Baroque's Radamisto did not disappoint San Francisco Bay Area's Handel fans.
Handel is no stranger at San Francisco's esteemed Philnarmonia Baroque Orchestra, just now it was Radamisto, his first opera (1720) for King George II's Royal Academy of Music. Upcoming this fall is Theodora (1750), Handel's only dramatic oratorio (i.e. opera, no sets) on a Christian subject, and in April 2022 comes a staged Amadigi di Gaula (1715), composed soon after his migration to Italian-opera-crazed London.
Radamisto was a big hit at the Kings Theater back in 1720, thus impresario Handel revived and revised it later in the same year for famed castrato Senesino, and revived and revised it again and again for other specific singers over the next few years. At Stanford University's Bing Concert Hall just now the PBO revived Handel's 1728 version for Senesino and two famed divas named Faustina and Cuzzoni (or maybe one of which was named Faustina Cuzzoni).
In Palo Alto famed counter tenor, Iestyn Davies, star of Broadway and the West End's recent Farinelli and the King (and the world's major opera stages), sang Radamisto, whose sister Polissena was sung by soprano Ellie Laugharne, famed as a renowned Eliza Doolittle (My Fair Lady) of our current moment. Radamisto's wife Zenobia was sung by Liv Redpath, maybe not so famous, but she has already found her way to the stages of the Deusche Oper Berlin as Lucia, Munich's  Bayerische Staatsoper as Sophie, and at the Hollywood Bowl with the L.A. Philharmonic! [The lead photo is Mr. Davies (Radamisto) and Mlle. Redpath (Zenobia), all photos copyright Nikolas Liepins, courtesy of the Bing Concert Hall.]
Handel operas are all about singing (one aria after another) and nothing else. Normally there are six or so singers per opera (though the upcoming Amadigi di Gaula has but four). Thus the balance of the Philharmonia Baroque's cast were virtuoso singers of various fames as well. Namely Radamisto and Polissena's father Farasmane, sung by baritone Morgan Pearse, who didn't have a lot to say. Polissena's husband Tridate, king of Armenia, sung by bass baritone Aubrey Allicock, who had quite a lot to say, and his lieutenant Tigrane, sung by mezzo soprano Wallis Giunta, who hopelessly loves his boss's wife and who gets in the way of most everything, and who finally gets his way. At least in this production.
But Handel singers do have to have something to sing about. Polissena laments that her husband doesn't love her, but later pleads for his life as her wifely duty. Tridate, helplessly in love with Zenobia, overruns Farasmane's kingdom to get her. Zenobia, as her duty, will sacrifice herself to Tridate to free her people, Radamisto loves his wife and she loves him, Farasmene prefers to die rather than have his son's wife sacrifice herself. Etcetera.
Finally, hours later, Tridate in a grandiose tirade sees the error of his ways and leaves the stage, everyone else sings together, at last.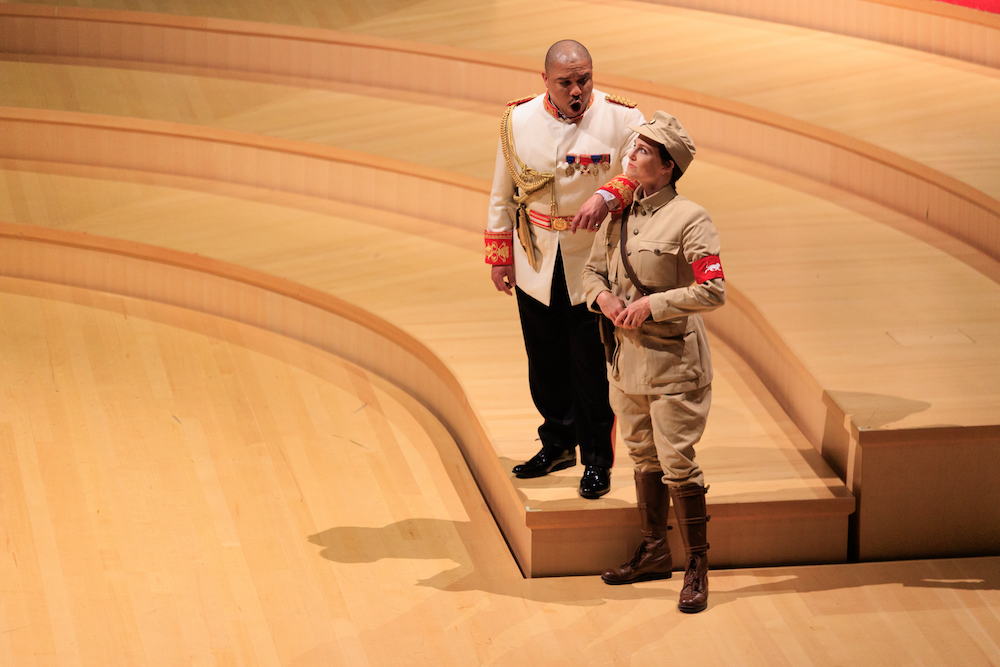 Where were the 33 players of the Philharmonia Baroque Orchestra and its esteemed music director Richard Egarr in all of this? Sequestered upstage behind the maze of moving platforms that is the stage of the acoustical contraption called the Bing Concert Hall (842 seats). On can imagine a Mahler symphony spread out at various levels on these platforms, or a concert performance of Götterdämmerung with its six harps and eight horns. As it was the Radamisto orchestra, dimly visible, sounded faraway indeed.
Staged opera also has a history at the PBO, most notably Christopher Alden's COVID-eve, avant-garde conception and imaginative staging of Handel's dramatic cantata Aci, Galatea e Polifemo (1708). Thus anticipation of this Radamisto was high.
French stage director Christophe Gayral was entrusted to stage this PBO's production. Seduced by the Bing Concert Hall's complex of stage platforms, Mr. Gayral changed the golden wood floor geometry of the vast stage space many, many times, generally placing Handel's costumed singers quite distanced from the orchestra, and always with no contact to conductor Richard Egarr. It was visually and acoustically troublesome. The stage was somehow illuminated by stage director Robert Carsen's lighting designer Peter van Praet. In spite of the lighting instruments residing at extreme distances from the stage floor van Praet managed to find various intensities that created what few theatrical atmospheres occurred.
Finally, unfortunately, it was an evening of little more than some spectacular singing.
Michael Milenski
April 24, 2022, Bing Concert Hall, Stanford University, Palo Alto, California.