No one can deny that Leonard Bernstein's West Side Story is one of the bigger moments in twentieth century theater. Its movies may be Oscar worthy films, but finally its stagings are the only true realization of this American masterpiece.
West Side Story opened on Broadway in 1957 and in London's West End in 1958. Its revivals have not been rare— major Broadway and West End tours have occurred every decade since. But you had to be in the right place at the right time to catch one (I never was).
Opera house stagings with larger musical forces for the Bernstein masterpiece are not unknown either, notably Houston and Glimmerglass (2018). And specifically, now in San Jose, this 2018 production created for Indiana University Jacobs School of Music Opera and Ballet Theater.
And too there are often concert or semi staged performances around the world, thus avoiding the work's major challenge — four enormous scenes danced by the Sharks and the Jets with their girlfriends.
Just now I was finally in the right place at the right time (I had not seen a staged West Side Story since 1957), Opera San Jose mounted this splendid production, the full nine yards — a real orchestra (44 players) to support the 33 named principals who, to a man, could sing and dance and act, plus an army of stagehands and electricians to move and illuminate blocks of scenery that instantly transformed the stage from the streets of New York to Bernardo and Anita's apartment, then into the bridal shop, the dance hall, the L train rumble. Ultimately we arrived at Doc's drug store for Jerome Robbins and Stephen Sondheim's wrenching denouement that unfolded to the orchestral echos of Bernstein's now soul searing love music.
Not to mention the Romeo and Juliet balcony, now a fire escape! The Shakespeare, Bellini and Gounod tragedies had not prepared us for the artistic and political upheavals of the mid twentieth and now those of our own fire escape moment. And these upheavals were indeed blatant just now on the Opera San Jose stage.
It may be that the Bernstein Foundation prohibits tampering with the original conception of the opera. The recent Spielberg movie, then, is an exception, avoiding the scary politics of caricaturing an ethnic group. But the time (50's) and place (NYC) were definitely respected in San Jose, and Maria was sung by Latina American soprano Teresa Castillo, though there is the suspicion that her charming Latino accent was not her own.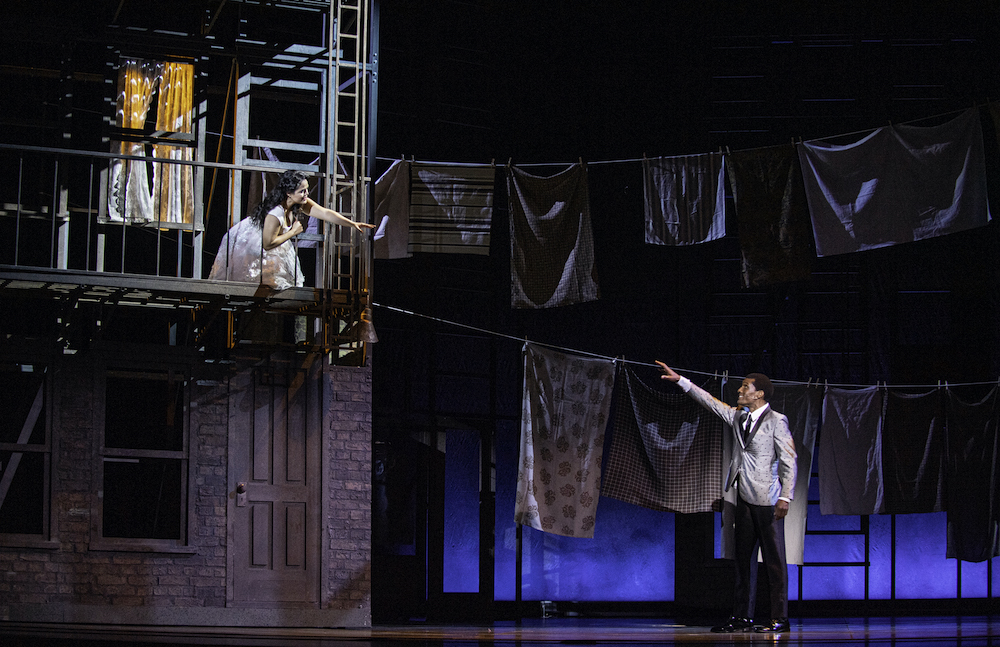 Unlike the Gershwin Family that insists on color coded casting for Porgy and Bess, Opera San Jose cast black American opera singer Noah Stewart as the Polack Tony (aka Anton) — though his Polack best friend Riff, played by musical comedy singer Trevor Martin, was pure white bred.
Opera is color blind, except it isn't. Tenor Noah Stewart is an excellent singer, as is Teresa Castillo, Both are affecting performers with beautiful, well used voices that easily traverse the operatic repertory. Here both singers emphasized careful operatic diction that propelled their solos and duets from their theater song roots into the rarefied realm of operatic arias.
Likewise "Somewhere" was sung Puerto Rican operatic soprano Natalie Santaliz transforming this soaring dream into a moment of high art both vocally and visually, as it was danced en point by a classical ballerina in white tutu, supported by her black, white-clad danseur.
Pivotal to the celebration of the sacrificial deaths of Tony and Bernardo was the role of Anita, Bernardo's fiancé, sung by operatic soprano Natalie Rose Havens. Mlle. Havens rose to quite moving emotional heights in her "A Boy Like That / I have Love" duet with Maria, and in her final, brutal confrontation with the Jets. Her fiancé Bernardo, sung by musical comedy artist Antony Sanchez, well held his place as head of the Sharks, indeed the flashiest dancer of the evening.
The production was an astonishing submersion of high art into contemporary political discourse within the amazing energy of a popular art form!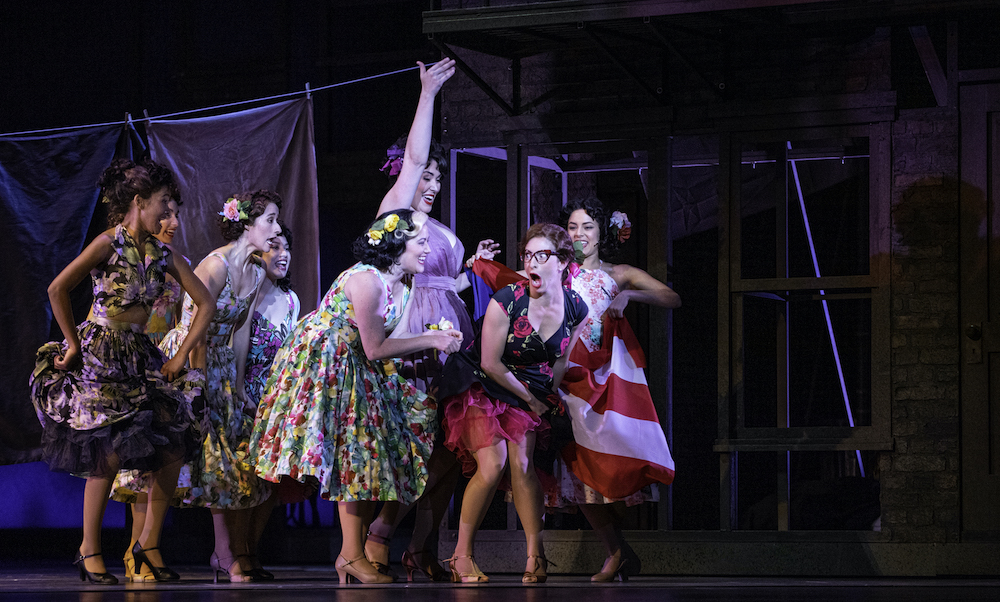 Opera San Jose well met the huge challenge of casting the Jets and the Sharks and their Molls, the Sharks perhaps a bit more bronze colored, a few more Latino names. Of great fun was the "America" (Ahm-aye-ree-cuh), the role of Rosalia beautifully sung and danced by Christine Capsuto-Shulman. Of special notice was Doc, sympathetically and grandly played by well-known Bay Area basso Philip Skinner (who did not sing a note).
The original, 1957 production of West Side Story needed a two month dance rehearsal period. Hopefully it took less in San Jose. Choreographer Michael Pappalardo respected the movement precedents set by Jerome Robbins with all needed energy, moving his dancers through these huge scenes with seeming ease — though the process will surely have been painstaking. Not to mention the choreographic flourishes added to the smaller numbers.
This sprawling masterpiece was scenically realized, masterfully, by stage director Crystal Manich (born in Puerto Rico BTW), in appropriately generic, manageable sets designed by Steven C. Kemp, and appropriately 1950's costumes designed by Linda Pisano. All this ably and sensitively lighted by Sarah Riffle.
Conductor Christopher James Ray gave us the tempos we expected while accommodating the specific qualities of his singers and dancers on the stage, and confirming the masterpiece status of Bernstein's opera.
Michael Milenski
Cast and production information:
Principals Maria: Teresa Castillo; Tony: Noah Stewart; Anita: Natalie Rose Havens; Riff: Trevor Martin; Bernardo: Antony Sanchez; Chino: Jared V. Esguerra; Doc: Philip Skinner. Orchestra of Opera San Jose. Conductor: Christopher James Ray; Stage director: Crystal Manich; Choreographer: Michael Pappalardo; Set designer: Steven C. Kemp; Costume designer: Linda Pisano; Lighting designer: Sarah Riffle. California Theater, San Jose, California, April 21, 2022.