Swedish soprano Malin Bystrom (the Mozart heroines in Salzburg and at the Met and Covent†Garden)†was born to be†Jan·?ek's melodramatic heroine. A lithe, youthful presence with†a voice of sufficient†importance†to make us revel in this squalid, brutal†tale of a primitive social world. As well her voice possesses a†primal†purity and innocence that reassures us finally of the beauties possible†in†the human psyche. The Bystrom†Jen?fa was at once†the fallen woman and the redeemed soul, her†redemption a†simple acceptance and†understanding of human love.
Some twenty years ago this was the Jen?fa of Karita Mattila as well. No longer willing to portray the†guilty innocence of an†operatic†adolescent†this extraordinary diva has transformed herself into Jen?fa's stepmother Kostelni?ka, a†mature woman†driven by powerful social forces and overwhelmed by†a selfish form of maternal†love. Mattila fans (and that is nearly everyone) have eagerly awaited the Mattila take on this complex and emotionally demanding role.
Mattila's transition from daughter to mother†however†has not been fully effected in San Francisco. While there is no question that la Mattila projected the persona of great force that this role requires we see that sheer†force of personality alone cannot explain and does not explore the subtlety and†cunning of this conflicted human creature.
Subtlety and cunning are indeed ripe in Jan·?ek's adaptation of The Stepmother's Daughter (the play on which Jen?fa is based and in fact the Czech title of the opera) and in Jan·?ek's musical score every germ of thought and action is detailed, and the motivations are nervous, brutal, direct and honest interspersed with moments of understanding that are luminous. The story builds to a shattering climax and final minutes (not moments) of revelation that can attain the sublime.

Malin Bystrˆm as Jenufa
Czech maestro Ji?Ì B?lohl·vek took a symphonic approach to the score that integrated Jan·?ek's†maelstrom of thought fragments†into larger musical shapes. This larger wash, a somewhat dreamlike emotional force, robbed Jan·?ek's characters of the psychic†minutiae that informed their actions, leaving us in an unexplained†emotional wake. We missed the bursts of revelation as they were absorbed into this larger and indeed far more delicate thrust. From the first moment conductor B?lohl·vek left us no where to go, and no place to land.
A similar approach was taken by French†stage director Olivier Tambossi when he conceived his Jen?fa production (1998). He abstracted the minutiae of Jan·?ek's primitive peasant world into one primary image — a boulder (a metaphor for emotional weight mentioned in Act II). Like conductor B?lohl·vek he suppressed the particulars of the world of Kostelni?ka, leaving us in its emotional wake — a priori he interpreted Kostelni?ka's world for us by reducing it to this one image. We had nothing to discover, we were simply told. By-the-way the stone looked a lot like a huge potato. It was confusing.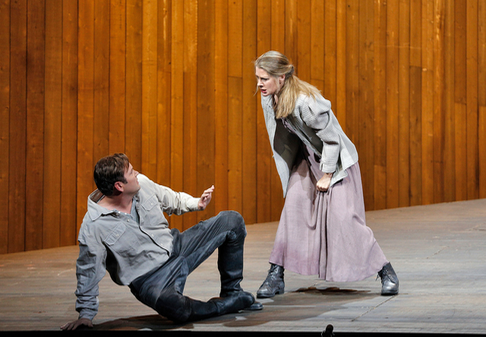 Scott Quinn as Steva, Malin Bystrˆm as Jenufa
Of somewhat lesser scale than the two divas were the performances by William Burden as Laca and Scott Quinn as Steva. Both young men impressively created Janacek's troubled young men, both are very fine singers and excellent actors. Such talent begs a production that does not rely solely on force of personality.
Though a victim of the heavy-handed direction Grandmother Burjovka was ably portrayed by Jill Grove.
As usual the Adler Fellows assumed many minor roles. Soprano Julie Adams was an appropriate Karolka and baritone Matthew Stump made an almost believable Foreman-at-the-Mill. The fresh voices of the Adlers are always a great pleasure to hear and admire. These young singers are too often called upon to portray characters that have nothing to do with their age, personalities, or quality of voice.
Michael Milenski
---
Casts and production information:
Jen?fa: Malin Bystrˆm; Kostelni?ka: Karita Mattila; Laca Kleme?: William Burden; Steva Buryja: Scott Quinn; Grandmother Buryjovka: Jill Grove; Foreman at the Mill: Matthew Stump; Mayor of the Village: Anthony Reed; Karolka: Julie Adams; Barena: Toni Marie Palmertree; The Mayor's Wife: Zanda SvÎde; The Maid: Laura Krumm; Jano: Sarah Tucker. Chorus and Orchestra of the San Francisco Opera. Conductor:Ji?Ì B?lohl·vek; Director: Olivier Tambosi; Production Designer: Frank Philipp Schlˆssmann; Lighting Designer: Gary Marder. War Memorial Opera House, San Francisco, June 14, 2016.

image=http://www.operatoday.com/Jenufa1_SF.png
product=yes
product_title=Jenufa in San Francisco
product_by=A review by Michael Milenski
product_id=Above: Karita Mattila as Kostelni?ka [All photos copyright Cory Weaver courtesy of San Francisco Opera]