Meanwhile with Medea's help (as you know) Jason steals the Golden Fleece which happens, in this telling, to be a vagina. He must also deal with the wrath and suicide of his wife Isifile, and in turn he must deal with the wrath of Medea. Jason is, however, a mere counter-tenor (soprano) who produces very lovely straight tones in a beautiful warm voice
It was a long evening, very long, at the Opera des Nations in Geneva, a new, all wood stadium-like theater with minimal public spaces by the suburban UN complex, the temporary home of Geneva Opera. Almost improvisatory this slight theater would likely not withstand the vandalism incurred last year on the city's opera house, the magnificent Grand ThÈ'tre (closed now for two years of repairs), after budget cuts to alternative arts motivated a demonstration against this "bourgeois culture site with prices out of reach for most people."
The proceedings of this 1649 Venetian opera unfolded slowly and methodically with the help of a bevy of licentious servants and the deus ex machine intrusion of Medea's husband Egeo. It all worked out finally to everyone's satisfaction — hardly the Medea outcome you're used to — but in 17th century Venice and now in twenty-first century Geneva both sets of twins could now look forward to comfortable roofs over their heads.
You already may have the idea that Italian stage director Serena Sinigaglia went for broke in sexual matters. Indeed there was humping of Jason's wife's retinue by the Argonauts. Not to forget a sadomasochism (bondage and whipping) scene or watching Argonauts taking advantage of Medea's countertenor wet nurse Delfa's grotesque tits. Note that the Argonauts and Isfile's retinue were non-singing as there is no chorus in Venetian opera. Besides intermittent posturing and sex acts they moved the props and scenery on and off the stage.
The Baroque orchestra Capella Mediterranean was presided over by Argentine born, Swiss early music conductor Leonardo BarcÌa AlarcÛn. As well Mo. AlarcÛn created this lengthy performance edition. There was a well-endowed double continuo plus a few viols and recorders to add occasional color and heft to the orchestral interludes. And of course just enough percussion to create a cute storm. Cavalli's limited, antique musical language and these minimal orchestral resources could not begin to sustain all this bawdy violence and accompanying sexual extravagance, even with the one Baroque oboe that chimed in from time to time.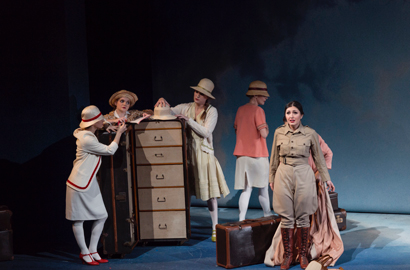 Photo: Kristina Mkhitaryan as Isifila (on right)
Thus the charm of the performers was all there was to carry the evening — and this was limited.
Geneva Opera apprentice artist Mary Freminear (born in Alabama) enchanted us in her very cute cupid body suit and mask. Charming also was Geneva Opera apprentice artist Migran Agadzhanyan (born in Tbilisi, former L.A. Opera apprentice artist) who sang Demo, the hunch-backed, stuttering servant to Egeo. The un-self-conscious energy of these two young artists created a perfect balance of character to the Cavalli music. A similar energy flowed from Isifile's maid Alinda sung by Argentine soprano Marianna FlorËs.
Of the four principals (the two married couples) Russian soprano Kristina Mkhitaryan, a resident artist at the BolchoÔ Opera was indeed charming. She brought both beautiful singing and a nicely balanced pathos to Isifile, finding a pleasing innocence and true sincerity in Cavalli's splendid suicide lament, floating pure toned high notes into her death wish. The sorceress Medea, sung by Swedish soprano Kristina Hammarstrˆm had the difficult task of being an aggressive queen while seducing us with Cavalli's meltingly beautiful Poppea/Nero-like love duets with Jason, sung by Romanian counter tenor Valer Sabadus. This male soprano had the difficult task of balancing his youth and voice with the heroic demands of his character.

Photo: The goddess Sole in prologue
The remaining cast, fine singers, all clashed in various ways with Cavalli's need for sophisticated and pleasing personalities to complement the sophisticated, not-at-all bawdy directness of his music. Some of the casting however was inexplicable, like veteran bass Willard White as Oreste.
Stage director Sinigaglia's concept of extravagant sex representing an easy seventeenth century Venetian morality was scenically represented by a potpourri of images and styles, from Baroque quotes to Japanese puppets conjured by veteran designer/stage director Elio Toffolutti who also envisioned costumes that echoed styles from then until now.
Michael Milenski
---
Cast and production information:
Giasone: Valer Sabadus; Medea: Kristina Hammarstrˆm; Isifile: Kristina Mkhitaryan; Ercole: Alexander Milev; Besso; G¸nes G¸rle; Egeo: Ra˙l GimÈnez; Oreste / Giove: Willard White; Demo / Volano: Migran Agadzhanyan; Delfa / Eolo: Dominique Visse; Alinda: Mariana Flores; Amore: Mary Feminear. Cappella Mediterranea. Conductor: Leonardo GarcÌa AlarcÛn; Mise en scËne: Serena Sinigaglia; DÈcors et costumes: Ezio Toffolutti; LumiËres: Ezio Toffolutti et Simon Trottet. ThÈ'tre des Nations, Geneva, Switzerland, February 1, 2017.

image=http://www.operatoday.com/Giasone_GTG.png
image_description=Valer Sabadus (Il Giasone) et Kristina Hammarstˆm (MÈdÈe) (© GTG / Magali Dougados)
product=yes
product_title=Giasone in Geneva
product_by=A review by Michael Milenski
product_id=Above: Valer Sabadus as Giasone, Kristina Hammarstrˆm as Medea [All photos courtesy of the Grand ThÈ'tre de GenËve, copyright GTG / Magali Dougados]