With the tightness of a short story, Felice Romano reunites mother with son at a party in Venice only to have the mother inadvertently poison her son at a party in Ferrara when all she had wanted to do was poison a few of his raucous friends. The plot is only slightly more complicated in that LucrËce's currently surviving husband Alphonse believes she is having an affair with her son, even though we know that possibly her son is having an affair with his best friend Maffeo Orsini.
It is a beautifully crafted opera, the story unfolding in highly structured musical numbers that encase the unstoppable series of obviously very tense situations. There are a lot of feelings to put on the table.
There is a delicate balance between ambience and emotion in bel canto, like there is a delicate balance between voice and pace — the emotions must flow but not rush nor may they falter. Italian conductor Giacomo Sagripanti created a plausible orchestral platform for bel canto, his more effective moments however were in his drives to the cadences that wrap up Donizetti's emotive extensions. The maestro was obviously limited by the capabilities of his singers.

Annick Massis as Lucrezia Borgia, Mert S¸ng¸ as Gennaro
If Annick Massis, the sixty-one year old French bel canto diva, masterfully projected Lucrezia's Borgia family pride and a towering pride of maternity, she could not effect a resolute tone of voice. Carefully placing her voice far back in her throat she avoided the wide, unfocused, indeed indeterminate tones that I heard in her 2015 Monaco Mathilde (Guillaume Tell). This new placement erased all authority of tone, her quite clean, careful coloratura had no sheen or pizazz, limiting its effect.
Turkish tenor Mert S¸ng¸ too physically created a convincing persona, that of a swashbuckling young warrior. Though a fine singer and a solid performer Mr. S¸ng¸ did not find the elegance of voice or line to establish the potentially sublime magic for the young warrior's feelings for his mother and for his friend Matteo.
Frankfurt Opera bass Andreas Bauer Kanabas (the final Kanabas is his recently appended Bohemian maternal family name) took on the role of Alfonso d'Este. His dark hued voice serves him well for quite a variety of roles in Frankfurt and elsewhere, but his voice does not have the brightness that make raging bel canto lines fly off the page. French ingenue mezzo ElÈonore Pancrazi brought little presence to the tenor's best friend Matteo Orsini. This spirit of random casting extended to the myriad of smaller male roles required by this opera.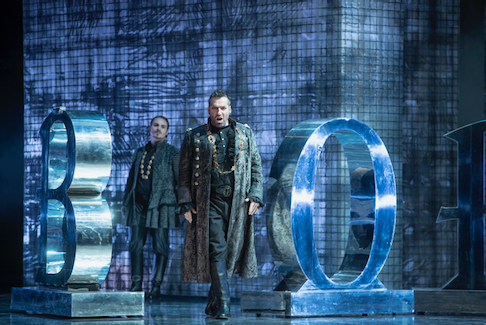 Andreas Bauer Kanabas as Alfonso d'Este, Thomas Bettinger as Rustighello (behind)
The 1917 production was from Valencia, Spain, by well-known (in California) Spanish director Emilio Sagi with his usual designers, LlorenÁ Corbella (sets) and Pepa Ojauguren (costumes). While Mr. Sagi moved his actors in easy accordance with the dramatic minimalism of Felice Romano's libretto the physical production succumbed to an atmosphere of extravagant, abstract faux luxury. The result approached the questionable splendor of a sleek remake of a once grand, old hotel (ubiquitous metallic glints and lurid colors floating in chic blackness).
The legendary murderous excesses of Donizetti's heroine Lucrezia Borgia universally seem to ignite hyper-active production imagination. Such response is at odds Felice Romano's minimalism making Donizetti, finally, its victim.
Michael Milenski
---
Cast and production information:
Alfonso d'Este: Bauer Kanabas; Lucrezia Borgia: Annick Massis; Maffio Orsini: ElÈonore Pancrazi; Gennaro: Mert S¸ng¸; Liverotto: Galeano Salas; Vitellozzo: FranÁois PardailhÈ; Gazella: JÈrÈmie Brocard; Rustighello: Thomas Bettinger; Gubetta: Julien VeronËse; Ascanio: Rupert Grússinger. Chorus and Orchestra of the ThÈ'tre du Capitole. Conductor: Giacomo Sagripanti; Mise en scËne: Emilio Sagi; Decors: LlorenÁ; Costumes: Pepa Ojanguren; Lights: Eduardo Bravo. ThÈ'tre du Capitole, Toulouse, France, February 3, 2019.

image=http://www.operatoday.com/LucreziaBorgia_Toulouse1.png
product=yes
product_title=Lucrezia Borgia in Toulouse
product_by=A review by Michael Milenski
product_id=Above: Mert S¸ng¸ as Gennaro, ElÈonore Pancrazi as Orsini [all photos copyright Patrice Nin, courtesy of the OpÈra du Capitole}